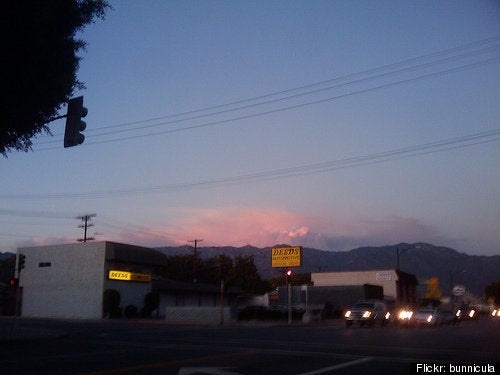 As part of its Bearing Witness 2.0 project, the Huffington Post is rounding up a few of the best local stories of the day.
A twofold increase in suicides in Burbank, Calif., is being partly attributed to the economic downtown, reports Christopher Cadelago of the Burbank Leader. Job loss and a lack of mental health care are factors in the increase, said Joye Swan, associate professor and chairwoman of the department of psychology and social services at Woodbury University.
"More people today can't afford a therapist, or can't get into an acute clinic," she said. Thirteen people have killed themselves so far this year, compared to six last year.
In Phoenix, Lori Jani Gliha reports for the local ABC affiliate that a teen suicide hotline has seen about a ten percent uptick in calls, many of them dealing with extreme depression or suicide threats. "As we've seen the economic climate worsen," said one volunteer at Teen Lifeline, "there's definitely been a lot more stress at home, and there's definitely more calls."
Jeanne Winfield, 28, took a few months off from her job at a local motel, where she's worked for three years, to recover from complications with her pregnancy. Then, reports Karen Lovett, of the Nashua Telegraph in New Hampshire, she couldn't continue to afford to pay for her electricity or heat. Then she and her family were evicted but wound up in a new place thanks to "an understanding landlord."
Already concerned about the holiday season, she lined up with hundred others Tuesday for the first day of Santa Fund, a holiday gift program sponsored by the newspaper and the local Salvation Army. More than twice as many people signed up this year as last year, two-thirds of whom were first-timers who have had recent financial problems and are anxious about providing Christmas gifts on top of bills and food. "We have lots of hand-me-downs in my family," Winfield said, "I think they deserve a little something new."
Susan Smith, a teacher and mother of two in Gastonia, N.C., is facing foreclosure -- not by the bank but by her homeowner's association, reports Maria Kotula of WCNC. Smith stopped paying her HOA fees, she said, because they were not keeping up their half of the bargain, leaving lawns un-cut and construction half finished. She instead focused on paying off her mortgage, especially after her pay checks were furloughed by the state in May. But the HOA fees kept rising, and the association foreclosed. "It should not be legal for a homeowners association to take somebody's house," she said.
Debra Cheri lost her job in February, and has been out of work ever since. She and her husband and two children are living in a one-room studio in Queens, N.Y., and they're six months behind on rent, reports NY1's Susan Jhun. The family is now facing eviction.
Social Services turned her down request for assistance because she is still drawing unemployment checks, Cherif said, but "it's really not a lot when you have two children, 13 and 12, and you have bills to pay." Her husband is blind and, though a legal resident, not an American citizen, which means he is ineligible for disability money. She feels forgotten by government services, who have let her family fall without a safety net: "We've just fallen into this crack that we're not seen, we're not heard,"she said.
HuffPost readers: Seen a good local story? Heard about a heroic judge, neighbor, or doctor helping people stay in their homes? Tell us about it! Email jmhattem@gmail.com.
REAL LIFE. REAL NEWS. REAL VOICES.
Help us tell more of the stories that matter from voices that too often remain unheard.