A young Chicago mother serving time in an Indonesian prison after her dead mother was found stuffed in a suitcase in Bali has issued a troubling statement in a series of YouTube videos saying she alone was responsible for the murder.
During the three-part video, Heather Mack, 21, exonerates her boyfriend, whom she had previously accused of killing her mother. Mack is serving a 10-year sentence as an accessory to the murder in Bali. She and beau Tommy Schaefer, now 23, were traveling there in 2014 when the body of Shelia von Wiese-Mack, 62, was discovered in a suitcase in a taxi outside the luxury hotel where they were staying.
Now Mack says she alone killed her mother and that she placed incriminating messages on Schaefer's phone. The two have a daughter together, Stella, who is being raised by Mack in Bali's infamous Kerobokon prison until she turns 2 in March. She was pregnant during the murder.
"Since I was a kid, I've heard the truth sets you free. I never understood," Mack says in one of the videos. "But I'm Heather Mack, and I want to be set free. I don't want to live in a lie anymore." Mack, wearing a sky-blue shirt and makeup, is startlingly poised on camera, almost as if she's acting in a movie. 
"I'm sorry, Tommy Schaefer. I love you, I really love you," she says at one point. "If I could go back, I would do it myself. I'm sorry that everyone that ever knew you thinks you're a murderer .… I'm sorry everybody thinks you're some crazy killer." It's not known when the videos were made. They were posted to YouTube on Thursday.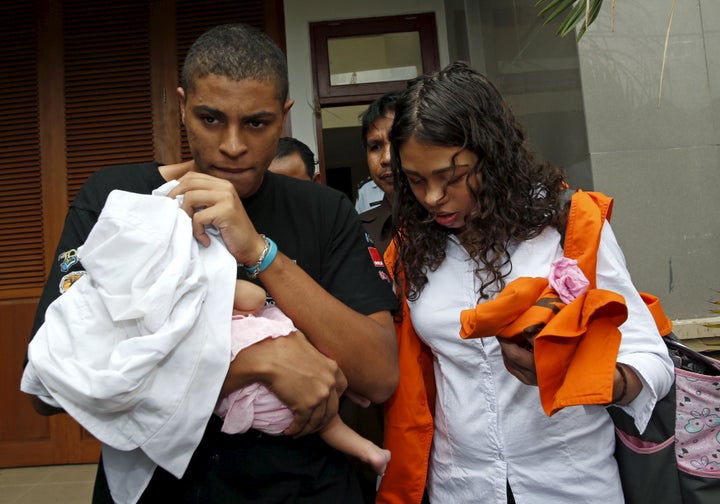 Mack's attorney told Reuters he suspects that Schaefer somehow pressured her into making the video, but he offered no details.
The videos could end up tacking time onto Mack's sentence. "If Mack is indeed the mastermind of the murder, the video can be used as evidence in the case, and the sentence should be heavier than it is now," a spokesman for the Bali prosecutor's office told Reuters. 
But CBS News reports that investigators have evidence that implicates Schaefer as well as a cousin, Robert Ryan Justin Bibbs, who pleaded guilty in a Chicago court to helping plot the murder. He'll be sentenced in May.
According to a text obtained by investigators, Schaefer told Bibbs around the time of the murder: "Now I'm a millionaire … In about a year or so I'll have all that money … A couple mil prob."
Mack's tape could also be part of a defense strategy to help establish an emotional distress or insanity appeal. For the first time on the videos she claims her mother killed her father in an Athens hotel room when Mack was 10 years old. She said she discovered the crime shortly before she killed her mother. Her dad, jazz composer James Mack, died of a pulmonary embolism during a family vacation in Greece in 2006, according to his obituary. Mack's younger sister, Debbi Curran, told The Chicago Tribune that Mack's version of their father's death is "completely false."
"I got this whole new savage idea in my head that I wanted to kill her in a hotel room, because she had killed my father in a hotel room. We were going to Bali, so I began to plot," Mack explains on one of the videos.
"I don't regret killing my mother. And as evil as that may sound, that's my reality." Mack says she does regret "trapping an innocent person" — Schaefer— into this. "It was my mother, it was my father. It was my battle," says Mack.
Mack says Schaefer confessed to the murder under pressure from her, claiming it was self-defense, because he would likely have faced the death penalty had he not. She involved him, she said, in part because she wanted to keep money she had coming to her in a $1.56 million trust fund. The trust fund is currently the focus of a family battle in a Chicago court, the Tribune reports.
REAL LIFE. REAL NEWS. REAL VOICES.
Help us tell more of the stories that matter from voices that too often remain unheard.