There has always been a strange sense of antagonism between fashion and powerful women, a belief that women must sacrifice femininity to gain power, authority and respect -- and that fashion especially is too frivolous a concern for serious women. I have never understood this notion, and I wouldn't be doing what I do today if I believed it.
What I have always believed in, though, is the idea that with more women in power and more feminine influence in society, the world would be more empathetic and compassionate and would become a better place.
The quiet inner strength of my mother -- her unwavering belief in and quest for integrity and justice, her unflinching philosophy of grace under pressure -- has always had a profound influence on me and the way I view women.
But day by day I become even more fascinated by the ever-complex world of women, by the many hats and various roles women wear and play throughout the day. Be it my mother, sister, teachers, friends, individuals from our industry, celebrities or famous leaders, the impact and influence women have on my life is immense and just the same.
I truly believe that a beautiful woman is a beautiful woman, but a beautiful woman with a brain is an absolutely lethal combination. Women of integrity, depth, sensuality and strength have always been my source of inspiration, the reason for what I do and how I got to where I am today. They are all my muse. If my quest, in what I do -- to make women look and feel beautiful -- reflects even a tiny fraction of my deep-rooted respect for them, and succeeds in celebrating these lives of strength and substance, then I will consider it a job well done.
With this in mind, I have decided to pay tribute, and start a series on my blog The Journal, called 'Monday Muse.' Our first Monday Muse is Suleika Jaouad. We have been lucky enough to become acquainted, through friends, with this astonishing example of inspiring spirit, strength and talent.
I hope you enjoy reading, and draw as much inspiration from these women as I do.
Suleika Jaouad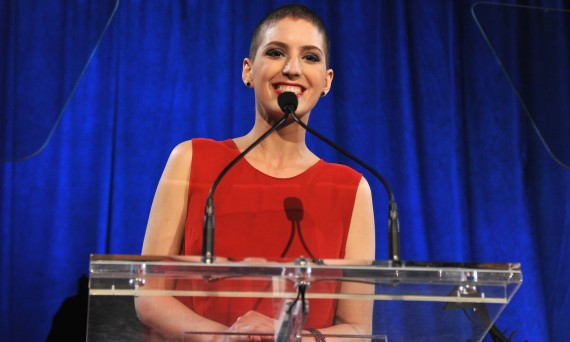 A triple citizen of the US, Switzerland, and Tunisia, Suleika graduated with highest honors from Princeton University in 2010. She was diagnosed with myelodysplastic syndrome and acute myeloid leukemia at the age of 22, about three years ago. After almost two years of chemotherapy and a bone marrow transplant this past April she is finally cancer-free. Her weekly column 'Life, Interrupted' in the New York Times' 'Well' section has chronicled her journey as young women living with cancer. Her blog 'Secrets of Cancerhood' began as a therapeutic outlet, and quickly turned into an inspiring legacy of hope and re-assurance for cancer patients, survivors and, really, anyone.
Suleika writes beautifully, both frankly and openly, teaching her readers and followers about coping, moving forward and staying positive in the face of life's most tragic interruptions. She chose not to feel sorry for herself, but to do everything she could to brighten her darkest days, as well as those of patients and sufferers around her. Her HuffPost articles would be titled things like '10 Things Not To Say To a Cancer Patient and '10 Ways To Help a Friend with Cancer.'
In one of her most inspirational New York Times articles, 'Making Resolutions,' she discusses how during her pre-cancer days, she would constantly make resolutions for herself that she never saw through.
"I'd always excelled at making resolutions. But I was never as good at keeping them. Like a lot of young people, I burned the candle at both ends, with an age-appropriate dose of invincibility," she wrote.
She promised herself that if she ever went into remission, she would never stop short of her goals again. Suleika serves as a reminder for all of us to take life day-by-day and to enjoy every moment. It's impossible for us to predict life's interruptions and is one's duty, when you are able, to truly live life to its fullest extent. To remain as such a beacon of hope, encouragement and positivity during such an experience represents a type of bravery only few are capable of having. And so she is a PG woman, and this Monday's muse.
Popular in the Community