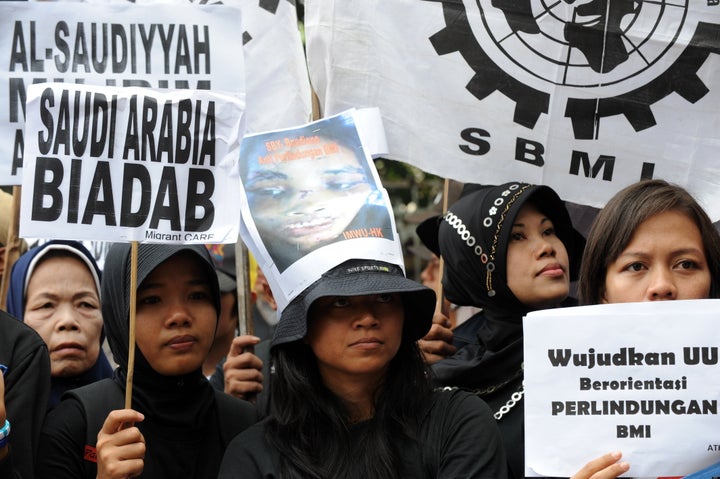 Yet another case in a disturbing rash of Saudi employers allegedly abusing foreign maids has surfaced.
According to the AFP, Indonesian-born Sumiati Binti Salan Mustapa, 23, has been undergoing treatment in the intensive care unit of King Fahd Hospital in the Muslim holy city of Medina since Nov. 8, after being burned with a hot iron by her unidentified Saudi employer. Sumiati, one of more than one million Indonesian expats living and working in Saudi Arabia, also reportedly suffered fractures and in her hands and ribs, while other reports say she had portions of her lips cut off with scissors.
Didi Wahyudi, an Indonesian Consulate official, told the Jakarta Globe that a 53-year-old woman who employed Sumiati had been arrested last Thursday, and vowed justice would be served. "The protection of our citizens comes first and we are going to make sure that she gets the best assistance," he said. Noting that the government would provide additional legal assistance and protection for Sumiati, Didi called signs of the maid's recovery impressive. "Sumiati is improving both physically and mentally. For example, her appetite is back. I visited her today and she asked for bakso and rice."
Meanwhile, Amnesty International appealed to Saudi Arabia and other Gulf states to do more to protect migrant domestic workers, who face "abuse and exploitation," in the oil-rich kingdom. "At the root of the problem is the failure of the governments of the Gulf states to uphold the rights of women migrant domestic workers," the watchdog's Middle East and North Africa director, Malcolm Smart, said.
Allegations of Saudi maid abuse have been rampant in recent months. As the Telegraph reports, officials in the Saudi city of Abha last week recovered the body of another Indonesian maid who is believed to have died from abuse. Last week, a Sri Lanka maid was recovering after her employers had allegedly driven 14 nails into her body when she asked for her salary after six months of work.
Calling all HuffPost superfans!
Sign up for membership to become a founding member and help shape HuffPost's next chapter