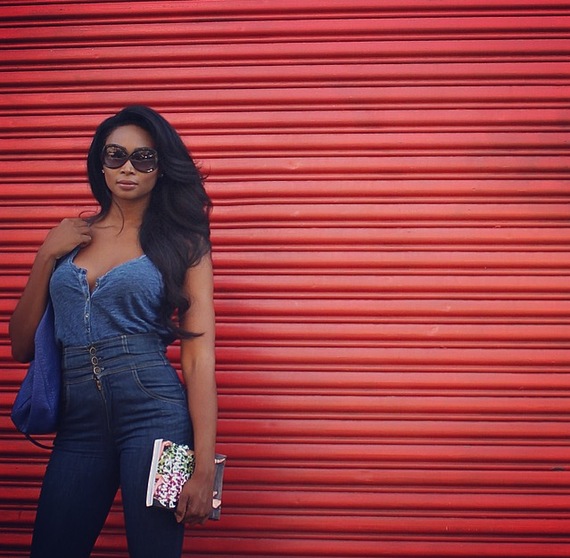 (@NanaMeriwether with Amanda Brook's new book 'Always Pack A Party Dress'. Photo courtesy of www.CityLately.com)
The books we read are a telling of who we are; "I think you learn a lot about someone through their library", says Peter Copping, the new Creative Director of Oscar de la Renta in the June 2015 issue of Vogue.
This summer, several noted authors including Judy Blume, EL James (of Fifty Shades of Grey), Harper Lee (of To Kill A Mockingbird), Candace Bushnell (of Sex and the City), Amanda Brooks (former Fashion Director of Barney's), and Wednesday Martin (social researcher and anthropologist) have released new books sure to redefine and influence our thoughts, world views and opinions.
Each a perfect companion to enjoy the summer's sun, look to expand your library with the below selection of fiction, non-fiction, culture and fashion related books.
Fiction
(Pictures courtesy of Amazon.com)
1. THE GIRL ON THE TRAIN (By Paula Hawkins)
A read described as chillier than Gone Girl. Rachel witnesses something from the commuter train she takes every morning that changes her life.
2. IN THE UNLIKELY EVENT (By Judy Blume)
This book is based on true events that actually happened to Blume's when she was young. In The Unlikely Event depicts characters in a New Jersey community that experience several tragic and eerie airplane crashes in a very short span of time.
3. KILLING MONICA (By Candace Bushnell)
The author of Sex and the City, Lipstick Jungle, and The Carrie Diaries brings a novel about celebrity, identity, friendship, love and fame.
4. GO SET A WATCHMAN (By Harper Lee)
The earliest work from the Pulitzer Prize winning author of To Kill a Mockingbird, Go Set a Watchman is described as a prequel to Mockingbird and includes many of the same characters.
5. THE FESTIVAL OF INSIGNIFICANCE (By Deckle Edge)
From the acclaimed writer who brought us The Unbearable Lightness of Being, The Festival of Insignificance is a cumulative account of Edge's work.
6. THE ROCKS (By Peter Nichols)
A confrontation and secret has set two families apart and this novel goes about unraveling this Romeo and Juliet type tale set in a community on the rocks of The Mediterranean Sea.
7. CHINA RICH GIRLFRIEND (By Kevin Kwan)
From the author of Crazy Rich Asians comes a funny novel about the social circles of China's uber rich.
8. THE SUMMER COTTAGE (By Susan Kietzman)
A story about the complications of family, a mother in her final days reveals she will leave everything to her favorite child, unless the rest of her kids all attend a family weekend together.
9. THE BOOK OF NUMBERS (Joshua Cohen)
A novel about the meaning of life in the digital age.
10. MANHATTAN MAYHEM (Edited by Mary Higgins Clark)
A group of neighborhood by neighborhood tales of New York City by a group of American mystery writers.
11. THE UNDERWRITING (By Michelle Miller)
A telling of the millennial generation. From Wall Street to Silicon Valley, this is novel follows 30 something year old professionals as they go through a multibillion-dollar IPO.
12. GREY: FIFTY SHADES OF GREY TOLD BY CHRISTIAN (By EL James)
There are two sides to every story...Read Christian Grey's account of his famous affair with Anastasia Steele.
1. PRIMATES OF PARK AVENUE (By Wednesday Martin)
A telling of life on the Upper East Side through a creative anthropological lens.
2. HEMINGWAY IN LOVE (BY A.E. Hotchner)
Through conversations had with Ernest Hemingway, comes Hemingway In Love: a story about the affair that defined Hemingway's marriage, writing and outlook on relationships.
3. A FULL LIFE: REFLECTIONS AT NINETY (By Jimmy Carter)
Our former President and Noble Peace Prize Winner, tells of his life, public and private. A moving book about an honorable man.
4. I'M SPECIAL: AND OTHER LIES WE TELL OURSELVES TO GET THROUGH OUR TWENTIES (By Ryan O'Connell)
A memoir of sorts, telling of this generation's coming up in a technologically saturated, overeducated, underemployed society.
5. I KNOW HOW SHE DOES IT: HOW SUCCESSFUL WOMEN MAKE THE MOST OF THEIR TIME (By Laura Vanderkam)
From the author of, What the Most Successful People Do Before Breakfast, comes a study about how women CAN have it all: a successful career, relationship and family.
6. JUGDE THIS (By Chip Kidd)
Published by TED Books, Judge This tells of the importance of first impressions from the perspective of a day in the life.
7. MODERN ROMANCE (By Aziz Ansari and Eric Klinenberg)

Dating, love and marriage in the modern era by comedian Aziz Ansari and NYC sociologist Eric Klinenberg
1. MODEL WOMAN: EILEEN FORD AND THE BUSINESS OF BEAUTY (By Robert Lacey)
A new read about the co-founder of Ford Models, Eileen Ford-how she transformed the modeling industry and created the celebrity supermodel.
2. THE KNOCKOFF (By Jo Piazza and Lucy Sykes)
Fashion drama in the digital age; The Knockoff is a novel about a fashion magazine whose September issue is threatened to be shrunk down to be a mere app.
3. HOW TO BE PARISIAN WHEREVER YOU ARE: LOVE, STYLE AND BAD HABITS (By Anne Berest, Audrey Diwan, Caroline De Maigret and Sophie Mas)
This one is an oldie...but goodie. Released last September, this book highlights tips on how to behave and style yourself Parisienne from four worthy French women.
4. IMPRESSIVE: HOW TO HAVE A STYLISH CAREER (By Kirstie Clements)
The former Editor-in-Chief of Vogue Australia details advice on how to make it in the fashion industry.
5. LEAVE YOUR MARK (By Aliza Licht)
The Global Communications Director and voice behind DKNYPRGirl, provides career advice for guys and gals aspiring to positions in the PR and fashion worlds.
6. MY PARIS DREAM: AN EDUCATION IN STYLE, SLANG, AND SEDUCTION IN THE GREAT CITY ON THE SEINE (By Kate Betts)
Former Vogue and Harper's Bazaar editor releases a memoir about being a fashion journalist in Paris.
Popular in the Community