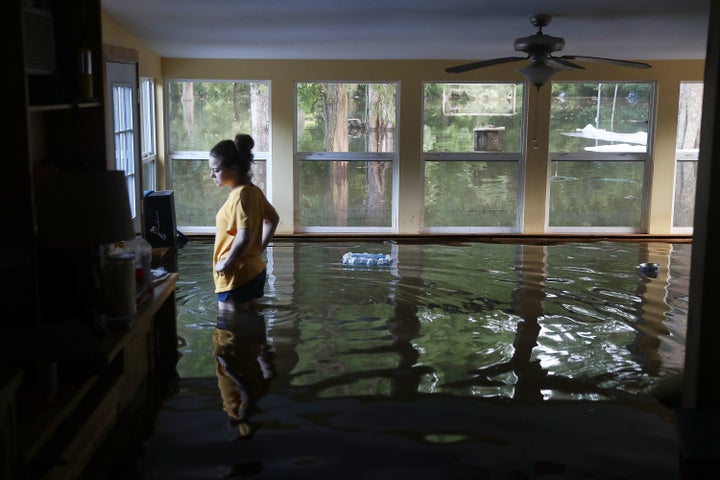 This summer was a devastating showcase of the powerful rains and floods Americans can expect to see more often as the planet warms.
Floods were so catastrophic between June and August this year that The Weather Channel coined summer 2016 "the summer of flooding." Deadly "1-in-1,000-year floods" ― a term scientists use to describe floods that have only a 0.1 percent chance of occurring ― hit Maryland, West Virginia and Louisiana in a span of just a few months.
Those three floods account for a whole one-third of 1-in-1,000-year floods that have hit the U.S. since 2010, according to USA Today's count.
The weather this summer is emblematic of an alarming phenomenon observed by scientists. The frequency and strength of heavy downpours has increased nationally over the past three to five decades, according to the National Climate Assessment, and the increase is especially notable in the Midwest and Northeast, which since 1991 have experienced 30 percent more rainfall than the 1901-1960 average.
"The deaths and damage ... remind us that climate change is about more than polar bears and the rising sea level in the Chesapeake Bay."
The West Virginia floods in late June were the worst to hit the state in a century, killing at least 24 people and destroying or damaging more than 5,000 homes.
"Rainfall totals were staggering," NOAA reported in an assessment of the floods. "In Greenbrier County, West Virginia, Maxwelton received 9.67 inches of rain in the 36 hours leading up to June 24. White Sulphur Springs observed 8.29 inches in 24 hours, doubling the previous record for wettest day" ―which was four inches of rain in 1890.
Increases in extreme rains, NOAA noted, spell particular trouble in mountainous states like West Virginia, where valleys collecting water present an elevated flood risk.
Maryland state Sen. James Rosapepe (D) highlighted the disaster as proof the state hasn't prepared for the broad effects of climate change. Much of the state's climate change planning, he told The Baltimore Sun, focuses solely on rising sea levels.
"The deaths and damage caused by this weekend's flash flood in Ellicott City, as well as the damage caused elsewhere, remind us that climate change is about more than polar bears and the rising sea level in the Chesapeake Bay," he said.
"Did climate change kill two people in Ellicott City this weekend?" he asked.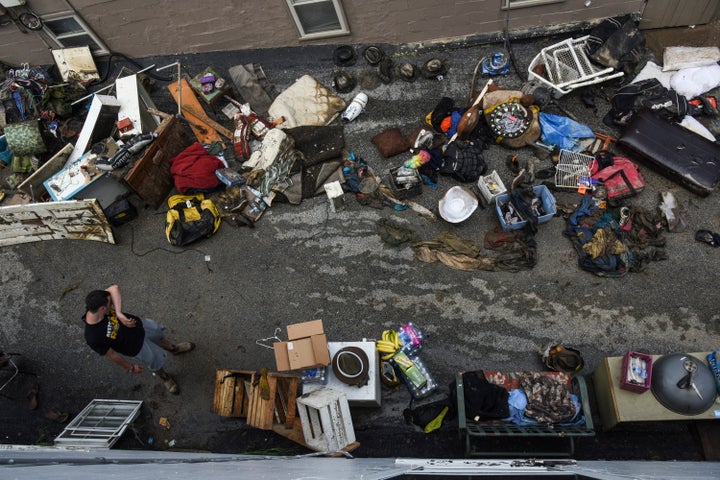 The summer of floods was capped off in mid-August by the hellish deluge in Louisiana that killed 13 people, led to an evacuation of 30,000 citizens and damaged at least 60,000 homes. More than 30 inches of rain fell in some parts of the state, prompting aid groups to declare it the worst natural disaster to hit the U.S. since Hurricane Sandy in 2012.
"I'm afraid we'll get back on our feet again and rebuild and then another flood will come," Cris Burkins, one of the Louisianans who lost everything in the flood, told The Huffington Post at the time. "I'm scared to live here. We've talked about moving to Mississippi or Alabama. We're afraid Louisiana is going down – it's sinking."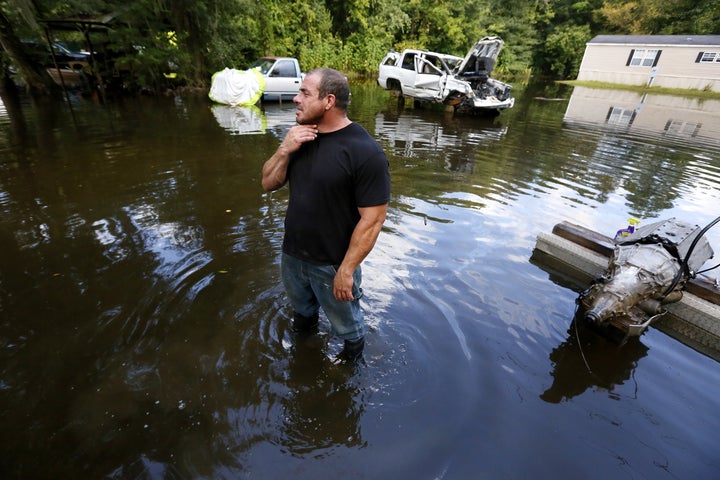 While climate change isn't necessarily the cause of these downpours, scientists know that a warmer atmosphere holds more moisture ― about 4 percent more for every 1 degree Fahrenheit increase in temperature, Kevin Trenberth, a distinguished senior scientist at the National Center for Atmospheric Research, explains. Climate change, therefore, can turn what would be a routine storm into a catastrophe like those Americans witnessed this summer.
"When the right weather system comes along, that weather system can be thought of as a device for reaching out — quite a ways at times — and grabbing the available moisture and bringing it in and dumping it down," he told HuffPost following 2015's floods in Utah and Arizona.
"I'm afraid we'll get back on our feet again and rebuild and then another flood will come. I'm scared to live here."
At that rate, tweeted Gavin Schmidt, director of NASA's Goddard Institute for Space Studies, there's a greater than 99 percent chance that 2016 will be crowned the new hottest year on record.
Related
Before You Go
Deadly Louisiana Flooding Photos
Popular in the Community