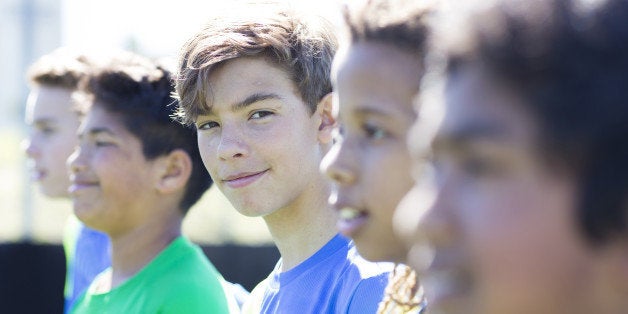 My boys returned home from two weeks away at camp yesterday. Their overnight camp is a magical place (and not in the Disney sense, but in the card game). A place where 10- and 12- year old boys and girls have to: Accept rules (sometimes stupid ones), detox from tech -- yeah!, make new friends and reconnect with old ones, put up with trouble makers, enter to win farting and burping contests, follow the dictated schedule (including 7:00 a.m. wake-up and an afternoon nap), look foolish while trying new activities, shower outside, eat semi-yucky camp food only at meal time -- starving kids don't complain, develop immodesty, and learn to tolerate smells that would kill most people; all while growing up and having the best time ever. Works for me.
The fact that the boys are completely camp sick today doesn't bother me, but it makes returning to the mundane world of simple etiquette -- gas is for the bathroom and car only, chores, and back to school feel like a mild form of torture, on both sides -- mine and theirs.
Many parents may not worry about back to school three weeks before school starts. Being divorced forces me to have my own schedule with tighter timelines and more work. The reality is that everything is on a truncated schedule for parents and children of divorce. Cut your time in half and then tell me I'm OCD. I try to provide my boys a typical childhood and summer camp is one part they just could not do without. In fact their love for it is making me feel slightly underrated but I'm not about to compete by allowing food fights and blazing saddle sounds at my dinner table.
The truth is I only have four measly days to: Get homework completed (we are way past the era when summer meant no schoolwork), school supplies bought and organized, doctors appointments attended, purchase new cell phones, and catch up on play dates and sleepovers and oh, one was sick on the outbound leg and the other came back sick, envious yet? They've only been back 24 hours, but with this schedule, I don't know who's looking forward to next year's camp more, me or them.
See after these four days of back to school battles, they are away with their father for a week. They come back for a day and I whisk them off to our annual family vacation at The Farm for 7 days to marvel in each other's witty knock, knock jokes, roast marshmallows in the camp fire -- so what if they only give you two, search incessantly under chicken's bottoms for eggs without getting bitten -- they don't really like us probing down there, milk cows -- kind of gross but the boys love it -- I'm not reading into that, stuff our faces with incredible food, play with the Farm dog Chloe while feeling guilty about leaving our own dog Candy at home, referee whose tennis ball was in or out, and other high drama moments, and last but not least, try to ignore the fowl humor of preteen boys coming from the adjacent room. It's the most precious family vacation and none of us would trade it for anything; that's my fantasy anyway and no one better mess with it!
Those of you wondering why we don't take care of the school preparations or our family vacation before camp starts on July 25th, there's only one answer -- baseball and if you had to ask then you don't know what that's like, but that's for a different day.