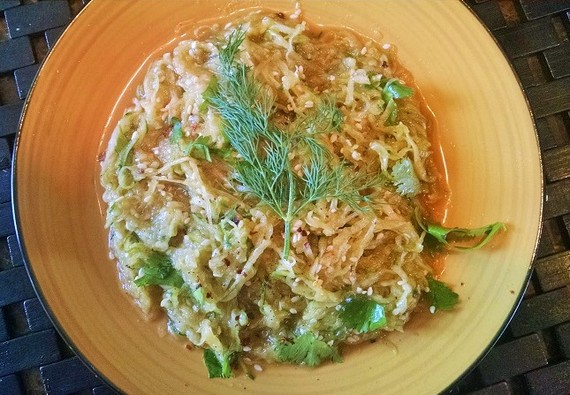 It's already so hot here in Tampa that I am not inclined to do a lot of heat-based cooking these days. Cucumbers are probably my number one "go-to" vegetable. Sometimes when I am not in the mood to make a whole salad, I will slice up some cucumbers (my favorite actually are the little Persian ones), watermelon radish (if you haven't tried these, seek them out - they are delicious!) and peeled kohlrabi and sprinkle them with some Ume (Plum) Vinegar with a couple of drops of toasted sesame oil.
This recipe is mainly raw; You can make it fully raw by leaving out the toasted sesame oil and switching to apple cider vinegar. You can substitute the sunflower seed oil with any other oil that you prefer, but I'd recommend staying away from a heavier oil, like EVOO as that might take over the flavors. I used coconut sugar as my sweetener, but feel free to experiment with others such as honey, stevia, xylitol or coconut nectar. The coconut sugar gives it a nice bright finish but it also makes the noodles darker in color.
For the noodles, source out English cucumbers. These are the longer, thinner ones that are usually hot-house grown. I tried using the more conventional type, but they have a lot more seeds and make the noodles quite soupy. Another option is to half a conventional cucumber and scoop out the seeds before spiralizing. You can even use some of the seeds in the dressing. If you don't have a spiralizer, you can use a peeler or mandoline and make flat noodles that way.

Sweet and Sour Cucumber Noodles
Ingredients:
2 English cucumbers
1 lime
3-4 TB. Coconut sugar
3 TB. sunflower oil
1.5 TB. white vinegar
3 TB. rice vinegar
1/4 tsp. toasted sesame oil (optional)
1 small garlic clove (or 1/4 tsp. powdered)
1 small piece of shallot
1 small piece of ginger (or 1/8 tsp.)
1/4 tsp. sea salt (or more, to taste)
2-3 tsp. sesame seeds (raw or toasted)
1/4 cup chopped cilantro
1 tsp. crushed red pepper flakes
Optional: 1 tsp. chopped dill or a sprig to garnish
Directions: Peel the cucumbers loosely (leaving some green for contrast) and slice off the ends. Cut into 1-2 inch pieces and spiralize. You can also create flat noodles with a peeler or mandoline. Place noodles in colander to drain as they will be quite watery. You can also blot them with a paper towel and squeeze out the moisture.
Using a microplane grate the ginger and shallot over a mixing bowl. You can chop them finely or use powdered but I like the texture of them this way. Add the rest of the ingredients to the bowl, up to the sesame seeds. I actually put these in my Nutri-Bullet to blend everything together as the coconut sugar is somewhat grainy, but you can just whisk it all vigorously. Taste and adjust seasonings. Place the cucumber noodles in a bowl and toss with the dressing adding the sesame seeds and cilantro. Cover bowl and refrigerate for several hours. Before serving garnishing with the crushed red pepper flakes, dill or other favorites.
Make these earlier in the day and allow the flavors to marry and intensify by covering and refrigerating for several hours. You can spice up the mixture by adding chopped dill or jalapeno peppers, or add a teaspoon of sriracha to the dressing. I'm going to try that next.
LindaJoy Rose, Ph.D. aka Dr. L J is the founder of the Natural Wellness Academy and the pioneer of the Raw Fusion movement, blending the incredible health benefits of raw foods with the comfort and convenience of mainstream meals.
Popular in the Community