Does going to camp matter?
Last year I interviewed Kenda Creasy Dean who would argue the answer to that question is, YES! A professor of youth, church and culture at Princeton Theological Seminary, her writing has informed my work as a youth pastor, and I became better acquainted with her during my work on Does the Shape of Families Shape Faith? In our conversation, we discussed the arc of her work, paying special attention to the contemporary challenge to be a church that engages the hearts of young people with the hope and faith of the Gospel.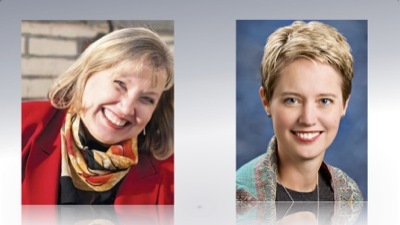 Most pastors and youth workers first meet Creasy Dean through her popular book, Almost Christian, one of several books that reported on the first wave of analysis coming from the National Youth and Religion Survey. Lead investigator of that project, sociologist Christian Smith, coined the phrase "moralistic therapeutic deism" (with Melinda Lindquist Denton in Soul Searching) to describe the current state of faith for today's teenager. Creasy Dean translated this phrase as: "God is nice and God wants you to be nice." She explained:
I remember talking to one young woman, telling me about growing up in the church and how much she loved it, how she'd been in the church every waking moment since she was born. But when it came time for her to describe what she thought about God, about Jesus, about the church in the world, she had no language to talk about it whatsoever. I think about that interview again and again...
This interview stuck with Creasy Dean because it resonated with the superficial responses of many teenagers in the survey. She saw this lack of language for faithful purpose pointing to a generational ennui and an absence of a moral universe guiding the lives of young people.
Here is where camp enters the picture.
In her recent, book The Theological Turn in Youth Ministry, co-authored with theologian Andrew Root, she writes about camp's power to create liminal or in-between space where foundational questions about God and our purpose can be explored safely. Beneath the surface of swimming, study, Capture the Flag, and bonfires eschatological work is being done. She writes:
The liminal character of camps reminds young people that they are momentarily suspended between daily life and eternal promises, and that their time in this place is...temporary. The Christian camp, retreat, or conference is less an experience than a pilgrimage. These youth travel together, literally or figuratively, toward a holy destination: life in God.
Creasy Dean reflects on her own experience of attending summer camp and concludes:
I came home from camp and realized it was far less important that I believe in Jesus but that Jesus believes in me -- I came home with a renewed sense of purpose.
This final quote reinforces the most important piece of going to summer camp: coming home. Rabbi Daniel Greyber served as Executive Director of Camp Ramah in California for many years and he writes in Faith Unravels about the sacred task of speaking to campers the morning that they leave camp.
The whole reason you come to camp...is to leave...We love taking care of you and see in you the possibility and hope for everything that can be made good in the world. But. If you were to stay here at camp, something great will have been lost. A great potential unfilled...you will bring goodness into a broken world sorely in need.
We send our young people to camp so that they come home changed for the good, for the sake of bringing good into the world.
What are you waiting for? Register for camp now!
REAL LIFE. REAL NEWS. REAL VOICES.
Help us tell more of the stories that matter from voices that too often remain unheard.