When I was a kid, I went to sleepaway camp. We swam, danced, rode horses, did arts and crafts and learned boating skills and how to water ski. When we weren't at activities, either during our rest period or on a rainy day, we played Jacks and Spite and Malice (it's a card game, but I don't remember how to play) and made bracelets out of lanyard. We washed our hair in the rain storms and had shaving cream fights. We listened to Kasey Kasem's "American Top 40" on Sundays during doughnut breakfast and sometimes, we even wrote letters home. We had eight weeks with our camp friends and wanted to make every minute count.
Now, it's my kids' turn. Camp is a little different. They go for seven weeks. They don't have horses or water skiing; they have rock climbing, circus and lake trampolines. They don't have Olympics, they have World Day. (Thank goodness they still have Color War and the Apache Relay.) But mostly, it's the same. It is a time in their lives when they get to just be kids and nurture friendships that will last a lifetime. It's a time to learn responsibilities (keep your cubby neat, stack your plates at the end of a meal) and a time to be independent and build character, all while in a safe environment that fosters community and family values. My son loves camp so much that he cries for days after coming home, claiming he is camp-sick and missing his friends. I can only empathize with him (I've been there) and remind him of how lucky he is to have the opportunity to go to camp and create a special bond with friends.
So, when our camp sent an email saying that they have changed their technology policy, my camp-loving son threw a hairy fit. The hairiest. To be clear, the old policy stated that nothing that could connect to the Internet, even if it had an airplane mode, was permitted. But now, iPod Touches and DSi game consoles were not. Only "old-fashioned" mp3 players/iPods and cameras that don't record video are allowed. Back to the hairy fit. He needs the iPod touch, he claims. He needs it to listen to music and to play games and to watch a movie and for the clock. I told him I would charge his old iPod and load it with his current musical taste (bye-bye "High School Musical," hello Macklemore!) and send him with a clock. That wasn't good enough. And it seemed like he was going through some sort of withdrawal at the thought of living without technology for seven whole weeks. The behavior frightened me.
I realize that his whole social existence is dependent upon his tech stuff. His smartphone is how he listens to music, entertains himself and talks to friends -- well, not actually talk, more like text -- comments on posts and "likes" photos. Kids these days don't actually interact. If you have ever witnessed teens together, they usually have their heads down, looking at a smart phone or iPod Touch and communicating either through their tech stuff with those friends present or other kids in groups doing the same thing on the other side of town. This is my son's way of life. Gone are the days of calling a land line and making small talk with a friend's mother before talking to the friend. When they want to contact a friend, they simply text or message them on Facebook. Our camp would like to give the campers the opportunity to put down the tech stuff and spend time with friends the old-fashioned way. And after witnessing the fit, it's clear to me that he could use the detox.
I posted about his fit on Facebook and a debate ensued between those who favored the break from technology and the need to be connected to all the happenings of the teen world 24/7, and those who thought that the tech stuff was now a part of our way of life and the camp should allow it in moderation. I sided with the "take a break" group. In an article published recently in the New York Times entitled, "Your Phone vs Your Heart," the author conducted a study which set out to prove that habits can mold how our brains work. She concluded, "If you don't regularly exercise your ability to connect face to face, you'll eventually find yourself lacking some of the basic biological capacity to do so." How scary is that? My point in bringing up this fact is that camp provides kids with the perfect opportunity to exercise their ability to "connect face to face," which is probably why these friendships are amongst my son's strongest with his friends.
It's not just camp that can provide this essential time for kids to take a tech break. Many kids don't go away to camp. Most in my area don't go to any kind of camp at all. Summer is a great excuse for all kids to unplug and go outside and play, jump in a lake or a pool or just sit around and get bored. Boredom is the best fuel for creativity. Boredom is what lead my camp friends and me to sing into our hairbrushes at the top of our lungs and use every color in the rainbow pack of markers we had to write letters home. Even as adults, our brains need that downtime to daydream, collect our thoughts and create new ideas. As a newbie blogger, I find that my most productive writing comes when I turn off the TV, Facebook and my phone.
For me, I am glad that my kids' camp is giving them the opportunity to exercise not only their bodies, but their minds. But we shouldn't limit our breaks from technology to camp and summer. I know I am not setting enough limits on screen time during the rest of the year. That's something I would like to change. And I plan to do the same for me. Adults should also practice boredom. Pretend it's a new-fangled form of Yoga -- let's call it "Boga." I'm sure it will catch on. Start with taking time out of every day or every week and unplug. No one will miss you. Try it for a few hours a day, or be adventurous and take a whole Sunday off. Let me know how it goes. I will be trying it this summer too, so you won't be alone. I think it will help me be more present for my children when they come home with the the equivalent of six-pack-abs for brains. I want six-pack-abs for brains too. Time to Boga!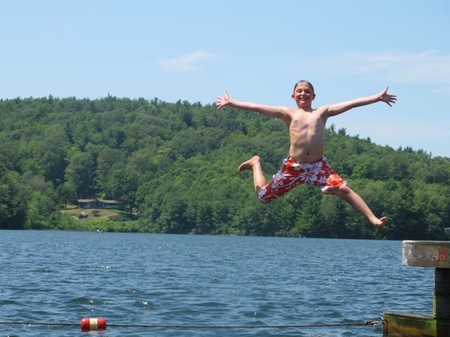 Related