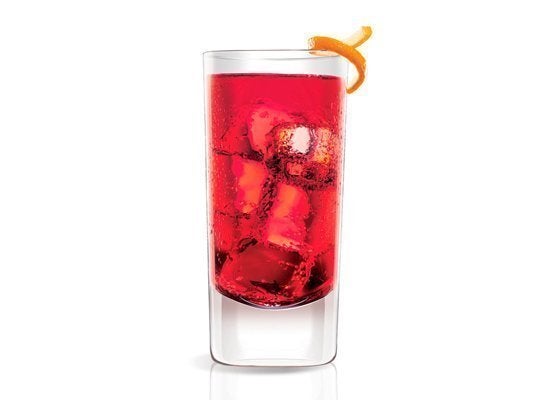 We moms have it hard in May and June. The social calendar that we tend to throughout the year virtually explodes for the spring season, with graduation parties and birthday parties and class parties and final exams and proms and cookies to bake and brownies to bake and teachers to thank and yearbooks to distribute and camp trunks to pack and backpacks to unpack and trip forms to fill out and letters to send to camp and Father's Day to plan and little league playoffs and final recitals and band concerts and about a million other obligations that keep our heads spinning. Until now. Because now, we have reached Nirvana. We have reached the end of June.

Ah. Say it with me. The end of June. Now exhale.

At the end of June, and well into July and August, Mommy needs -- no, Mommy deserves -- a cocktail.

Here are some of my personal summer faves.
The Literati
I first tasted this drink at a meeting of my book club, and have thus duly named it in honor of the occasion. Thanks to my friend Emily for serving it up in beautifully elegant stemware and making me feel special, even though I hadn't read the book.
1/3 Prosecco
1/3 St. Germain
1/3 San Pellegrino
"So, it's a poor man's champagne cocktail," my friend Amy said.
"No, it's The Literati," I explained. "And, if you want to get crazy, try this."
The Crazy Literati
2/3 Prosecco
1/3 St. Germain
To hell with the San Pellegrino
This is how Emily served it and, I must say, it's quite deeelish. Thanks to Alex Javadi, Senior Wine Consultant at Zachy's, for originally sharing with Emily this concoction, which is similar to the St. Germain cocktail on that liquor's website.
In case you've never had St. Germain, it's an elderflower liquor that gives a wonderful aroma to the drink. Maybe it smells so fresh because, as the St. Germain website claims, "After gently ushering the wild blossoms into sacks and descending the hillside, a few of the men who gather blossoms for your cocktail will then mount a bicycle and carefully ride the umbrells of starry white flower to a collection depot. Vraiment." Really! They do all this for us!
The Chat Punch
The Chat Punch is the kind of sticky-sweet drink reminiscent of a late 1980's booze cruise, which is perhaps why I instantly fell in love with it. This is the drink my friends Gaby, Allison and I drank at Chat American Grill last summer, before sending dear Gaby off to her new home in St Louis, MO. When we reunited a few weeks ago at the same spot, we immediately ordered a round of Chat Punches, only to discover that the drink had been removed from the menu.
"How could they?" I wondered aloud. But then I realized that, if people are like me and only order it once a year, it might not be their bestseller.
"The bartender is gonna make it for us anyway!" Gaby said. We hoorayed.
And then I hoorayed again when the general manager of the bar shared the recipe with me.
1 oz. Absolut Apeach
1 oz. Absolut Mandarin
2 oz. orange juice
1 oz. cranberry juice
a splash of peach schnapps
a splash of pineapple juice
serve with ice in tall glass and garnish with an orange slice
sip through a straw
Warning: This does not mix well with spinach and artichoke dip.
The Rosie Melons
One of my favorite places on earth has to be the Top of the Standard (formerly known as the Boom Boom Room), at the Standard Hotel in the Meatpacking district of NYC. Just getting ushered through those big double doors into the swanky glass-and-leather-and-velvet lounge makes me feel better about my mediocre life. And sipping a $14 cocktail makes me believe that maybe my life is actually pretty damn fantastic, since I can apparently afford such a decadent libation. Alas, according to my sources (I called and asked the hostess), the Rosie Melons have been taken off the menu. But I have spent hours in my lab recreating for you the drink made exclusively for the Standard by mixologist and self-proclaimed cocktail architect Yusef Austin. (Actually, I watched the great tutorials he gives for mixing drinks on his website and modified them using the right ingredients. And then, just when I was this close to cracking the code, through a friend-of-a friend at Scarsdale10583.com, I was given the actual recipe from the Beverage Director at The Standard. Phew!) And now I am sharing the Rosie Melons with you.

Are you laughing at the name? Could you maybe stop? Because this drink is serious, people. It contains rosemary.
2 oz vodka
1/2 oz rosemary-infused aquavit
2 oz. cantaloupe puree
1/2 oz. fresh lime juice
½ oz. simple syrup
blend and shake well with ice
serve with a rosemary garnish
So, fine, this one takes some advanced planning. Like you have to buy aquavit and then infuse the aquavit with rosemary sprigs for a few days. And you have to puree a cantaloupe and make simple syrup. The good news is that by the time you've finished making it, you really are in desperate need of a drink.

Summer Berry Spritzer
If you are looking for a nice, non-alcoholic summer refresher, look no further that Martha Stewart's berry spritzer. I personally enjoy the berry spritzer at Eli Zabar's E.A.T. on the Upper East Side of NYC, but when I called there for the recipe, they were suspicious and hostile. "How do I know you aren't going to steal the recipe?" A man from the kitchen staff asked me when I was connected to him on the phone.

"Well, that's kind of the point of printing your recipe in an online newspaper." I said. "I am asking to steal it for the benefit of the masses."

"Berries and seltzer," he said.

"How many raspberries?" I asked. "And, do you, like, mash them? So they don't get caught in the straw?"
And that is when he hung up on me.

So you will have to go there to enjoy one for $8 or make Martha's, below.
3 cups blackberries
1 cup raspberries
½ cup simple syrup
½ cup white grape juice
1/3 cup freshly squeezed lemon juice
ice
seltzer (or sparkling wine, if you'd like alcohol)
Optional: Feel free to add patriotic raspberry and blueberry skewers for the 4th of July if you want to make Martha proud.
Place blackberries, raspberries, simple syrup, grape juice and lemon juice in the jar of a blender; puree until smooth. Strain mixture through a fine mesh sieve, discarding solids. Fill 8 Collins glasses with ice, if using. Divide mixture evenly between glasses; top with seltzer or wine and serve immediately garnished with fruit skewers, if desired.
Lastly, apply SPF and relax. So, moms, let's toast to summer! What are your favorite warm-weather libations? Do tell!
Related