If you yearn to experience the world, Europe is a great place to start. It is full of sites, cities and towns, diverse culture, rich history, food of every imaginable cuisine, and so much more. There is probably no better way to fully embrace all this than by backpacking. Backpacking has become a widely popular and cheap alternative to exploring Europe. With summer season fast approaching, college students and others are gearing up to gain an experience that will last a lifetime. If your summer plans include a trip to Europe, be sure to put Italy on your itinerary. While the art, architecture, history and food may catch your attention; Italy also has a busy summer schedule of concerts. Here at Party Earth, we have narrowed down five great venues in three of Italy's principal cities. If you love music, you don't want to miss out on these experiences.
Rome is the capital of Italy and is without a doubt one the most beautiful cities in the world. Its history dates back to over a thousand years and backpackers come from all over the world to admire the treasured masterpieces of Roman art and architecture. There is no surprise that Rome is also home to two of Italy's best music venues. If you're looking for concerts in Rome, then you need to check out the Ippodromo Capannelle and PalaLottomatica. The Ippodromo Capannelle is a racecourse and entertainment venue built in 1925, located in the Capannelle neighborhood of Rome. Today it hosts four main horse races, but since 2010, the Ipprodromo Capannelle has been the site for the Italian rock festival, Rock in Rome. This much-anticipated event takes place during the summer and lasts over a month. Famous artists who have previously performed at this venue include Slash, deadmau5, and Snoop Dogg (Snoop Lion). Another remarkable indoor sports and concert arena located in Rome is PalaLottomatica. With a capacity to hold over 11,000 patrons, this venue provides a real concert experience where thousands of die-hard fans can gather together and enjoy an unforgettable performance. Famous acts that have played here have been The Rolling Stones, Carlos Santana and the Spice Girls.
For live music buffs heading to Tuscany, there are also tons of amazing concerts in Florence. While Rome provides backpackers with bigger and grander venues to watch artists perform, Florence hosts equally as pleasing, but smaller venues, where fans can enjoy music at a more intimate level. The Viper Theatre is a great example of this. Located just 20-minutes outside of Florence, The Viper Theatre is a popular live concert venue for both local and international bands and DJs to perform. Additionally, what separates this venue from others in Florence is that it offers DJ, music production, stage engineer, and sound engineering courses as well as adult and children's theater workshops. The Viper Theatre is also best known for hosting the 2011-2012 Emergenza Festival, which showcased 70 emerging pop, rock, and alternative music bands. But for those of you who are itching for a bigger concert atmosphere in Florence, the Stadio Artemio Franchi venue is for you. This soccer stadium was built in 1931 and is home to the ACF Fiorentina soccer team. However, when the stadium isn't being occupied by sporting events, it also puts on great live concerts. Past performers who have played in this arena include iconic artists like David Bowie, Madonna, and Bruce Springsteen.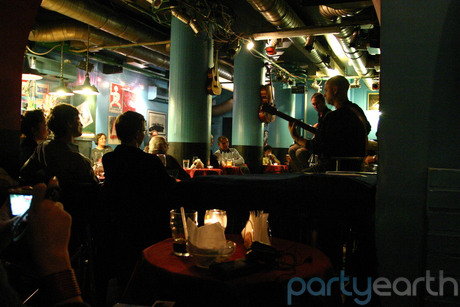 Venice is located in the northeastern part of Italy and is on every itinerary for those backpacking around the country. It has a variety of beautiful museums, renaissance architecture, mouthwatering restaurants, and other attractions that could keep a backpacker's itinerary filled for days. But if you want to see concerts in Venice, a "must go" spot for music lovers is the Venice Jazz Club. Tucked away on a quiet canal, the Venice Jazz Club is the only one of its kind in the city and provides an intimate music venue experience with an artsy, almost underground, exclusive vibe. The club attracts some of the area's finest jazz musicians and those who appreciate classic and modern jazz, Latin jazz, and bossa nova, gather here for an evening filled with great Italian food, wine, and smooth sounds.
By Ellie Doran, Party Earth writer.