Here in Heat Wave New York, cooking and summer just don't go that well together. Added up, their heat can be just unbearable. With our small apartments and AC window units (which often don't even fit in the kitchen itself), sometimes our best bet is just not to cook at all.
But that doesn't mean we don't eat at home. Cooking doesn't have to involve turning your apartment into a sauna. It can be about putting together vegetables, grains, and proteins in a cool, leisurely manner, about whisking dressings or blending dips, and about supplementing what you can't eat raw with a little something called prepared foods. Follow this guide and you too can stop calling for takeout; put on your camisole and short shorts, and get "cooking"!
**Tips and Tricks**
Do It All At Once. Find a time in your week, preferably when it's not stifling (mornings, late evenings, rainy days), and try to prepare everything that makes use of the stove or, gasp, oven. Simmer potatoes for potato salad and eggs for egg salad sandwiches. Roast tomatoes, which you can use in pastas and sandwiches all week. Poach a few chicken breasts for Crunchy Chicken Salad Sandwiches. Make soup that tastes best chilled. Stir together homemade Spiked or Sober Lemonade or Chai Tea Concentrate. You can even fry up some bacon to be re-heated in the microwave for BLTs or Barely Legal Egg Salad & Bacon Wraps. Cook a batch of lentils or barley for salads. If you're a baker, get your zucchini bread and granola in and out of the oven in this time, too. Then go take a shower.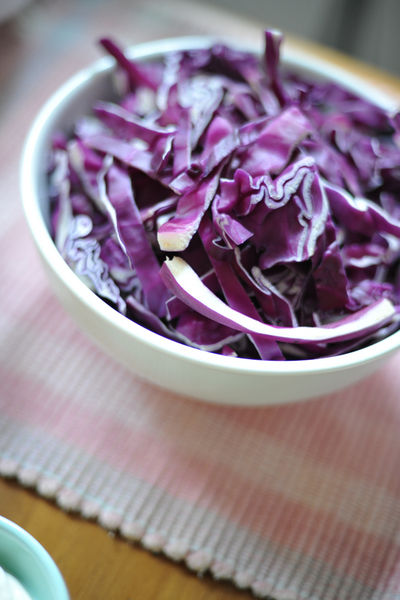 Assemble, Don't Cook. Turn "cooking" into a euphemism: you can spend plenty of time chopping, grating, mincing, and slicing, all without turning on the stove. We're not saying you should work up a sweat with your zester, but it's good to remember that lots of great food can be had without so much as turning the heat to low. Slaws--like this Fennel-Cabbage Slaw--are substantial sides, and a thoughtful sandwich is a classic heat-free dinner. Try these Roast Beef Baguettes with Cider Onion Jam and Fennel Remoulade (make the Onion Jam ahead of time; see above), or assemble your favorite combination of homemade hummus, veggies, and cheese on good whole grain bread. Any salad from our site is a good choice--to us, panzanella especially screams summer.
Let Antipasti Inspire You. The idea of assembling dinner is taken to its simplest iteration in the concept of antipasti. Buy good cured meats, yummy cheeses, and raw or prepared vegetables or fruits (try roasted peppers, sundried tomatoes in oil, and olives in addition to carrot and celery sticks, yellow pepper slices, and grapes or sliced melon), and place them artfully on a cutting board. Add some good bread and crackers, set it out, and a meal appears. No need to stick with Italian ingredients, though. A Mexican board could involve guacamole or sliced avocado and roasted peppers, hard chorizo, corn tortillas, and toasted pumpkin seeds; a Scandanavian smorgasbord would feature smoked salmon or herring, slices of ham, bread and butter, beets, and slaw. Let your imagination take you around the world!
Buy Pre-Cooked Protein. If you're buying shrimp, choose the pre-cooked kind, then make a gorgeous salad or throw them into your pasta. Smoked tofu can be merely sliced and served, as can smoked salmon. Lobster or crab meat are good options if you can afford them. You can even grab a few grilled chicken breasts or a whole rotisserie chicken from the salad bar and then build a no-cook meal, like these tacos, around them. Good hard sausage and cheese can be the center of a meal--as in the antipasti platter, above.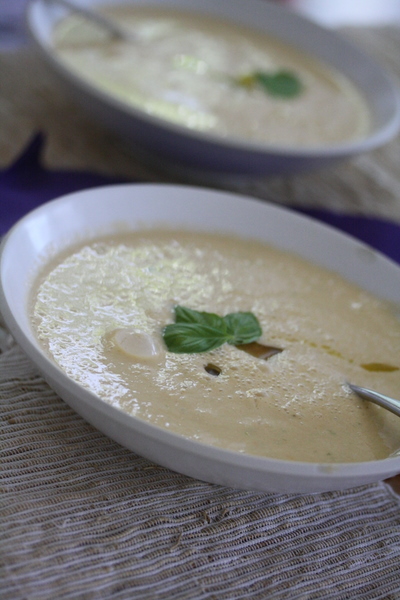 Blend. Why is it that some of the best summer foods are blended together? Our Creamy Gazpacho whizzes up in the blender easily. Smoothies are fantastic summer fare too. We're partial to Chocolate-Banana Milkshakes: dissolve  a spoonful of cocoa powder and a spoonful of sugar in a little bit of hot water in a cup, then add that mixture to the blender with a banana, milk, and more ice cubes. Blend, then taste and add more sugar as you like. Brrr!
Keep Cooking Times Short. It's one thing to boil some water, cook pasta, and drain it before tossing with a no-cook sauce, like Ginger-Scallion Noodles or Noodles with BGSK Peanut Sauce. It's clearly another to have a stew simmering on the stove for hours. Don't be timid about turning on the stove every now and then, just keep it brief. A steak can be seared in less than ten minutes, and mussels pop open their shells in under five; if you're not careful, you might end up eating these Coconut Curry Mussels every night!
Eschew the Oven. Not cooking primarily means not turning on the oven--it's the most efficient way to heat your apartment when you least want to have it warmed. However, we might be exaggerating when we say you should never turn on the stove at all--having a burner going for five or ten minutes (see above) is not that detrimental to your indoor climate. In particular, toaster ovens earn their keep in summer: you can toast bread, melt cheese, and roast nuts without having to deal with the oven or stove.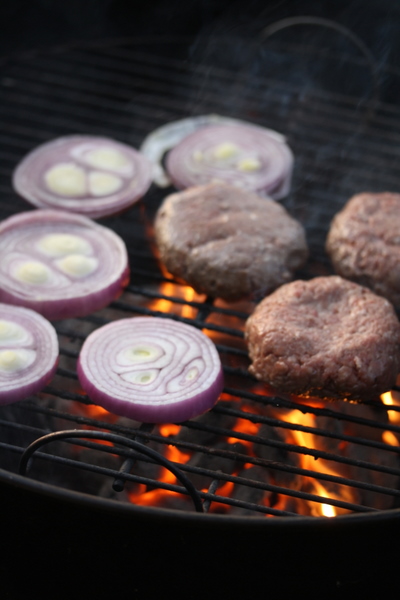 Go Outside. If you have outdoor space and a grill, take the cooking far away from the kitchen. You won't run the risk of over-heating your small apartment--and if you have cooked at all, you can flee your confined space and rush into the great (hot) outdoors. Though cooking by a grill can be a pretty searing experience, at least you've got a breeze and some shade to cool off in afterwards. Or, if you're lucky, a lake. Our grill favorites include: Giant Salty Chicken, Grilled Salmon Sandwiches, Sausages in Buns, and Grilled Burgers with Cheddar and Charred Red Onions.
Calling all HuffPost superfans!
Sign up for membership to become a founding member and help shape HuffPost's next chapter