Jesse Siminski has been releasing music under the guise Heartthrob for nearly a decade. He has worked with a slew of cutting edge labels through the years including Bpitch, Minus, Spectral Sounds, Hot Creations and Mute. In 2013 he launched his own outlet called ISNISNT.
Known for his bold use of melody and slick arrangements, Jesse has a knack for capturing peak emotion and propulsive grooves with the flair of an experimentalist. The hit track "Baby Kate" and the full length album "Dear Painter Paint Me", stand out as two out of a number of important releases for the artist. Along the way he has done high profile remixes for the likes of Depeche Mode, The Knife, Plastikman and AGF Delay. Jesse has also recorded as Vivianne Projects and as Square One with Troy Pierce.
Jesse has spent the last eight years touring the globe full-time, DJing or plain live in many of the top clubs in the world. His high energy sets have become synonymous with forward thinking music from across the electronic landscape. He has held a residence at the storied Rex Club in Paris and is a frequent guest at Fabric in London, Berghain in Berlin, Womb in Tokyo and Space in Ibiza, amongst others.
It's summer and festival season is in full effect, I imagine this is a busy time to be a globe trotting DJ?

Everyone knows that summer is a very exciting time to party. Electronic music in Europe continues to be huge and is gaining popularity all over the world. July, August and September seem to have the most variety of open air festivals worldwide. My favorite are in Portugal, Hungary and Germany. They can be quite massive, but very well organized and a lot of fun." B.My.Lake" in Hungary is one of my favorites.
(http://www.bmylake.hu/2014/english/index.php) Then you have the seasonal jest destinations like Ibiza. I usually play a few parties on the island, including Enter at Space and Paradise at DC-10. The crowds are very international and mixed. Living in Berlin allows me to jump to these various cities without too much flight time-I usually take 12 or so flights per month when things are the most busy. Thats one of the only drawbacks for the job. I try to keep my studio practice as active as possible and hate wasting time in airports! This summer I am playing gigs all over Europe, the US and later in South America. It's my favorite time of year!
So you grew up Michigan and Hawaii, have lived in Paris, NY and now Berlin, where do you consider home? What's your favorite place in the world?
Berlin feels like home today. My German is still not the best, but I experience a nice level of ease here. It's very gay friendly, creative and international, without being too expensive or restrictive. That said I have days where I miss the hustle of New York, the beauty of Paris and the paradise that is Maui. Maui is my favorite place to be. I know eventually I will end up in Hawaii, but not just yet. It's not the place to be a DJ who has to travel. New York is my favorite city, then Tokyo and London. Being around a mixture of cultures and accessing what that has to offer has always been a thrill. I am addicted to experiencing the music, art, food, fashion, scenes these cities encapsulate. Its so necessary to be inspired and productive as a musician I find.
Where did the Heartthrob handle come from?
Well... My dear friend Magda Huerta,( https://www.facebook.com/unmagda) another Dj/producer friend of mine would call me that when we were both living in New York a good decade ago. We started working with Richie Hawtin's record label Minus and he wanted me to use and artists alias. Heartthrob made sense at the time and it stuck. It's a bit embarrassing, but that is showbiz...
Check out DJ Hearthrob on iTunes: https://itunes.apple.com/us/artist/heartthrob/id216234490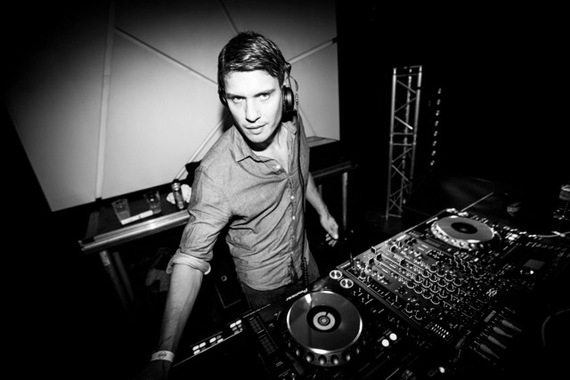 REAL LIFE. REAL NEWS. REAL VOICES.
Help us tell more of the stories that matter from voices that too often remain unheard.