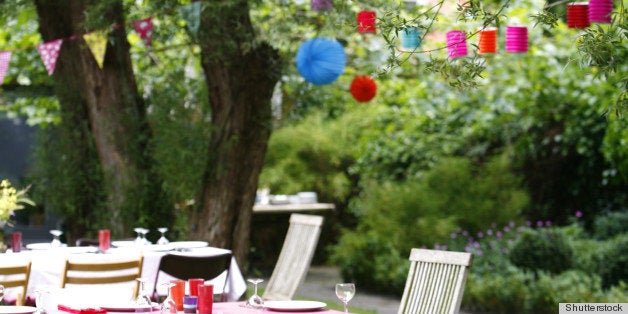 Summer calendars are buzzing with beach trips, family reunions, and poolside barbecues. With loads of sunshine and a desire to catch up with friends near and far, the time may be right to host a gathering at your home. The dress code will likely be casual, and the vibe informal, but don't skimp on the details. Pour yourself a glass of sangria, grab a notebook and pen, and start designing your party.

Give guests enough time to plan.
People will be traveling this summer, and chances are, there will be a larger than usual number of regrets. Send out invitations 3 to 4 weeks in advance for best results. Whether you decide to drop a festive card in the mail, send an evite, or pick up the phone, spread the word in enough time for your friends to put your get-together on their calendar.

"Regrets Only" seldom works best.
A savvy guest knows the ropes and will respond in a timely manner to an RSVP. However, "regrets only" leaves room for people to put the invitation aside until later, easily forget and accept another offer, or change their mind at the last minute because the call to action didn't feel urgent enough.
Be clear about the venue and dress code.
Don't keep people guessing. There is a big difference between "Tanks and Tees" versus "Cocktail" or "Garden Party." Cocktail is code for dressy, and Tees is code for flip flops and shorts. For an in-between look that is summery but not too formal, select a floral pattern in a breathable material, such as a tunic and shorts or a flowy linen skirt, all safe options when the temperature is H-O-T.

Create an alternate weather plan.
If the weather app says thunderstorms are in the forecast, bring the party inside and have plenty of candles, flashlights, and alternate activities. Set up food tables and a bar service and let guests help themselves.

Liven up the guest list.
For fresh and captivating conversation, invite a few new faces that will share different interests and points of view. Be careful not to mix those that you know will not get along or may come across as offensive to certain groups. For example, if you have an outspoken friend that often offends other guests, visit with her over lunch rather than subject her to a large crowd.

Do a yard check.
Nothing can ruin an outdoor party faster than biting insects. Take a good look around the area and make sure to empty any pots or gutters that are holding standing water. Also, be alert for bees and hornets nests. Invest in several outdoor fans to keep mosquitoes at bay.

Don't run low on party essentials.
Make a checklist and plan for ample chairs, ice coolers, bags of ice, beach towels, bug spray, trash cans, and serving pieces. For pool parties, scatter baskets of towels, sunscreen, and goggles for everyone to enjoy.

Invest in a pretty assortment of cocktail napkins.
A good host always has a wide variety of cocktail napkins to offer her guests. There are plenty of options to choose from, some with monograms, catchy slogans, or whimsical designs which can act as an icebreaker to get the conversation started among guests.

Send your pet to a neighbor's house for a play date or sleepover.
If your favorite pup gets excited or tends to bite, put her in a different part of the house and check on her regularly, or find a friend or neighbor you trust to take good care of her for a few hours. The goal is to keep her calm and happy while you are tending to your company.
Don't fret.
People will seldom remember the food or playlist, but they will look back on the way the host made them feel. Resign yourself to the fact that something will probably not go as planned. The way you react will set the tone for the overall mood of the party. Keep your spirits up and your guests will follow your lead.