Outdoorsy type? Facial fanatic? Or just need a quick one day respite from the job? This summer presents a plethora of opportunities for a little getaway action. In no particular order here are five global getaways -- to suit your vacation allotment and (sometimes) your wallet.
Bardessono, Yountville, Calif.
LEED certified (one of the only hotels in the U.S. currently) you can enjoy farm-fresh cuisine, on-site veggie gardens, carbon-fiber bikes and green design elements, complimented by healing techniques both East and West. One of their most interesting package getaways, entitled "Taste Life Here," includes six hour of chauffeured town car service in a Tesla for a full day of wine tasting.
Caudalie Spa, Martillac, France
Caudalie -- located just outside Bordeaux, seems like your typical French chateau -- but ooh la la, it's not. Les Sources de Caudalie, on the grounds of the Château Smith Haut-Lafitte vineyard, houses forty-nine contemporary luxury hotel rooms in an idyllic setting complete with phenomenal French country cooking and some of the world's finest wines. Their claim to fame and signature is their "vinothérapie" approach -- think wine for your body with grape seed derivatives.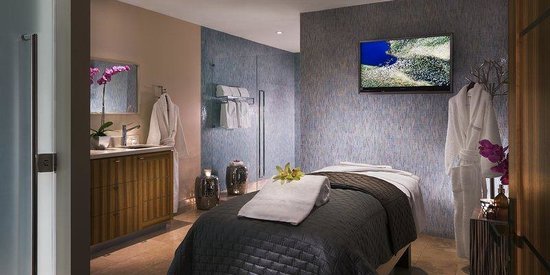 (One of the treatment rooms at the Sunset Marquis. Image courtesy of the hotel.)

The Spa at Sunset Marquis, Los Angeles, Calif.
No need to check in. If you're a local -- like Steven Tyler from Aerosmith -- you can pop in and just spend the day. Just off the Sunset Strip, the hotel is an idyllic hideaway with albeit a small -- (just a mere 1,800 square fee) but fantastic menu of services. If you do decide to check in, note that can even enjoy your massage in a poolside cabana while taking in the Hollywood sun.
Viva Mayr, Maria Worth and Altaussee, Austria
Looking to get away. Really get away? Consider Viva Mayr. Their flagship in Maria Worth is a mecca for the detox generation, and now, there's a sister property just adjacent to Salzburg in Altaussee. Both locales adhere to the principles of Dr. Franz Mayr. These include chewing your food 40 times, not eating anything raw after 4 p.m., and of course, no caffeine, no booze, no sugar. Sounds like no fun too, but be prepared for not only the glories of the location, but to come out cleansed on the other side.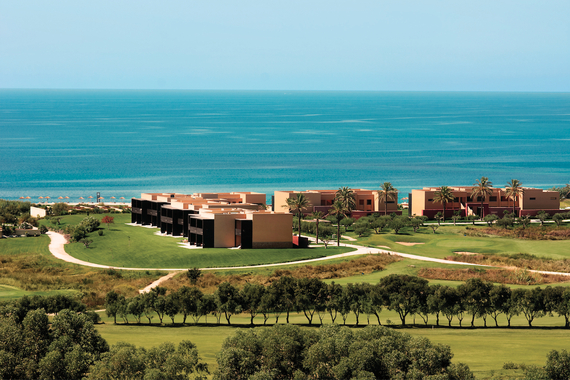 (Verdura's view. Image courtesy of the spa.)
Verdura Golf Resort and Spa, Sicily, Italy
When one thinks Sicily, most of the image that are conjured have to do with Al Pacino and The Godfather. Well, Verdura is certainly all about the 'family' but not in the previous sense we mentioned -- more in line with there being something for every member of your clan. There's a fully staffed kid's club, and a getaway spa for mom. Set in impeccably groomed coast-hugging grounds, every room has a private sea-view terrace. Perhaps you can get the kids to ditch the electronics, and just take in the view -- even if it's only for five minutes, it'll be well worth it.