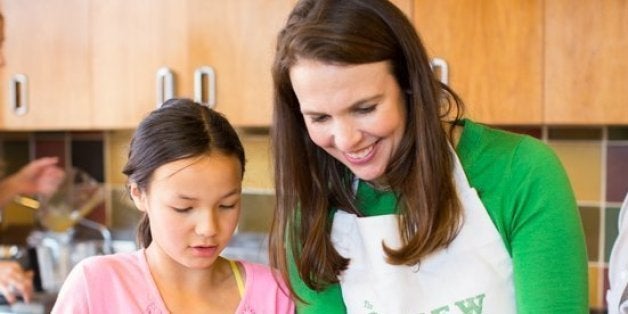 Imagine there was a summer camp that promised to inspire wonder in your kids, teach life skills, improve health and well-being and provide opportunities to give back to the community. All at no cost, other than an hour of your time each week. That's the kind of "camp" I'm signing my kids up for.
This summer, we plan to spend our time cooking together as a family -- from scratch.
Like many other parents, I can easily get sucked into the rush of over-programmed summers. Signing up for coveted camp slots in January. Shuttling my kids from one activity to the next without a moment of free time. Packing every day full of "enrichment" opportunities. But that frantic effort isn't giving our kids what they truly need to grow into happy, healthy people. One of the simplest things we can do to help our kids thrive is to spend time as a family, cooking together.
Cooking side-by-side and connecting around the family table can have a dramatic positive impact on the health and well-being of our kids (and can even improve test scores if that's your summertime goal). Time spent exploring and cooking healthy food together strengthens family connections, reduces stress at the dinner table and leads kids to make healthier food choices.
One of the easiest ways to get kids to eat a variety of healthy foods is to have them cook those healthy foods -- together with you. Beyond what they eat when they're with you, cooking together teaches kids how to make wise food choices on their own in an increasingly toxic food environment.
Taking your cooking adventure to the local farmers' market or your garden allows kids to experience the magical transformation from seed to table, and fosters an understanding and appreciation of the community that brings healthy food to our tables. This is the kind of camp that I can get into!
A mother of two, Jennifer Tyler Lee is the author of The 52 New Foods Challenge (Penguin Random House/Avery 2014) and the creator of the award-winning series of healthy eating games, Crunch a Color®. Her family cooking adventures have been featured by Jamie Oliver's Food Revolution, Rachael Ray's Yum-O!, Laurie David's Family Dinner, Pottery Barn Kids, and Whole Foods Markets. She is a contributor at The Huffington Post and the James Beard Award-Winning magazine, Edible.