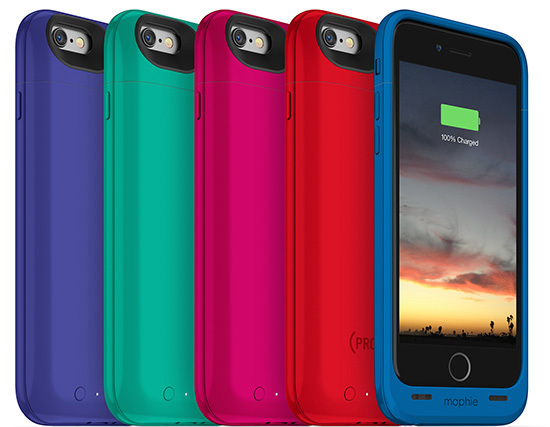 Mophie's new Juice Pack Air Spectrum line features fun, playful color ways that will truly make your iPhone 6 and stand-out accessory. And with the flip of a switch, your juice pack will deliver more than 100% extra battery to keep your phone charged through the day and well into the night.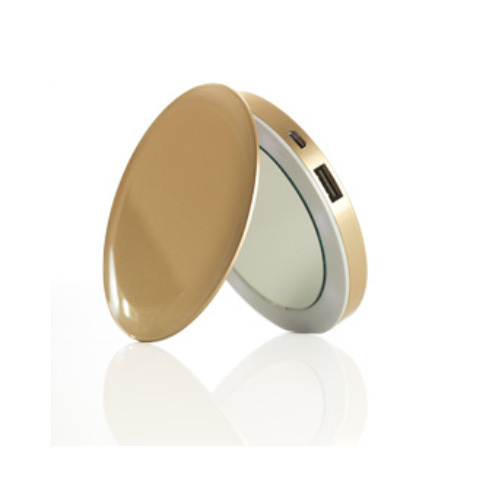 Then there is the chic new charger that doubles as a compact mirror for a purse. Love The Pearl charger, brilliant!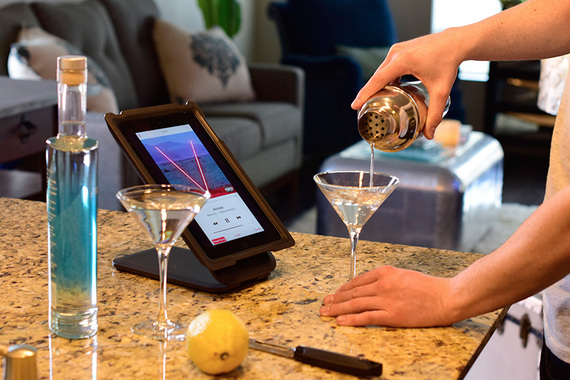 Otterbox makes the iPad useful everywhere with the new Otterbox Agility Series - offering the Power Dock you see in this photo, wall mounts, power docks, cases, and more. You can now safely watch a movie on a safely wall-mounted iPad while soaking in a bubble bath, or follow recipes off of the stand-mounted iPad, check the weather on your mirror mounted iPad while shaving in the morning, you name it. This line is worth exploring.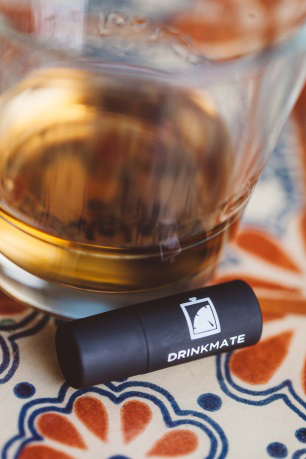 SMALLEST BREATHALYZER IN THE WORLD
This tiny device is cool. No battery necessary, DrinkMate gets it juice from an android or iOS connection. It latches onto your keychain, connects to your phone, which links it to the DrinkMate App, and all you do is blow into the device, and it will tell you whether you are too overserved to drive. Accuracy is approximately +/- 0.01% BAC at a BAC of 0.02%. The sensor's maximum BAC is 0.20% BAC. After that you'd probably need help standing anyway. The DrinkMate device and app will let responsible partiers know when it is time to switch over to the Uber app.
SPOTLIGHT ON LED ADVANCEMENTS
I can't even begin to tell you how thrilled I am with the advances in lighting. The convenience, longevity, price points, energy savings and color have come a long way, freeing drawer and cabinet space previously used for back stock. I have tried a variety of the newer bulbs, and many of them feel expensive when something is not quite right about the function or color of the light.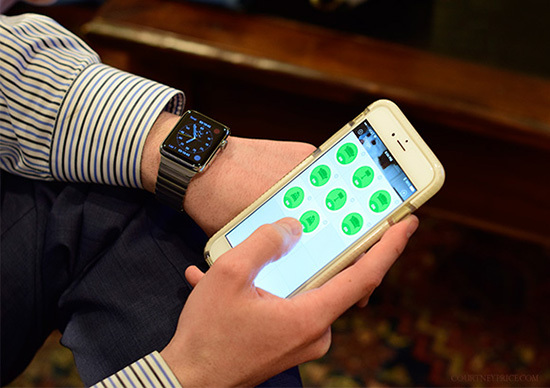 Having said that, I am thrilled with my latest discovery in LED lighting. It is finally at a place where the color of the light is acceptable. My go-to LED brand is Cree. I just love what they are coming up with, especially the Cree Connected LED Bulbs, which are programmable from an iPhone. I wrote about this Cree Connected bulb in great detail on my site recently- CourtneyPrice.com, if you are curious to read more. They sell at Home Depot for just under $10 each, and last last last probably longer than you will like the lamp you put it in.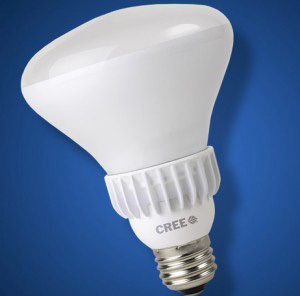 Cree also has newly released energy-efficient LED BR30 Floodlights, which again deliver the look of incandescent light while using 86% less energy than their incandescent counterparts. If you knew how many of these bulbs we have in our home, you'd know how thrilled I am to pay $9.97 (at home depot) to not wonder when I will have to change them again. These bulbs are dimmable and ENERGY STAR certified.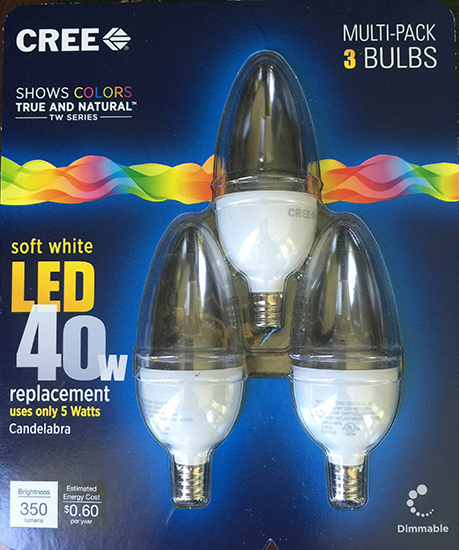 Chandelier and Sconce bulbs that last- hooray. Cree also now has LED Candelabra Bulbs- also dimmable, using 88% less energy than incandescents, lasting up to 25,000 hours. They emit the same warm, decorative glow as traditional incandescent candelabra bulbs--ensuring that special occasions don't sacrifice any sparkle for energy efficiency. The innovative filament design improves light distribution, enhances the glow and provides a 'sparkle' effect throughout the bulb. The Cree LED Candelabra is sold in 3 bulb multi-packs for $19.97 at Home Depot and HomeDepot.com.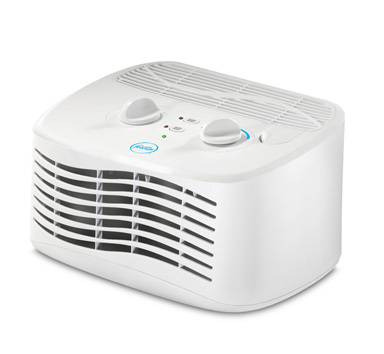 This Febreze Air Purifier comes in three different sizes to accommodate different room sizes. It has a pleasant white noise to it and a slot to insert febreze cartidges, which come in two different scents. This device uses a HEPA-Type filter that traps up to 99% of airborne particles such as dust, pollen, pet dander and odors, has 3 air-cleaning levels and a freshness control dial for the scent cartridge. The scent is definitely not overpowering. Honestly, I wish that the scent were a little stronger. It definitely freshens the air in a room.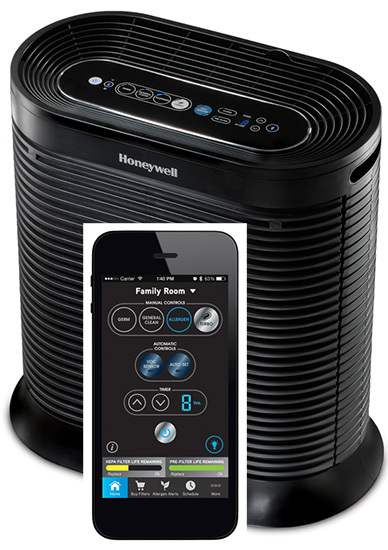 I am very enthused about the Honeywell Bluetooth Smart True HEPA Allergen Remover HPA250B. It is the first ever air purifier that utilizes Bluetooth® technology to track local pollen counts via a free mobile app and auto-adjust its cleaning levels accordingly. Equipped with a proximity sensor, the air purifier automatically turns on or off when the connected mobile device enters or leaves Bluetooth® range (up to 30 feet or more). The custom operation allows users to create daytime or nighttime schedules based on sleep, time away, or time spent in a certain area of the home, ensuring the air purifier is always working during the times when it's needed the most. Best Buy has the exclusive on this model.
ALEXA IS SMARTER THAN SIRI...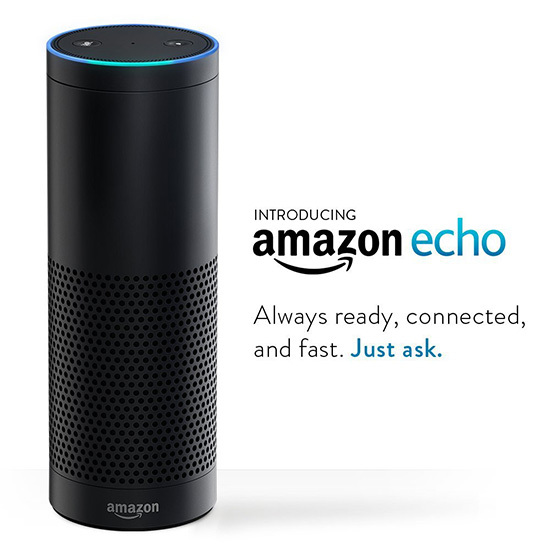 The AMAZON ECHO is a fascinating step into the future of home automation. If you are an Amazon prime member, you can listen to the included library of prime music, or Pandora, streaming radio stations, your Audible books, and more. The device's name is Alexa, so all commands or questions you might ask of it begin with "ALEXA, --". Alexa can set a timer for you, add to the shopping list on your phone, tell you what the weather is like, read you the news, play music, operate other WeMo home automation devices (Philips, Belkin), and answer questions in general. If she doesn't know the answer, she will tell you so. The sound quality is good. This device is always at your service, and I expect it will only get better.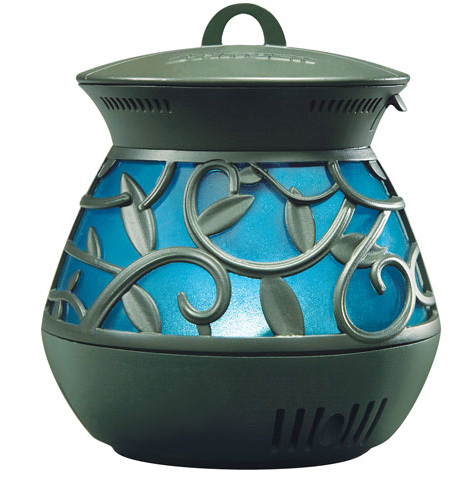 The Stinger Mosquito Repellent Lantern is a nice alternative to citronella candles, because it is battery operated, which means that it will last longer (up to 12 hours) while covering a bigger area- 15' x 15'. The best news yet: it is made with plant-based, all natural active ingredients, which makes it a healthy alternative to some of the sprays on the market.
Did I miss any supercool gadgets? See if they are mentioned over at the #GirlTech section of my site www.CourtneyPrice.com, and let me know your own personal favorite tech finds.
Related
Popular in the Community