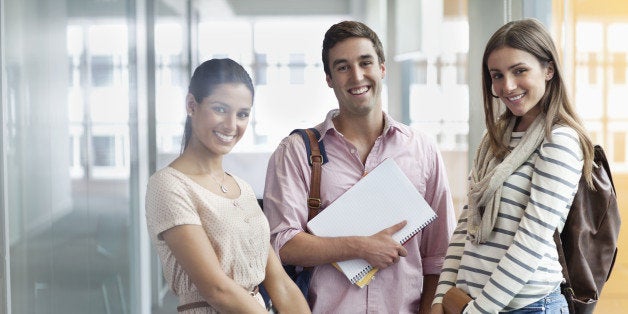 It's almost time to say your temporary goodbyes to the real world, your colleagues, bosses, new friends, the doorman at your building, the guy that makes your iced coffee every morning, and return to the glories of living in a house with your 20 best friends, parties with endlessly flowing jungle juice, and an occasional paper or test.
You've been challenged this summer and you've made a mistake or two, but you've learned a lot, met some interesting people along the way, and maybe fallen in love -- or out of love -- with a career. This is the way it's supposed to be.
Before you say peace to your summer internship, there are a few things you need to do first:
Leave with grace. Thank everyone for their help and make it personal. Your last impression is what we'll remember. Make sure to transition any projects that are underway and if you're working with external parties, send them quick a thank you note and let them know who to contact moving forward.
Jot down some notes. Take an hour to write down 10 things that you accomplished this summer and 10 new things that you learned. You'll be shocked at how handy this will be when it's time to update your resume and start interviewing again. If you have time to present these lists to your team, do it. I'm sure that you'll collectively uncover a few things that you left off.
Don't forget your people. You'll never know when you want to get in touch with someone from your internship. It might be days, weeks, months or even years. Download all your contacts from your work email address and send them to yourself. (If you're using Gmail, it's as simple as Mail > Contacts > More > Export.) Spend a few minutes writing a short note next to each name so you easily recall the context of your relationship.
Begin to build your digital resume. If you're not using LinkedIn, the excuses are over. Sign up, ask for recommendations while your work is fresh in mind, and start following a few interesting companies and people. The same goes for Twitter. It's one of the best ways to keep up with your professional interests and continue to grow your network.
Stay in touch. We don't know how we'll ever live without you but we'll try. Send us an email once in a while to tell us a good story or share an article that you know we'll love. We promise to do the same.
Nas, before your time, said it best: "Working with great people makes you great. You learn a lot and it also gives you the experience and confidence to move on with your own career." Surround yourself with great people, learn from your victories and failures, and never stop asking questions because before you know it, you'll be looking after interns of your own.
Work hard. Play hard. Have a great semester ... and have a beer back at school for me sometime.
P.S. This is dedicated to a few people that have helped shape my career: Mark Mauldin, David Cheng, Michael Green, Brian Mandler and Teal Newland.