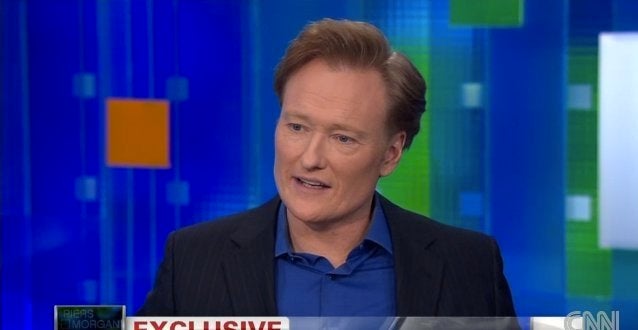 When Boston University senior Liz Breen got a call from the coordinator of the "BU in LA" internship program recommending she apply for a semester at CONAN on TBS, she immediately called off that night's Halloween plans. Probably because the deadline was the next day.
According to Variety, the Los Angeles Internship Program "relies on an alumni network of Boston U. grads at work in the industry." The article cites specific "leads" (Jason Alexander, Emily Deschanel, Michael Chikilis, writer Corinne Brinkerhoff, producer Lauren Schuler Donner, and CBS Entertainment President Nina Tassler were named) who help undergrads like Breen "by supplying a stream of internship opportunities."
Program Director Bill Linsman told Variety that around 80%-90% of the students -- who juggle two internships with three courses -- find showbiz-related jobs upon graduation. It sure looks like it worked for Breen; this summer, she received her Bachelor's in Film & Television from BU's College of Communication and is currently employed (isn't that enough of a feat these days?) back in Boston at the Creative Services department of WGBH, the Peabody and Emmy Award-winning PBS member station.
Collegiates and their parents alike should listen up to this success story because, to paraphrase Robert Zimmerman, "the internship processes, they are a-changin'." Breen wrote a cover letter, like our folks did, but instead of writing, printing, sealing, stamping and shipping, she sent a PDF to an email address listed online. She was subsequently interviewed, like our folks were, but it's all via cell phone. A week goes by and in comes "the acceptance email." Next thing the applicant knows, she's watching a Warner Brothers movie in the sky on her way to Warner Brothers Studios.
For the 2012 Spring Semester (January through May) the screenwriting student was selected for one of two spots -- out of 2,000 applicants -- to be a Script Intern at CONAN, or as she calls it, "a courier of comedy." Interacting mainly with the script coordinator and others on the writing staff, Breen distributed rehearsal schedules, scripts and show rundowns to others on the crew.
She described her nine hour days (9 am-6 pm Monday, Thursday and every other Friday) at Building 34 on the WB lot as "the best learning experience I could have asked for."
"There were so many things that never made air," says Breen, who would love to work at Sesame Street one day. "If things weren't working in rehearsal, it made for a long afternoon, but the crazy days were also exciting."
And as for Boss O'Brien, Breen will say little besides that "Conan is a really kind person and treats everyone with respect." (Incidentally, these are probably not the same words Mr. O'Brien uses to describe Jay Leno.)
So for those college students lucky enough to score a rare gig for Team CoCo or any other team in the biz, Breen warns that although you will rightfully "feel like an absolute rockstar when you get accepted," interns must realize "that no matter how educated you are, how many other internships you have had, you are still new to this workplace and need to learn how they do things there." She advises students to befriend their fellow interns and to focus on making your boss' lives easier as opposed to "making yourself a star."
And for those high school students lucky enough to choose from any number of higher learning institutions, check the place out and go with your gut. Breen says she was "walking on campus and just felt at home" during her tour of Boston University (which, unlike Boston College, is actually a school in the city of Boston).
"Maybe not the most concrete way or intelligent reasoning," she acknowledges. "But I had such a strong gut feeling that I couldn't ignore it. And it worked out for me."
In fact, Breen credits the College of Communication with teaching her the technical stuff -- from using a camera during production to using Avid during post production. She thinks she also benefited from BU's credit requirements, which ensure that even an aspiring comedy writer gets a well-rounded liberal arts education.
"BU helped me understand that learning about another language, our government or world history will make me a better filmmaker," she says. "Although the technical elements are really important, instilling the idea that you can find value in any activity or task helps you tremendously in the interning world and later in the working world."
Breen, a semi-finalist in Final Draft's Big Break Screenwriting Competition, has idolized the 79-year-old Carol Burnett ever since her grandma showed her The Carol Burnett Show.
"She was actually on CONAN for the first time when I was interning there," recalls Breen. "And when she walked out on stage, she pulled her ear. I was sitting in the control room and not ashamed to say that I got teary-eyed."
Popular in the Community