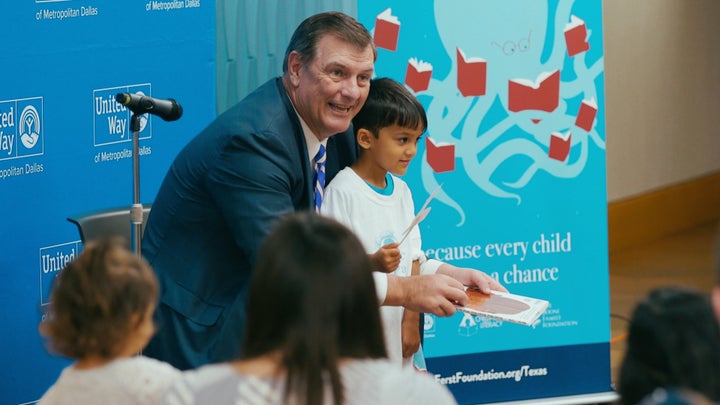 Children learn when they are doing "nothing" ― playing, exploring, dreaming and reading for fun instead of for school. But many kids ― especially lower income kids ― don't have this opportunity. "Doing nothing," for low income kids, is fundamentally different than the American ideal of "doing nothing" in the summer. Children from lower income families often spend summers in apartments buildings without playgrounds, with a variety of care arrangements and little access to play time and unfettered days. For them, a screen—television or tablet—is often the predominant source of summer time communication and entertainment. And sadly, they aren't reading—often because they don't have access to books—especially those they can relate to.
The warm weeks can also be a time of "summer slide," when kids forget a lot of what they learned in school. This is especially true for children who live in lower-income neighborhoods. Research shows that achievement gaps between low and higher income students widen significantly during the summer. Every summer, low-income youth lose two to three months in reading. These losses add up. By fifth grade, summer learning loss can leave low income students two and a half to three years behind their peers. Failure to ignite a joy in learning and reading in the summertime can further exacerbate the "opportunity gap" that contributes to widening gaps in achievement, employment and college and career success.
So how do we prevent summer learning loss?
School districts across the country send stacks of books and summer reading suggestions home with students in hopes of combating the summer brain drain. But a study by researchers at the University of Rochester Medical Center showed that these summer reading programs can be made significantly more effective with only a small tweak: Let the kids choose the books. The study, conducted in kindergarten, first, and second-grade classrooms in the Rochester City School District, showed that students allowed to choose their own summer reading saw lower levels of literacy loss over the summer months.
But, to be able to choose books, children must have books to read in the first place. Think back to your own childhood. Now think about the possibility it didn't involve books. Outrageous, right? Outrageous but real. Two thirds of America's children living in poverty have no books at home. There are many programs across the country created to eliminate one of the main reasons why children don't read and parents don't read to their children: lack of access to books. First Book, a group based in Washington, D.C., has given away more than 130 million books since its founding in 1992. Reading Is Fundamental is committed to a literate America where all children have the opportunity that literacy provides. And Dolly Parton's Imagination Library, developed in 1995 for her hometown in Sevier County, Tennessee, has been replicated in communities across the country and abroad to bring books into the homes of preschool children.
And in my hometown of Dallas, Texas ― where the child poverty rate is 38 percent and thousands of local children don't have the simple luxury of owning even one book ― United Way of Metropolitan Dallas, The Boone Family Foundation, and The Ferst Foundation for Childhood Literacy have partnered to launch Once Upon a Month in June, a program that provides one free book each month to young children in Dallas.
Books represent some of the first opportunities children have to explore the world. And while there are lots of great reads with diverse main or supporting characters these books are usually far less diverse than the children reading them. Of children's books published from 1994 to 2014, an average of 10 percent featured multicultural content, though that may be slowly increasing: The 2014 rate reached 14 percent. The campaign We Need Diverse Books was established in 2014 to advocate for more diverse representation in children's literature. And in 2015, at age 11, Marley Dias started the Twitter hashtag #1000blackgirlbooks. Frustrated by the homogeneity of stories she read in school, Marley collected books featuring black girls to benefit underprivileged students. Education professor Rudine Sims Bishop uses the metaphor of windows, sliding glass doors and mirrors to illustrate why diverse literature is so important. Books can be windows into worlds previously unknown; they open like sliding glass doors to invite the reader inside. But books can also be mirrors. When they reflect our own experiences it tells readers their lives and experiences are valued. And when they do not, the message is just as clear.
So while we continue to cherish the American summer ideal of the importance of doing "nothing," we must also remember that doing "nothing" comes at a high cost—especially to low income students and the schools that serve them. And until we address the summer slide, our efforts to close the achievement gap will continue to fall short.
Or we can rewrite children's stories this summer by redefining "nothing" as a trip through the imagination while reading a good book.
Popular in the Community