The last thing you want to do is fuss with your jewelry. The simplest pieces to wear are the ones you don't have to put on and take off all the time -- which means they need to work in and out of the water. A semi-permanent jewelry wardrobe is a stress-free way to stay super fly over the next few months. But there are just a few tips to keep in mind when selecting your baubles for the summer.
Check out the video above for a complete rundown as we model a few of our favorite warm-weather jewelry looks from designers like Ariel Gordon, G.A.S. Bijoux and SailorMade, just to name a couple. We totally piled on the pieces to give you an idea of all the options and how much fun you can have, but you obviously don't have to wear all of the jewelry at one time.
Summer is the perfect time to rock a neck full of cute and kitschy necklaces.
A short chain length will make sure your necklace doesn't slip off while you splish and splash.
Rope or string bracelets are perfect for the land and sea.
Plus, choosing ones with less metal means you don't have to worry about them completely tarnishing.
Don't risk losing your diamond studs in the abyss. Switch them out for a pair that isn't so precious.
Find a pair of studs with a fine metal post to ensure they won't irritate your ears.
Decorate your digits with eye-catching shapes.
Try mid-finger rings and unexpected metal hues, like gunmetal and rose gold.
And if you like what you see -- make sure to shop the jewelry from the video in the slideshow below.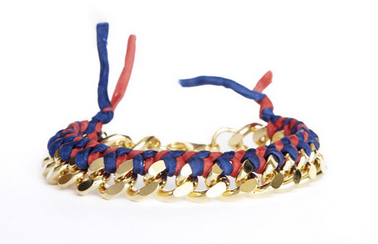 Summer Jewelry Must-Haves