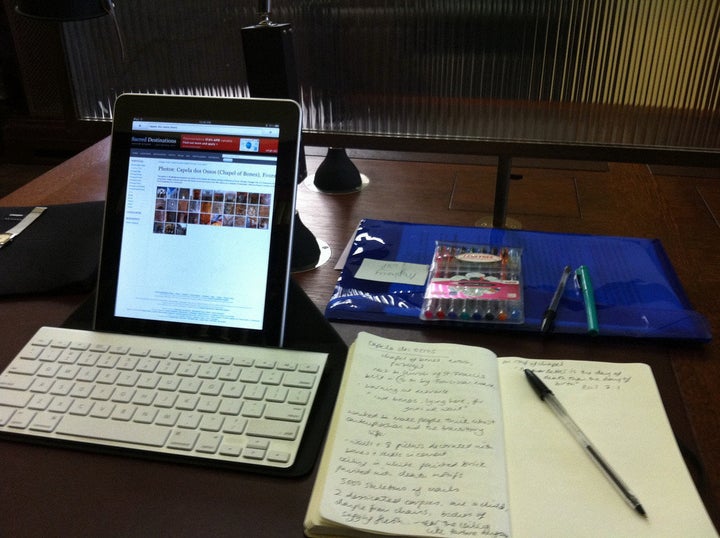 "Maybe it's an émigré thing," Russian-born Mikhail Iossel laughs on the phone from his office at Concordia University in Montreal, where he is a professor. "Once uprooted, you just keep rolling."
It was in Boston's Copley Hotel, shortly after his arrival in the U.S., that Iossel realized how deep his identity as a writer ran. "There were a bunch of burly men at a long table in the hotel bar, guys with buzz cuts, and half of them were speaking Russian, while the other half were Americans," he recalls.
They seemed to be cops, and they turned out to be cops attending some Russian-American law-enforcement conference. They seemed extremely similar in their comportment. I was there with some American writers, and I realized that, for one thing, Russian and American cops look the same; for another, I had more in common with the American writers than with Russian cops.
Iossel, a Guggenheim fellowship recipient who emigrated from Leningrad in 1986, has become a household name on the international literary scene through his creation of the Summer Literary Seminars (or SLS) in Lithhuania, Kenya, Canada, and Russia.
Actually, Iossel's name is not just on the literary scene. His creation pretty much is the international literary scene to North Americans, at least where writing workshops are concerned. The Summer Literary Seminar, which began in 1998 in St. Petersburg, "was originally a one-shot deal," he chuckles. Robert Creeley, Gary Schtengart, Colum Mccann, Dave Eggers, Robert Coover, Francine Prose, Mary Gaitskill, Billy Collins, and Cornelius Eady are some of the authors Iossel has enlisted to teach at SLS.
I ended up at the SLS in St. Petersburg in 2007 thanks to a special effort Iossel was making to fund and include youth in conference programming. I studied poetry for two weeks with Fanny Howe. The white nights made us all go nuts, and everyone's poetry went apeshit. Russia in 2007 was insane even without our still-light-at-1 a.m. fits of fantasy, and I spent the time at SLS continually reminded by my surroundings of the break I took from college to work for a sustainable forestry foundation near Siberia in 2003. As the daylight stretched on like a hallucination, I wandered and scribbled half-incoherent impressions and memories in my journal. "I can see the place where I sat with my boss Olga and opened sandwiches she had just bought. They were rancid. 'Welcome to Russia,' she said with a wry smile and threw them out."
Iossel sent me an encouraging note when I raised funds last fall to afford a trip to the Writers and Literary Translators International Congress in Turkey to advocate for Tumen Ulzei Bayunmend, an exiled dissident Chinese writer awaiting resettlement from Mongolia. I remembered Iossel as a sort of crackling-energied, nutty-professor type with a full wiry beard, beloved by all and surrounded at every SLS event across the city of St Petersburg. Indeed, the SLS community has included some 1,200 people by now; participants strike up lifelong friendships, and some go on to marry one another.
"About the places you pick," I ask Iossel over the phone. "Some of them are in risky locations, like Kenya. Was that intentional?"
"We don't have SLS in countries that are in stasis," he replies. "SLS goes to places in transition. There is an intensity and excitement to immersion in the artistic and literary community in Nairobi, for example, that there would not have been without the recent political struggle."
Freedom of expression is implicitly championed by the very act of conducting a literary conference in a place with spotty political history. When I ask about how he locates SLS within the political landscape of its host country, Iossel denies that SLS promotes a political platform.
"If anything, SLS takes a moral stance, not a political one," he explains. "If a society is stuck, not progressing, we likely won't go there, or we'll take a break. But a regress can be viewed as progress-in-reverse, and therefore it is preferable to stasis."
"Scudding clouds, fur hats, sober buildings. Yuri started inviting me outside to smoke with the men, foresters and ecologists on their breaks, and it was great fun. He would wave at me sitting at whosever desk I was borrowing that day, gesture to the outdoors while pulling on his jacket. The men would stand in the cold, filling the darkening air with jokes about their wives."
SLS does, however, sustain an intriguing dedication to the political realities of the space it is in. SLS Kenya has a "Kenya Between the Lines" program to educate curious conference-goers about Kenyan history and tradition, and Lithuania's program boasts a plethora of activities meant to deepen the relationship between conference-goers and engagement with what Iossel called the center of pre-war Jewish life.
Ninety-five percent of Jews were then exterminated in Lithuania during the WWII... It is a tragic story, and Lithuanian society is yet to come to grips with it. There is hardly any Jewish life left there anymore. But sometimes the absence of something provides for a stronger contest than its presence.
It's not just Iossel, of course, the man himself points out; Jeff Parker and Thomas Burke are two of the many staff members putting time and energy into making the impossible possible, babysitting droves of jet-lagged writers in new and challenging climes for weeks at a time.
Of the gatherings that he originally imagined as a one-time event, now, Iossel tells me, "I would say it might be the most important thing I've ever done."
Before hanging up, I ask Iossel more about the role he sees SLS playing if its purpose isn't explicitly political. His answer is swift and firm:
The best thing we can offer is to put these places in the literary mind of North America. Writers will have short stories set in these places. They will create bonds with one another, and they will create art out of being there. That is what we can do.
Calling all HuffPost superfans!
Sign up for membership to become a founding member and help shape HuffPost's next chapter