My family and I just got back from chasing the sun across the Mediterranean. There is something oh-so-intoxicating about a European summer and a picture-perfect outlook. Transitioning back into everyday life post-vacation can leave anyone feeling a little flat. Combat Seasonal Affective Disorder by preserving that holiday glow. Who says you can't incorporate those quintessential summer looks into your autumn beauty regime or fake some convincing color? In my opinion, there's always a place for a bronzed eye palette and sunny lip shades, spring, summer or fall.
Taking that inspiration into autumn, here are some easy, summer-to-fall makeup transition tips -- with a modern-Med twist.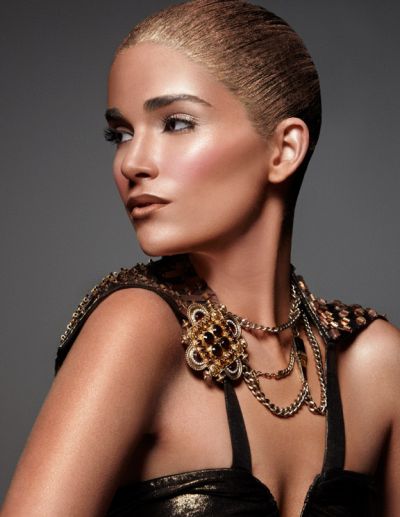 A Mediterranean-esque look from one of my recent campaigns.
Carry a little color into fall.
Holding onto that sun-kissed glow doesn't have to mean baking in a tanning booth. Choose a skin-safe option and invest in a gentle but effective exfoliant (to aid application and a streak-free result), a goof-proof gradual self tanner, and a great bronzer. Look for a baked-powder formula that's easy to blend and won't see you Snookified. One of my favorite bronzing techniques is also a clever contouring trick: sweep a little bronzer under your jawline -- right under the ear to the chin. It's a great slimming trick to upgrade your gorgeously faux glow.
Make it metallic.
Nothing says summer goddess like a smoldering metallic eye, but heavy metal colors are the fall eye makeup trend. Blend a dark bronze shadow across the lid and sweep a light bronze shade through the socket. Then try a champagne shade in the inner corners and on the brow bone to make the eyes pop. Line the top and bottom lash line with a black liquid liner and finish with white liner in the inner rim. Mesmer-eyesing!
Perpetuate the Power Pout.
Lips painted in bold brights are not simply summer specific. Try a universally-flattering coral or ruby red lip; a nod to summer's bright shades and an instant face-changer. It's also a statement on its own so you can get away with keeping the rest of your makeup minimal with a neutral eye and some soft cheek sculpting. To keep color in place, apply lip liner last.
Extend that post-vacay flush.
For a flattering and very believable flush, smile as you sweep a sweet coral powder blush onto the apples of your cheeks (using a soft blush brush). To add a dewy finish, dab some lip primer or non-sticky gloss on top and blend into the skin with your fingers.