Lifeguards have it easy, but what should the rest of us wear to work all summer long? Glamour's Jane Keltner de Valle lays down the new rules.
Fact: Dressing for the office in my hometown of New York City in the height of summer is an Olympian fashion feat. There's the 100-degree communal steam bath that is the subway platform, the high-humidity concrete jungle, and the punishing arctic blast that greets you as you come through the revolving doors of an office skyscraper. Like everyone else, I struggle to dress appropriately under such bipolar conditions, but I have learned a few tricks over my decade-plus career in fashion -- and can always call on the best-dressed women in the world in the name of research. So with a season of escalating temps on the horizon, I rang up a few of the chicest career girls I know. Consider the following your cheat sheet:
If you'd wear it to the beach, file it under 'no.' When I was an editor at Teen Vogue, an assistant once arrived wearing a strapless cocktail dress to a midsummer meeting with our editor-in-chief. Which brings us to lesson one: Resist the temptation to go too bare. "Summer is like a disaster zone," real estate scion and lifestyle entrepreneur Ivanka Trump told me over breakfast recently. "Hemlines go up, and there are so many minefields for women! Men can wear khakis and a polo shirt on casual Fridays. If I ever walked into the office wearing that?" (One shudders to think what The Donald might say.) Her advice: "Look at the environment you're working in, and stay within the boundaries of that." For Trump that means polished dresses, or a blazer and silk tank paired with relaxed pants (she's loving this season's culottes and wide-leg styles).
Kate Davidson Hudson, the cofounder of the accessory site Editorialist, adheres to another wise dictate: "I heard this rule once that you're not going to wear a pantsuit and heels to the beach, so don't wear something you'd wear to the beach to the office." She recalls a young colleague at a former job who "wore cut-off booty shorts with pink flip-flops. We had to take her aside and explain what proper work attire entails. You have to be conscious of not letting your professionalism be undermined by your clothes." Unless your job is lifeguard or swimsuit model (in which case, party on!), rule out cutoffs, flip-flops, sports bras, and anything you'd wear to a pool or a gym.
Find a uniform and go from there. Last May, when I joined Glamour, I was immediately struck by fashion director Jillian Davison's unerring ability to be both work- and weather-appropriate. Full disclosure: She is Australian, so she's been dressing for the heat from birth. But still! Day after day Davison breezed into the office wearing a crisp men's oxford, sleeves artfully rolled up; a pencil skirt or loose pants; and a flash of gold jewelry. Chic, polished, comfortable. What's her secret? "A level of tailoring is always going to look professional," she says. "That's why I'm a fan of the button-down shirt. Natural fabrics like cotton and linen breathe, and looser fits that sit away from the body feel less restrictive." (In other words, store your leathers, suedes, and clingy knits until fall; ventilation is key in hot weather.)
Davidson Hudson has a summer uniform too: "I love a suit with a sleeveless jacket or tailored, long city shorts," she says. Yes, shorts can be appropriate; just keep the fabric structured and the length modest.
My personal go-to is the one-and-done dress (I just ordered a crisp Rosie Assoulin version). Ivanka Trump agrees: "In the summer you can wear a simple sheath, and in the fall you put a blazer on top."
Know how short is too short. As temperatures rise, so too do hemlines. So what's acceptable in terms of length? The general consensus is no more than a couple of inches above the knee; short shorts, miniskirts, and clingy fabrics aren't appropriate. For her part, Davidson Hudson advocates a "sit test" in front of a mirror before leaving the house. "If the skin of your legs is hitting the chair," she says, "that's too short." Thankfully, fashion designers seem to have gotten the memo; the season's of-the-moment silhouette is the midi skirt, which hits midcalf.
Embrace the light. If New Yorkers (myself included) are guilty of one thing, it's wearing too much black. Not a problem in the winter, but come summer, light colors look and feel cooler. Davison advises replacing your blacks with whites during the warmer months. "White near your face is very flattering," she says. "It's a great canvas to add color to." Pair with navy and gold for a nautical-inspired look, or channel the spring runways and go all white. "I love mixing whites with beiges and blushes for summer," says Davidson Hudson. Khaki safari-inspired looks are another perennial favorite; I count a sleeveless trench dress as one of my summer mainstays. It reminds me of Yves Saint Laurent's iconic safari dress. Going strong since 1968...and all the rage right now!
And don't forget these Dos & Don'ts.
Do layer. I know going from an overheated street to an over-air-conditioned office may be a true #firstworldproblem, but it is tricky. The solution? I keep a cardigan or a blazer permanently draped over my office chair.
Don't do too-bare shoes. Flats are fantastic, and this season offers a plethora of chic choices, from the gladiator to the mule. But when doing an open toe, consider coverage: "I'm going to sound really finicky," says Davison, "but looking at the whole foot can be not that attractive. I opt for clever styles, like a d'Orsay, where your foot isn't entirely exposed."
Do groom. With bare shoes, consider these three C's: clean, clipped, and chip-free. My personal go-to pedicure shade is a nude (the Essie classic Ballet Slippers); it's pretty without being distracting and has the added benefit of being leg-lengthening. Not to mention the fact that nude goes with everything--who has time to change polish every time you change outfits? You might think twice about getting a pedicure during working hours, though. "I see people coming back from the spa during their lunch break with the toe separators still on," says Trump, tsk-tsk-ing. On that same note, she advises against leaving the house with wet hair. "Tempting," she acknowledges, but just not professional. Bottom line? Even in summer, "dress for the role you want to assume in your life," Trump suggests. "It sends a message to people: You care about taking care of yourself. It's important to feel like you have executive presence."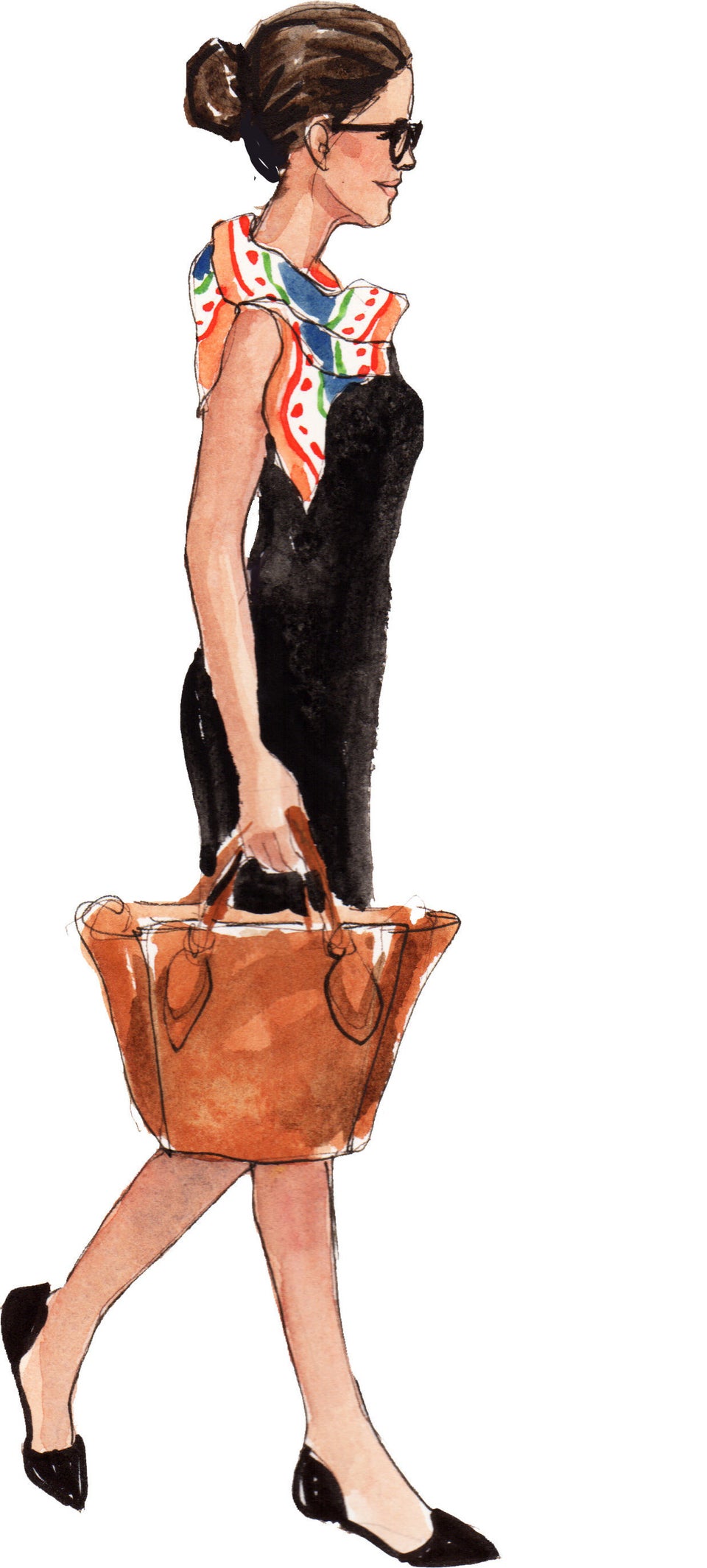 Dress Code
Popular in the Community