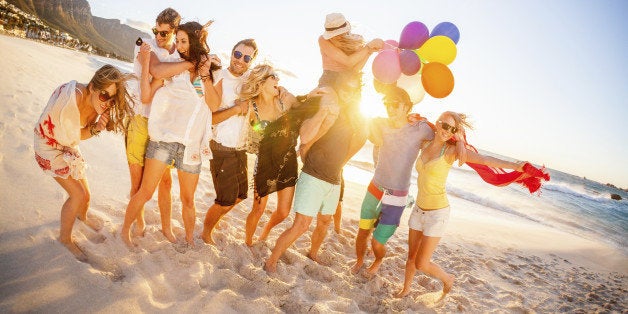 It's summer and we couldn't be happier. Whether your winter was miserable like ours or not, it's just a fact that everything is better in the summer, and it makes us ready to party at a moment's notice.
With that in mind, we've partnered with Las Vegas to bring you a list of tunes to get you in the summer mood and keep it going. Take a listen and let us know if we missed any in the comments below.
Pure Summer Jams
These songs unashamedly scream summer, and we're totally OK with that.
Lil' Rob, "Summer Nights"
Summer nights: They're hotter, wilder and better. So get out and enjoy them, despite the heat.
PAIR WITH: A late-night drive with the seat back and the windows down.
Jazzy Jeff and Fresh Prince, "Summertime"
This classic '90s duo can't be beat. You might want to dig up a boombox so you can listen to this track the right way.
PAIR WITH: Crazy-fresh windbreakers and relaxin' all cool.
Rascal Flatts, "Summer Nights"
Nothing says summer like country music. We've included a poppy song for those of you that aren't into that twang.
PAIR WITH: Sweet tea and front porch sittin'
The Ramones, "Rockaway Beach"
Many New Yorkers forget they're on an island surrounded by oceans. This punk-rock classic reminds us all to take a little time for beach action.
PAIR WITH: Running toward the ocean at full speed while yelling at the top of your lungs.
Jimmy Buffett, "Margaritaville"
Jimmy Buffett's got summer written all over him. Mix that with a marg and you've got a great summertime tune.
PAIR WITH: a margarita on the beach
Bananarama, "Cruel Summer"
Summer may be cruel with its heat, but that's kinda why we love it.
PAIR WITH: Eating a banana and playing Bananagrams
Calvin Harris sprung himself into the heat with this jam, and we love it. So turn it up and dance the day away.
Alice Cooper, "School's Out"
Yay for being out of school (or wishing you were).
PAIR WITH: Staying up late and sleeping in
Nostalgia Trips
We can't help but long for summers gone by: no school, playing with friends, chasing the ice cream truck -- you know the drill.
Beach Boys, "California Girls"
Don't worry, Boomers, we haven't forgotten about you. This oldie and goldie comes from none other than the Beach Boys. You can practically smell the sunblock. And although Katy Perry tried to do her own version -- called "California Gurls," of course -- it hardly holds a candle to this classic.
PAIR WITH: Surfin' and groovin'.
LFO had all the ladies swooning with this beat. Whether its references to Abercrombie and Fitch or their blonde frosted hair tips, this one screams '90s for all the millennials out there.
PAIR WITH: Overalls and a puka-shell necklace.
Martha and the Vandellas, "Dancing in the Street"
Do exactly what this song says and go jiving in the streets. (Just make sure to watch out for cars!)
PAIR WITH: We're confident you will figure this one out on your own.
Summer parties
With sultry nights come parties after dark and even into the wee hours of the morning. Crank up these tunes to get yourself in the mood to play.
This may not have the most genius lyrics, but summertime really isn't for thinking (-inking, -inking).
PAIR WITH: A prance in the rain, of course.
Queen B put out yet another great song here, and her sister Solange even had a cameo in the video. Let Bey put your workday blues to bed when you're hitting the town.
PAIR WITH: An impromptu dance party.
A$AP Rocky and Skrillex, "Wild for the Night"
This electro-hip-hop mashup gets our motor running, even if it sounds a bit like a car accident.
PAIR WITH: Extreme action sports.
DJ Snake, feat. Lil' Jon, "Turn Down For What"
This jam is the party anthem of the summer. Let the anarchic spirit of this song fuel a crazy-hot night.
PAIR WITH: A packed club with the windows fogged up.
Selena Gomez, "Come And Get It"
While we were skeptical of such a naughty song from Disney princess, we can't resist this Bollywood beat.
Vegas-goers love this song, and we can certainly see why. Turn this up for a fun lead-in to your night.
PAIR WITH: That crucial hour before you and your friends are ready to go out on the town.
This song is already everywhere -- yes, from "L.A. to Tokyo." Stop everything you're doing, throw your head back and shout the words to the sky.
PAIR WITH: A strut down the sidewalk in super-slow motion.
Summer is Vegas Season. Feeling a little Naughty or Nice? Either way Las Vegas has the playlist to fit your mood. Click here to check us out on Spotify.
Naughty Playlist
Nice Playlist
Related