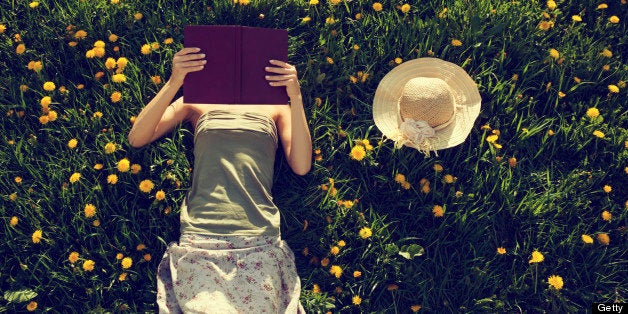 A few questions for this week's edition.
There are no right or wrong answers. But let me know if you have any thoughts.
Do you have a summer reading list?
Do you think of reading during the summer months any differently than you do at other times of the year?
Do you really expect to finish

War and Peace

this summer, after having tried it over the last few summers?
Ditto for

Decline and Fall of the Roman Empire

?
Ditto for

Remembrance of Things Past

?
Ditto for that bestseller from two years ago that you had meant to get to but never really found the time to open the cover of?
Are you overwhelmed by the numbers of books you see suggested for you on summer reading lists and decide instead to binge-watch

Game of Thrones

?
Or have you decided to read the five books -- so far -- of the novels that make up "A Song of Fire and Ice" by George R.R. Martin that were adapted into

Game of Thrones

and then binge-watch the first three seasons of that HBO hit?
Is this your Charles Dickens summer, your Anthony Trollope summer, your Jane Austen summer, Arthur Conan Doyle / Sherlock Holmes summer, your J.R.R. Tolkien summer -- the summer when you'll finally begin to read those classics of literature?
Is this the year you go through those essential business books you know will change your life?
Or you have a list of business books on your night table that you mean to get to now that Jon Stewart is on temporary hiatus from

The Daily Show

?
Do you keep a list of books you've read so that you can recommend them to your readers, provided you've got readers, if you've been writing a blog?
Do you see how many shows and movies and entire series you have in your Netflix queue or TiVo storage or DVR memory and wonder when you'll find the time even to sit in front of the television and catch up enough to keep up with all of those friends who manage to watch and read everything (or at least who claim to)?
Is this the year you crack

Breaking Bad

?
Is this the year you get to that final season of

The Wire

?
Have you gorged enough on summer-reading lists that you can fake your way through any discussion at a summer barbecue where books might come up?
Or is it more likely you'll fib your way through any conversation and claim that you were too busy to read since you were catching up on

Breaking Bad

or

The Wire

or

Mad Men

or any number of literate and essential shows that increasingly take the place of books in your leisure time?
Do you tell yourself how can you ever hope to make it through the clutter of information when you yourself can't even figure out where to begin to read something for yourself?
Welcome to the new information age. Welcome to the summer of 2013. Good luck!
REAL LIFE. REAL NEWS. REAL VOICES.
Help us tell more of the stories that matter from voices that too often remain unheard.