Any interesting information about actors with whom Doris Day didn't work but met because of her Animal Rights Activism or other common interests? I'm thinking of people like Judy Garland, Clint Eastwood, and Mary Tyler Moore.

It was while Day was making a, for the most part, forgettable musical called Lucky Me, that she met and instantly befriended Judy Garland on the Warner's lot. (Garland was working on A Star Is Born.) But in keeping with what I was just saying, above, I don't know that they subsequently spent any real time together, except when they found themselves on the same train.

Same train?
Yes. After having several near misses when she was touring with Bob Hope in the late 1940s, she developed a fear of flying, and made all her trips east by train and car, over the years.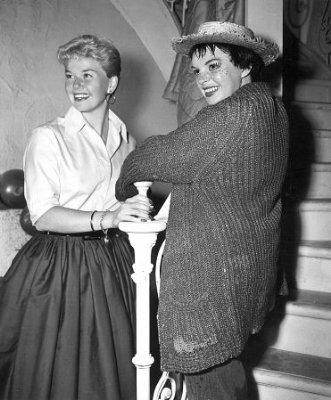 Two of the greatest singing voices to ever emerge from Hollywood, Day and Judy Garland met in 1954 and became fast friends.
Photo by Floyd McCarthy - (C) MPTV
As for Clint Eastwood, they also shared their mutual admiration when he was the Mayor of Carmel, where Day has been a resident ever since 1981. Eastwood even went on one of the five TV documentaries devoted to Day, saying that the local supermarket is like her office, and that's where he ran into her, every so often. Once again, I don't think they ever made plans to get together, nor did they.
Although Mary Tyler Moore did cross paths, I know of nothing to report about their (minimal) interactions.
Besides Ella Fitzgerald, who were some of DD's favorite singers?
While she was making Calamity Jane, Day was asked who her favorite singer was, and in addition to Ella Fitzgerald, she cited soprano Helen Traubel, Gordon MacRae, Perry Como, and Nat King Cole.
Apart from directors Hitchcock and Curtiz, about whom you write extensively, how did she get along with Gene Kelly, Charles Vidor, Delbert Mann, George Seaton, and Norman Jewison?
There is at least one other director who belongs on that list -- David Butler, who directed Day in four films, including one of her most important, Calamity Jane. It's worth noting that, when looking back on working with Day, both Butler and Jewison proved quite candid in talking about her quirks, and the difficulties they had had with her. Butler talked about how, by the time of Calamity Jane, she had come in to her own and was more demanding. Jewison, who made two pictures with Day (The Thrill of It All and Send Me No Flowers), focused on how insecure and temperamental she was about her appearance. As for the others you mention, there are far too many stories and angles to discuss given our space limitations.

I did get some interesting stories from Day's co-star Elizabeth Wilson about Gene Kelly, who directed them in The Tunnel of Love, a relatively obscure film, which is obscure for many reasons, and especially because Kelly failed to elicit a true comic performance out of Day's co-star, Richard Widmark. Indeed, there are good stories I gathered from people who worked on most of the other pictures with Day, but far too many to relate here.
May we focus on The Tunnel of Love for a moment? I've seen it, and the tone of the film is puzzling.
As I explain in my discussion of Tunnel..., the "tone" of the picture is indeed off. In adapting the Broadway hit for the screen, they made a big mistake in softening what had been a controversial ending, implying that Widmark's character had a child with another woman. That was quite risque for the mid 1950s, and too risque for what they hoped would be a mainstream film.
Apart from neither playing Mrs. Robinson in The Graduate nor being able to work with Mike Nichols, what other roles and directors got away? Were all of these due to Melcher's interference or were some because of Day's own insecurities?
There were many that "got away," but to scrutinize the life of any star, is to discover that for every picture that was made, there may have been several under consideration. But certainly, of all the roles she nearly took on, the biggest disappointment for Day, her fans, and posterity, was her failure to play Nellie Forbush in the film version of South Pacific. The primary reason she lost the part was financial: Melcher was holding out for too much money, and Mitzi Gaynor did it for a mere pittance.
Nellie Forbush seems made for Day. I always imagined her playing the role. Another reason for DD followers to fume when reminded of Melcher's short-sightedness and greed. Can you mention just a few of the songs that remain unrecorded because of his unique interference?
After he became a music producer, Melcher would not let his wife record any songs, unless he retained the publication rights. Needless to say, some of the composers of new songs wanted to retain the rights themselves, so there were any number of songs that Day might have recorded, but didn't. As I explain in the biography, Mitch Miller told me that, during the ten years he was Day's producer at Columbia Records, he knew of only one instance when Day defied Melcher's wishes, along these lines. She recorded "Everybody Loves a Lover," even though the writer, Robert Allen, kept the rights for himself.
I believe DD's favorite film is Calamity Jane, why do you believe it's her favorite? I haven't seen the entire film in many years, but in the documentary clips I've viewed, she seems seamless in every scene.
Doris Day has said, and on more than one occasion, that Calamity Jane is her favorite film, because she was a tomboy when she was growing up, and she could really relate to that part for that reason. (In the same breath, Doris also added that she "played with dolls" as well. She insists on being contradictory at practically every turn.)

You have interviewed and reviewed the books of John Updike, so you must have interesting insight into his DD references. He was even moved to write a poem where he describes her voice as a "silver arrow" that pierced his heart. What was it he felt and why?
Updike, who was also interviewed for one of the TV documentaries about Day, has said that it's hard for him to put his finger on Day's appeal, but that it was always there for him. Clearly, he found her sexy beginning with his adolescence.
Might he have sensed the tragic subtext?
In contrast with any notion of sensing her "tragic subtext," and in his longest investigation in to Day -- his review of her memoir, which ran in the New Yorker in 1977 -- he said that her recurring problem with marriage may have had to do with her being something of a "Queen Bee."
That's surprising. What do you make of his "Queen Bee" theory?
I think Updike's "queen bee" theory has some validity. But I also think it's misleading to emphasize the degree to which Day was a so-called control freak, without pointing out that she also ceded control to those who managed her -- first her mother, then her husband, and finally, her son.
I reviewed a French biopic, Seraphine, which was wonderful, and I admire the recent La Vie en Rose about Edith Piaf. I haven't cared much for Hollywood biographical films, but my fantasy DD biopic would star Renee Zellweger (who's already sort of played her in the film Down with Love). In your casting fantasy who would play DD?
I think Renee Zellweger is already too old to play Day at her height, the early to mid 1950s. I think Reese Witherspoon would be ideal, but unless a picture is made quickly with Witherspoon, she also might become too mature to play the younger Day, just breaking into films.

Performers like Judy Garland and Doris Day are icons for many complicated reasons. The difference with DD is that, unlike Garland, Elvis, Montgomery Clift, or Marilyn Monroe, she has endured. Few performers who live as long as she has maintain this special status.
It's interesting that each of the other icons you mention famously had personal problems to contend with. Day, on the other hand, always represented the relatively carefree, straightforward and simple aspects of America -- both to Americans and to the rest of the world. Though nothing could have been further from the truth, when it comes to the real Doris Day, as opposed to the image that has permanently attached itself to her name. And for that matter, nothing could have been further from the truth, when it comes to America in the 1950s, Day's heyday. However happy-go-lucky America seemed during the period, there was a good deal of turmoil, unrest, and hypocrisy, just beneath the surface.
A year after your book first appeared, what are your thoughts regarding the nature of her personal appeal to people she knew and the public's enormous thirst to know more about her? It seems you can barely get on with your next biography because you are hounded to continue making public appearances about DD.
Yes, I continue to be both astonished and overwhelmed by the ongoing interest in both Doris Day and in my biography. A year later, I continue to get requests for interviews and public presentations. I'm giving one on the upper east-side for seniors in the middle of a Tuesday afternoon the end of June, and I was just told by the woman who's organized it that she's already booked to capacity for 75 people, that she has ten people on a waiting-list, and that she's turned still more people away.
Finally, I'm curious about your take on the types of questions and emotional responses (enthusiasm and affection, among others) you perceive in fans who never knew her. I've been at your DD presentations two times myself and find it both interesting and moving.
It all confirms what I always suspected -- Day was a much larger part of our culture than the culture seemed to acknowledge or allow. She was omni-present on the radio and on the screen--and in the last few decades on TV -- and, I think, very much taken for granted. What was most surprising, was the discovery that she has an enormous number of fans today who are teen-agers. In other words, they are growing up -- or should I say, catching up? -- with her now, more than 40 years after she released her last film. Beneath it all, is the happiness that she brought to the world, and clearly continues to. Her talents simply cannot be denied, no matter how schlocky and vulgar some of her films and songs remain.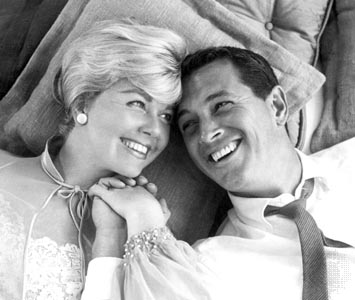 Happy times for Doris Day with co-star and close friend Rock Hudson. They made three films together: Pillow Talk, Lover Come Back, and Send Me No Flowers.
From Sly Stone and film scholar Molly Haskell to John Updike and Oprah Winfrey, Doris Day's appeal covers a remarkably wide spectrum. The Day phenomenon is obviously difficult to pin down. Kaufman comes closest in capturing her essence as a mass of fascinating paradoxes connected to early tragedies. While his hardcover book is simply too lovely to take to the beach, as the pages might get wrinkled by saltwater and stained by suntan lotion, movie buffs and biography enthusiasts shouldn't hesitate to toss the paperback into their favorite canvas bag this summer and savor the story of this enigmatic performer and critically unsung artist -- until now, that is.
Calling all HuffPost superfans!
Sign up for membership to become a founding member and help shape HuffPost's next chapter