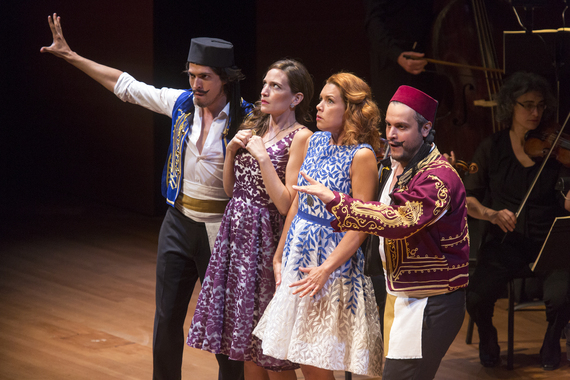 Mozart has yielded some incredible insights about the human condition: the capacity for love, the capacity for forgiveness, the capacity to live beyond oneself. So, maybe it's ok that the aggressively-jaded, unabashedly-sexist Così fan tutte doesn't do much, if anything, to illuminate the human experience. The plot is basic: Two young men (Ferrando and Guglielmo) are challenged by an older dandy to test the fidelities of their fiancées (Fiordiligi and Dorabella - a pair of overly-emotional sisters); they'll announce they are leaving for war, then return in disguise to try to seduce each other's bride with the help of their sprightly maid. After some consternation, the two women eventually give in to the magnetic (it's a Così joke) visitors. But at the end, the men, wounded by the very betrayal they set out to prove, reveal their identities to the humiliated women. There is some semblance of forgiveness between the couples who eventually pair off as they were before. What is obviously conceived as a light, Neopolitan farce comes across to us today as unnerving, even despite Lorenzo da Ponte's sparkling libretto.
Così was one of the two Mozart operas presented in full at Alice Tully Hall as part of Lincoln Center's Mostly Mozart Festival, a summer-long celebration of Mozart's music and beyond. There were high expectations for this Così, a concert performance of Christophe Honoré's fascinating and lauded Aix-en-Provence production that set Mozart's airy "comedy" in Italian-occupied Eritrea and played with the dynamics of interracial love, exploitation, and racism when the two suitors "depart" for war and return in blackface as African mercenaries. And onstage, there were no disappointments. The only disappointment was what wasn't onstage, i.e. virtually any semblance of the hyped and potent Aix production. Though what remained was a sleek, motile presentation (by Annette Jolles) that put all the due focus on Mozart's music and left no ambiguity about the bitterness underneath the opera's thin, insouciant veneer.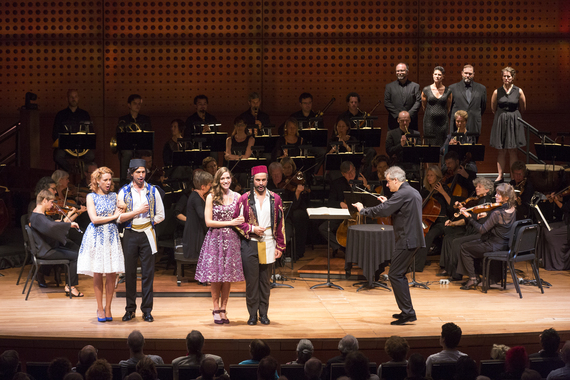 Louis Langrée, Mostly Mozart music director, lead the jubilant and responsive Freibourg Baroque Orchestra in a svelte but rich reading of the opera that was equally supportive of the singers and orchestra. It made sense that they moved as a unit, though, because this was the same cast of unilaterally exceptional singers that made the rounds in Aix and Edinburgh. From Joel Prieto's easily-produced, powerful voice that still maintained beauty of tone (his "Aura Amorosa" was a masterclass in legato) as Ferrando, to Nahuel DiPierro's supple baritone as Guglielmo, to Rod Gilfry's surprisingly firm, suave bass-baritone as Don Alfonso, the nobleman who pushes Ferrando and Guglielmo into the charade, in the style of Thurston Howell III, the men excelled. No less successful, though, were the ladies, lead by an absolutely sterling Kate Lindsay as Dorabella who melded a beautiful, velvety voice with a sincere (but ubiquitous, in this cast) attention to text and delivered a hotly persuasive "È amore un ladroncello." She was complemented by the technically-gifted Lenneke Ruiten as Fiordiligi who, despite a more brittle-sounding voice, wielded enormous personality. Her "Come scoglio," though not without hiccups, was fiery and exciting and her "Per pieta, ben mio, perdona" was devastatingly sincere. The cast was rounded out by the superb Sandine Piau as Despina who sang and acted with aplomb and spunk.
In their first Mostly Mozart performance, Musica Sacra, here pared down to a mere dozen, made a larger sound than their number would imply.
This was Così, straightforward and unaltered. While it would have been great to see Honoré's provocative production, what arrived at Lincoln Center was a musical presentation of the highest quality. And at a festival dedicated to exhorting the music of who many consider the greatest composer who ever lived, this made a mighty strong argument and one couldn't ask for more.
All photos by Richard Termine
Related
Popular in the Community