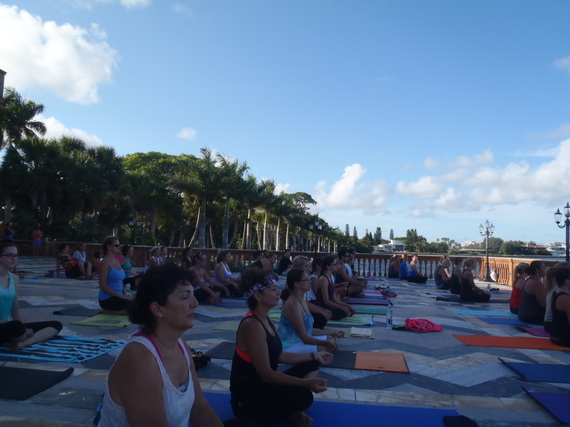 If you missed the Summer Solstice Yoga in Times Square -- only 11,000+ participants showed up! -- on Saturday, June 21, 2014, another option was Yoga on the Terrace at the Ringling Museum of Art in sunny Sarasota. Every third Saturday of the month, trained yoga instructors provide free yoga classes on the Cá d'Zan Terrace. With its breathtaking views -- from boats on the bayfront to historical Venetian Gothic architecture of Cá d'Zan(house of John -- John Ringling, that is) -- yoga can be oh so relaxing, even for newbies.
Two Saturdays ago was my first yoga experience at Cá d'Zan. During one stretch exercise, instructor Steve Lang with Yoga from the Heart (what a tranquil name!) uttered words like "you call this a 'verandah?'" Local residents chimed in and bellowed "Terrace!" Our yoga mats were single filed in rows while we took in the amazing breeze. I couldn't help but imagine John Ringling arriving home in his Venetian gondola at the foot of this terrace. No gondola in sight nowadays -- simply seagulls and perhaps wandering manatees or adventuresome dolphins.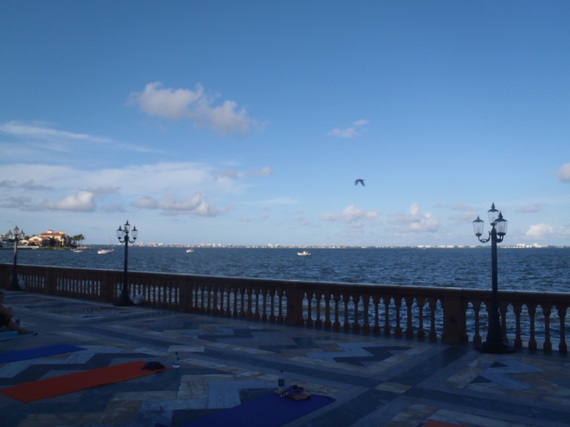 I've taken Full Moon Beach Yoga on the sandy shores of Siesta Key Beach -- No. 1 beach in the U.S. in 2011, just saying... On Siesta Key Beach, the white sand is like sugar, so it's too soft for yoga mats. We come armed with beach towels and an occasional mini-flashlight to help us navigate back to civilization after our magnificent meditation of beach yoga -- lying on our backs with eyes closed (I peek every now and then and get mesmerized by the glorious glowing moon!) and listening to nothing but waves swirling and crashing simply yards away...
I didn't know what to expect at the Ringling Museum. My Connecticut friend Denise Colosimo (who became my JetBlue BFF when we both met on the same, but rare extended stay for JetBlue to Sarasota and in the same terminal; she felt comfortable enough to let me watch her oh-so-adorable terrier-like dog Jeep and later her then 12-year-old son Johnny, while I entrusted her with my laptop at JFK) had told me about this amazing yoga at Ringling months ago -- she even texted me a fun Cá d'Zan Terrace photo of ladies on yoga mats overlooking the bay...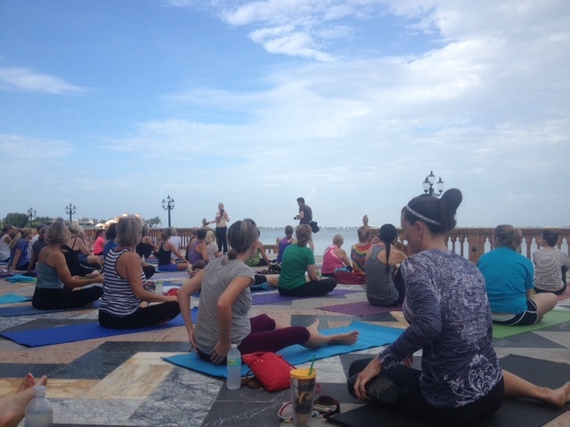 Truly grateful that I bumped into my gal pal June Cussen of Pineapple Press (is that the happiest name for a publishing firm or what?!) in the cool shade of Cá d'Zan... We used to wave at each other across the wood dance floor of our weekly aerobics class. So when she saw me plop down my makeshift yoga mat (one layer of fleece doggie blanket covered with my bright orange beach towel), she graciously offered her pilates mat -- warning me that it's extra thick. Perfect! With my longtime-haven't-done-downward-dog body, I needed as much padding between me and the hard stone terrace to cushion my landing. She leaped off her already-comfortably-situated mat and trekked back to her car, passing the magnificent banyan trees. After all, this class is by Yoga from the Heart, and now I can see why...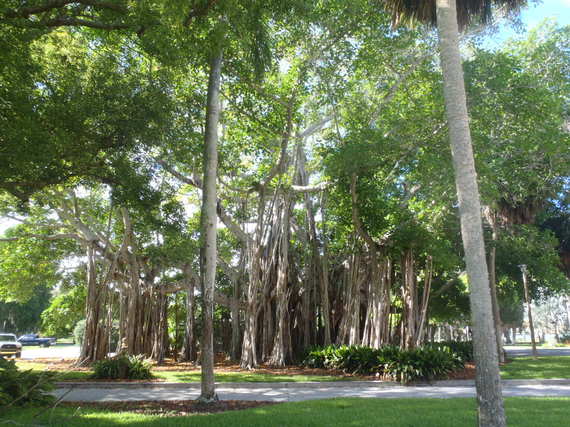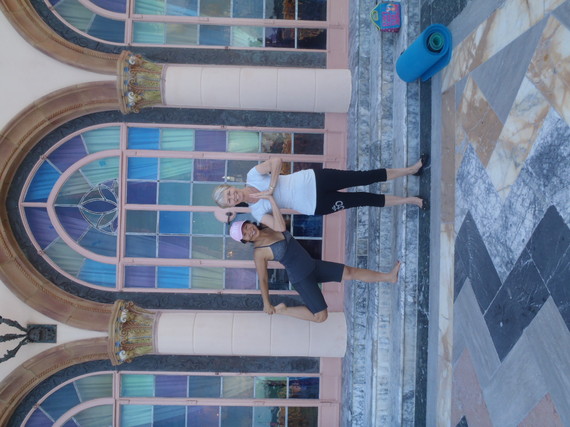 The ambiance of the constant sea breeze -- coupled with my newly-learned mountain pose (no hills in Sarasota, let alone mountains!), warrior one (struck that pose before with my Indy buddy Pam McNealy at her first beach yoga, which happened to take place at the private shoreline of the Longboat Key Club, where a few curious dolphins meandered by our unique stances) and then the unforgettable public-bathroom squat (which was great for our quads and core, and even outstretched arms up above -- in case we ever had to reach for toilet paper strapped to the bathroom stall's coat hook!) -- allowed me to take in the beauty of Sarasota's bayfront after sunrise and breathe in the much warranted calmness for the day.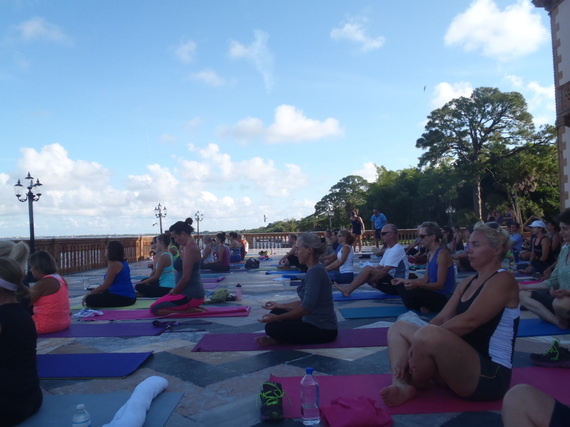 Instructor Steve Lang -- a cross between a buff drill sergeant and a sensitive guy (he's more empathetic then stern) -- entertained us with his easy-to-understand movements and fun snarky humor.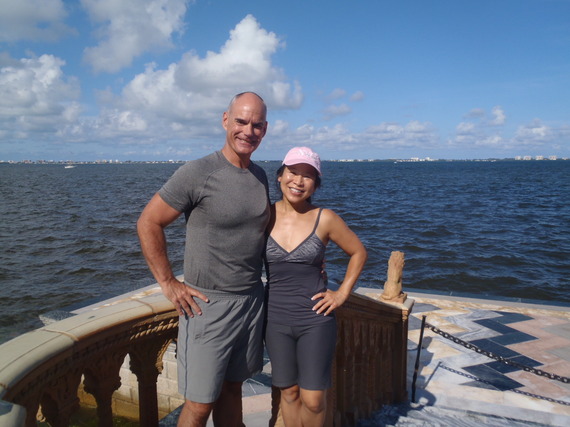 We were resting on our backs, one leg down with toes pointing to the bay (backyard of this ornate terrace) and the other leg extended, yet pulled upward.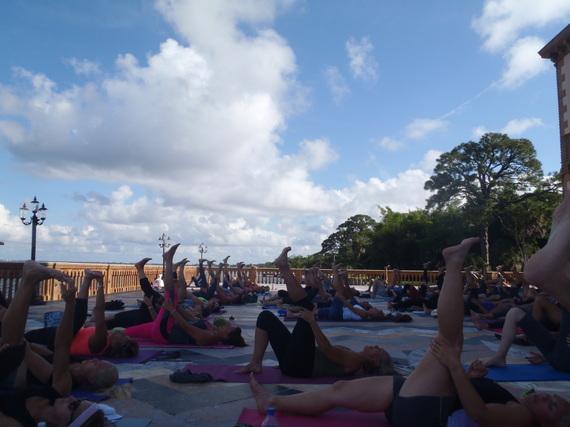 The scissor motion was limited for some us. So when Steve cited the young -- yes, very young -- gal who could stretch her leg and practically clasp her ankle next to her ear, I certainly knew that he was not pointing me out. She was an overachiever in yoga and certainly qualified for the Sarasota Ballet!
From child's pose to downward dog, I couldn't help but notice the coolest and never seen before view of the west façade of the Cá d'Zan... I gratefully appreciated the stunning detailed architecture -- upside down!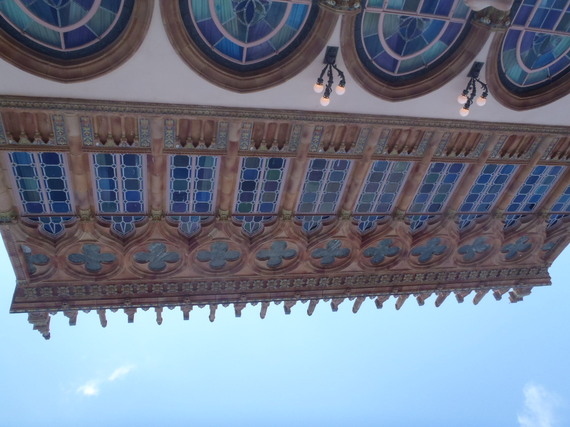 As the majestic palm trees swayed and fluttered, we almost aficionados of yoga were focused on our breathing: breathe in, hold; exhale, and then hold... repeat. With our hands below our chins, palms pressing into each other and chest facing Sarasota's intercoastal waterway, we obediently listened to our yoga leader softly mouth "Surrender your head to your heart... Meet yourself there" and chant harmoniously "Ah-oooom..."
So if you feel like you didn't get to suit up in your Lululemon, Athleta or Gap wear with 11,000 other yoga lovers in the midst of Times Square (underneath the Broadway billboards and never ending humongous commercial videoboards with almost higher resolution than my latest Sony VAIO Fit15), then perhaps consider your next Summer Solstice (aka longest day of the year) travel destination to be the must-see shores of Sarasota... Just don't forget to pack your sunscreen, water tumbler and yoga mat!