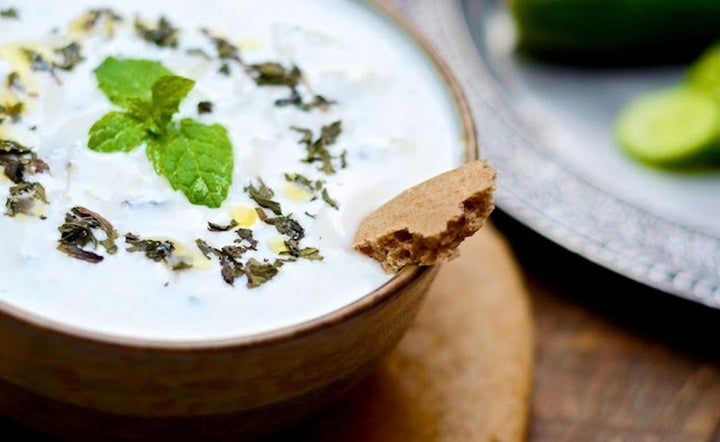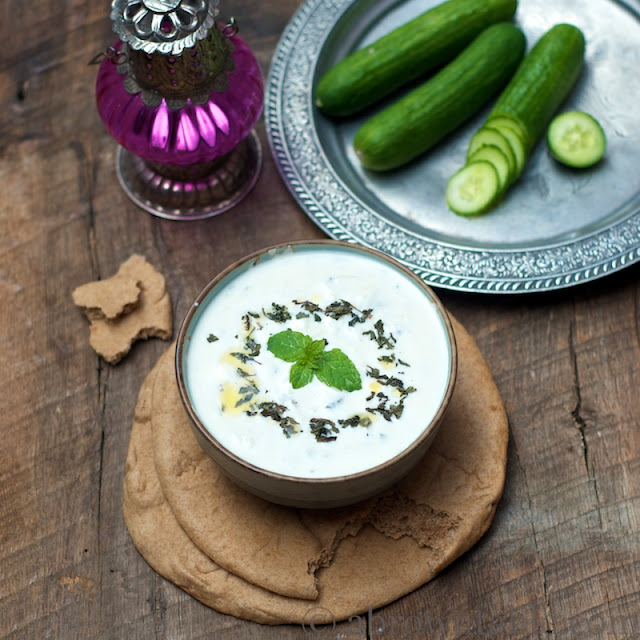 With temperatures soaring this summer, I tend to move towards lighter and cooler menus. This is the perfect dish to cool you down on a hot and sweltering summer day. Inspired by Middle Eastern flavors, this light and refreshing soup is brightened by garlic and mint, both of which are common ingredients in Middle Eastern cuisine. Sautéing the garlic will help to mellow its intensity without compromising on flavors. I prefer to serve this dish with warm or toasted pita bread, but you can also enjoy this by itself.
3 cups plain non-fat yogurt
2 cloves garlic
1 large Persian cucumber
1 teaspoon dried mint
1/2 teaspoon dried ancho chili powder
2 tablespoons chopped fresh mint
2 tablespoons white wine vinegar
salt and pepper to taste
2 tablespoons extra virgin olive oil
Coarsely grate the cucumber and keep aside. Do not drain the liquid from the cucumber. In a mixing bowl, whisk the yogurt gently for a minute. Finely mince the garlic and sauté it gently for 20 seconds with half of the olive oil. Add the garlic, cucumber, fresh mint, ancho chili and vinegar. Season with salt and pepper. Chill the soup for at least two hours before serving. Garnish with the dried mint and drizzle with extra virgin olive oil. Serve with warm pita bread.