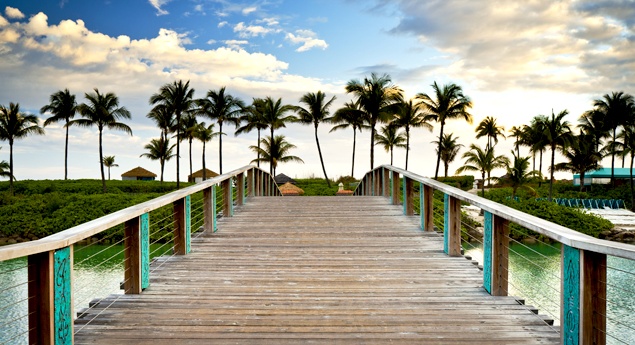 Photo Courtesy Daveallenphoto/Dreamstime.com. Article by the Editors of Budget Travel.
Budget Travel is second to none when it comes to practical tips to take the hassle -- and the expense -- out of a summer vacation. Here, our favorite insider secrets and online tools to get you where you want to be.
Save on: Lodgings
How: Look beyond hotels
Especially if your family or entourage is too big for a hotel room, you can find better rates by renting a house, condominium, or apartment, or by exploring home swapping. For vacation rentals, visit vrbo.com, homeaway.com, and villasintl.com. For home swaps, check out homeexchange.com, homelink.org, and intervac.com.
Save on: Airfare and hotels
How: Research package deals
Psst: Airlines and hotels are willing to offer incredibly low prices to fill their rooms and seats. But because they're reluctant to publicize these low rates, they sell some rooms and seats to companies that put them together as package deals. Before you purchase a package, deal, take a look at the hotel's website and rates and research what the airfare and hotel would cost if you booked them separately -- that way you'll know you're getting a good deal.
Save on: Rental cars
How: Get a free upgrade
Book the cheapest rental car you can live with and arrive early in the day, before most customers have returned their cars. Result? The agency may not have any cheap cars to give you, and they are obligated to give you a bigger model at no extra charge. If they try to sell you an upgrade, say no. If it turns out they haven't run out of cheap cars, politely ask for a free upgrade.
Save on: Gas
How: Drive smart
With the price of gas nearing or topping $4 a gallon, there's never been a better time to get to know your car -- or a rental car -- a little better. Why? Because smart driving is one of the easiest ways to shave dollars off your fuel costs. For instance, for every 5 mph over 60 you drive, you spend around 25 cents' worth of gasoline. The car's air conditioner is a money leech, too: Keep costs down by using air conditioning as little as possible, parking in the shade, and, if you do resort to A/C, open the windows first to let the hot air out. Avoid jack-rabbit starts, and remember that every 100 pounds of luggage reduces your car's fuel efficiency by one to two percent.
Save on: Airfare
How: Know when to buy
According to farecompare.com, the best time to buy airline tickets is Tuesdays at 3 p.m. While other sources are less specific, it's generally agreed that purchasing mid-week (Tuesday, Wednesday, Thursday) will nab you better rates because airlines release their promotional fares on Sundays and Mondays and often raises prices at the end of the week. And booking about eight weeks in advance can be the sweet spot for keeping costs low.
Save on: Hotels
How: New online tools
A new breed of online hotel-booking site has made it easier than ever to compare prices, and in many cases the site will alert you to lower rates even after you've booked a room, allowing you to switch and save. Backbid.com, for instance, lets hotels sell rooms to travelers who've already made reservations at rival establishments. Hipmunk.com lets you input a destination and then delivers hotel rates culled from online booking sites like Orbitz and Getaroom; Hipmunk also offers an "ecstasy" rating, based on such benefits as price, amenities, location, and Yelp reviews.
Save on: Frequent-flier programs
How: New online tools
If you've ever tried to figure out when's the right time to cash in your rewards-program miles or points, PointHub and MileWise do the often-complicated math for you. They will calculate whether taking a free flight is the right choice or whether prices are so low that you're better off buying a ticket and holding on to your miles. Our research suggests these sites are best for people who've accumulated miles or points and need some help in navigating that world -- not best for "mileage junkies" who are already on top of this occasionally arcane science.
Save on: Cruises
How: Book through a travel agent
Over the years we've interviewed our share of cruise industry professionals, and they agree on a few easy ways to save big: Book through a travel agent, who often has a close relationship with a cruise line to help you get upgrades and extras. If you like a particular cruise line, joining its loyalty program can nab you invites to members-only events and coupons worth up to $500. On a less-loyal note, however, you'll usually save on airfare if you book flights independently, not from a cruise line.
Related