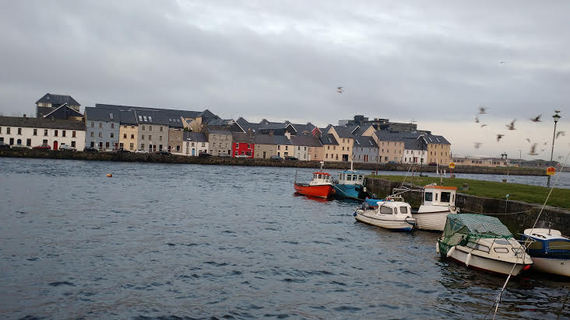 Caption: The Claddagh, Galway's historic waterfront district and home to the iconic Irish wedding ring.

When I first moved here to the U.S., the transatlantic night flights to Ireland were packed with heritage-hungry Irish-American tourists.
But nowadays, coach class is an equal mix of multinational executives and backpacking hipsters. And, if my eavesdropping serves me right, most of those travelers are headed to Ireland's capital city of Dublin.
What a waste, I always think to myself. What a limited and not very authentic taste of modern-day Ireland.
I confess: As a west-of-Ireland-born girl myself, I'm definitely biased here. But especially in summer and fall, hip and laid-back Galway City is just the place to unwind from that cramped night flight.

10 Reasons to Bypass Dublin for Galway City


1. Size: Galway is a compact but bustling university city. Could you take in all the city sites--plus the promenade and beach--in one afternoon? Yes. But to really relax and party like a native, plan on at least a long weekend here.
2. Variety: Pedestrian streets. A city-accessible sandy beach and walking promenade. Irish music pubs. Crafts, cuisine and the seafood catch of the day. Oh, and did I mention the annual summertime horse-racing and arts and theater festivals? Galway's got them all.
3. Affordability: From the international hotel chains, to downtown hostels, to waterfront bed and breakfasts, the city boasts a variety of accommodation options and they're all cheaper--much cheaper--than Dublin. Off-season room rates (including multi-course hot breakfasts) are particularly good value. Sometimes, you can do better with the online U.S. booking sites than calling the hotel directly. If you're still on work or telecommute time, the bigger hotels will have an in-room executive desk and free WiFi.
4. That famed Irish hospitality: In Galway, the Irish hospitality thing is not a touristy shtick. Stop for a pint or a coffee in any pub. You'll be chatting with a local before it's time to order a refill.
5. Food: Sure, Dublin boasts a variety of worldwide cuisines, but Galway's compact size makes it easier to choose and actually reserve a table. Some not-to-be missed eateries: McDonagh's fish `n chips in the Claddagh (the waterfront neighborhood that's home to the iconic Irish wedding band) neighborhood, where the McDonagh family has been serving up fresh seafood for four generations. Also, choose from among the tapas plates at The Mona Lisa, a small, back-street Sardinian bistro with an impressive wine list. On a budget? Fuel up with a multi-course midday lunch at one of the local pubs or hotels. The Park House Restaurant offers a particularly good hot lunch, as does the historic Ardilaun Hotel.
6. Pubs: There are times when Galway City feels like one, never-ending pub crawl. As a thriving university city, the pubs and their outdoor terraces get busy from 6 o'clock onward, so you can choose to do the early party shift and head on home for your beauty sleep. Or you can join the late-night revelers to go and stay clubbing into the wee hours.
7. History: That's the thing about visiting Ireland, isn't it? It's hard to walk anywhere without passing a historic building or artifact. Galway is home to the Nora Barnacle (James Joyce's wife) House, the 16th-century Lynch's Castle (it now houses a downtown bank, but history tours are available), and the Galway museum--to name a few attractions. Also, portions of the city's medieval walls are still intact in the Claddagh district.
8. Accessibility: There's hourly transportation (via a very comfy express bus) from Dublin Airport. There's also the inter-city train service. Both are affordable and include good quality WiFi connections. While you're in Galway, rent a car and drive 40 minutes north to tour the "Quiet Man" village of Cong.
9. Traditional Irish Music: O.k., here's where Galway really outshines Dublin and all other Irish cities. As modern and hip as Galway is, it holds fiercely to its traditional roots. So you can catch a live-music pub session (a jam session--often with big-name musicians) on any night of the week. Or you can session hop from one pub and gig to another. Ask at the Tourist Information Center on Eyre Square for the live-session-pub brochure and lineup. Two of my favorites haunts are the The Crane Bar and Tigh Choilí. Pubs not your scene? Galway also boasts a number of intimate or large concert venues.
10. Language: This is a bi-lingual city where it's as common to hear people speaking Irish (Gaelic) as English. Don't worry, most or all Irish speakers are also fluent in English, but if you want to hear Ireland's original language spoken en plein air, this really is the place. Want to go for the full immersion in the language, music and sean nós (a traditional style of singing)? Take a short bus ride or day trip west into Connemara and the official Gaeltacht (Irish-language designated) area.
Historically, Galway was dubbed the "city of the tribes." But these days, we've changed that nickname to "the city of the vibes."
One hour after you've stepped off that cross-country train, you'll understand why.