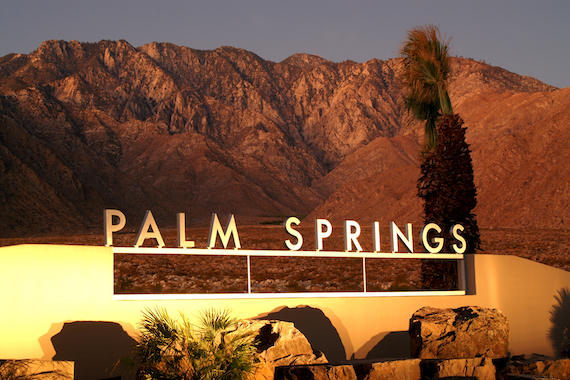 Photo Courtesy of Palm Springs Bureau of Tourism
I know, why in the world would you head to the middle of the Southern California desert in the summer when there are all those beach resorts out there? The answer is pretty simple: escape.
Normally the weather in Palm Springs ranges from beautifully warm to a bit too hot. Let's face it, summer in Palm Spring is HOT! But, as they say, it's a dry heat. (And with minimal humidity, you really never have a bad hair day. Score!)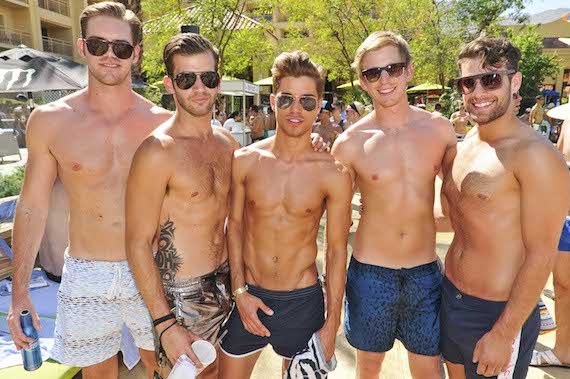 Photo Courtesy of Phil Lobel / Lobeline Communications
During The Golden Age, Palm Springs was where the Hollywood elite went to get away; it's only a two-hour drive from Los Angeles. Now, the gays go there -- in force. As a matter of fact, over 50 percent of the full-time population of the city is reported to be gay. I think when the tourist are there it's closer to 98.9 percent.
There are many reasons to visit Palm Springs but many people go there simply to spend their days lounging by pools and looking up at the sky. And that is not a bad way to spend summer. For more adventurous activities -- at least ones that don't require a safe word -- Palm Springs boasts a wide selection of things to do in and around the area. Here are some ideas: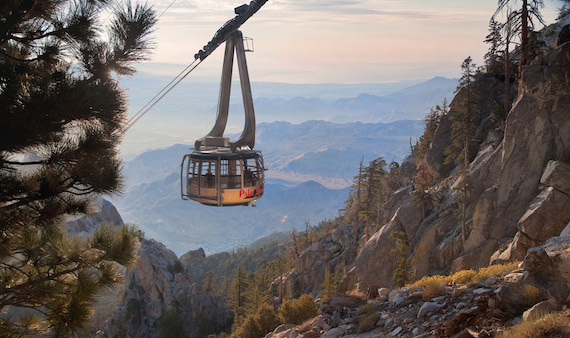 Photo Courtesy of Palm Springs Bureau of Tourism
Make-The-Most-Of-It Weekend
Gay Icons Tour: For about 90 minutes, in a private Jeep equipped with A/C and water, you're treated to a brief lesson on gay, bisexual and straight (gay icon) celebrities who live or lived in Palm Springs.
Palm Springs Art Museum - The Galen: If touring museums, which typically keep the air conditioning pumping at full blast, is your thing, then this is a must-see. The main museum is closed during August but its newest facility, The Galen, is open. Take some time to stand in awe of the contemporary work, Western and Native American art and sculpture exhibits, as well as the chilled air.
Palm Springs Aerial Tramway: Up for a hike? You can take the tramway to San Jacinto Peak for hiking or a romantic picnic. As an added bonus for those who do not suffer from acrophobia, the tramcars actually rotate so guests can stand in one place to get a view of both the lush mountain and the valley's wide expanse during the 10-minute journey.
Shopping: Stores featuring mid-century modern furnishings and décor, antique shops, art galleries and cafés populate the Uptown Design District. For a dose of gay culture head to the East Arenas Road, a tiny street downtown, for bars, cafés and aptly named retailer Gay Mart, all donning rainbow flags.
Nightlife: The bar scene is more low-key than some other gay resort towns. While in town try Hunters, which draws in the younger crowd and their older admirers, and Spurline, which spins an extensive showtunes collection. Or if you're looking to get lucky you can try the Spa Resort Casino, a stone's throw away from East Arenas Road.
Lodging note: Palm Springs hosts the most clothing-optional resorts in the world, more than 20 of them gay. (Pro tip: bring plenty of sunscreen, as sunburned private areas will ruin your trip.) If you want to stay in the gay resort area, head to the Warm Sands neighborhood where you can catch an eyeful during the day, if not a handful at night. During the summer, which is low season for Palm Springs resorts, there are plenty of special offers to take advantage of. For example, the Hacienda at Warm Sands, is currently offering 4 nights for the price of 3, while the Inn Exile Resort has weekend rates starting at $99.
The moral of this piece: Go to Palm Springs. For the sun, the laid-back lifestyle, the views, the bare skin. This hot little gay hideaway is the perfect escape.
Calling all HuffPost superfans!
Sign up for membership to become a founding member and help shape HuffPost's next chapter