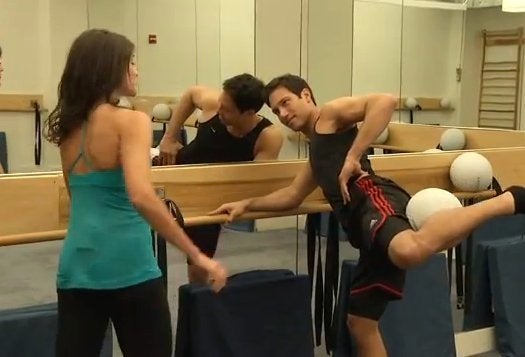 Over the past few months, I have sat down with some of the most accomplished professional athletes and fitness gurus to learn about their approach to wellness. As I experienced firsthand, staying fit and healthy as an over-scheduled adult can be a daunting challenge. I asked experts and superstars to share their insight into the mental and physical aspects of wellness, including the routines that work, ways to avoid injuries and how to beat mental fatigue.
After hanging with some world-class athletes like Demarcus Ware and Chris McCormack this summer I stopped by Physique 57 to see first hand what all the buzz was about. What I didn't realize was that I was about to be served up some humble pie by Physique's director of training, Alicia Weihl, a former professional ballerina. With a clientele that is almost 95 percent female, I gamely went where few men have gone before -- bringing with me an open mind and a soon to be very sore "seat" (Alicia's much gentler euphemism for my rear than the one I remember my football coach using).
Wellness is something that involves a lot more then exercise -- you need to have a good diet and a sustainable lifestyle as well. Tanya Zuckerbrot is a best selling author and one of the most sought after authorities on nutrition. Her Ffactor program is not a fad diet that uses gimmicks, it's a lifestyle that has benefited cardiovascular patients and diabetics as well as people merely looking to shed some excess weight and live healthier. I caught up with Tanya to discuss wellness, nutrition and of course -- fiber.