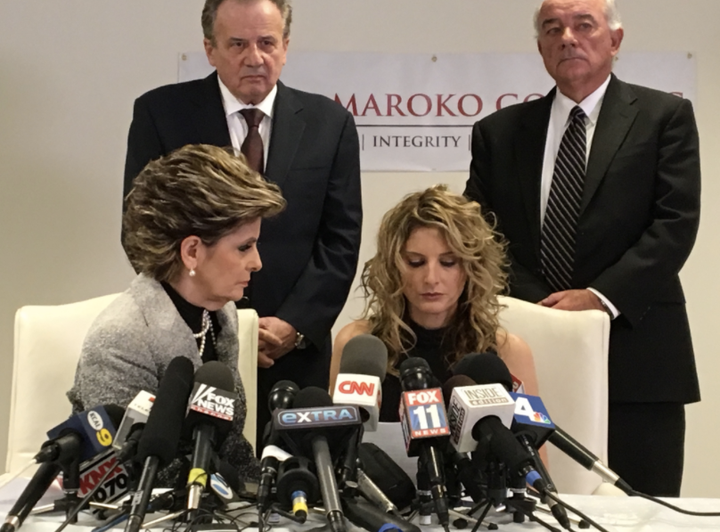 LOS ANGELES ― Summer Zervos, who claims President-elect Donald Trump sexually assaulted her in a hotel room in 2007, filed a defamation lawsuit against him on Tuesday. 
Zervos is one of more than a dozen women who have accused the president-elect of sexual assault, including groping or kissing without consent. She publicly came forward with her story in October, not long after video surfaced of Trump boasting about grabbing women "by the pussy."
Zervos alleged that after appearing on the reality show, "The Apprentice," she contacted Trump about potential job opportunities. She said he asked her to meet him at the Beverly Hills Hotel, where he aggressively kissed her and placed his hand on her breast.
Trump said in October that he "never met [Zervos] at a hotel or greeted her inappropriately a decade ago." His campaign presented a statement from a person he claimed was a cousin of Zervos raising questions about her credibility. 
Trump has generally claimed that all of the sexual assault allegations against him are false. 
Zervos said at a news conference on Tuesday that she was willing to drop the lawsuit, filed in New York, if Trump retracts his statements about her and acknowledges she's telling the truth. If he refuses, she said, she'll press for damages.
She is one of several Trump accusers represented by feminist attorney Gloria Allred. 
Allred told reporters that prior to filing suit, Zervos passed a polygraph test regarding her allegations against Trump. Allred also said the lawsuit was filed in good faith and isn't backed by private funding. The lawyer said she hadn't been in contact with 2016 Democratic presidential nominee Hillary Clinton or her campaign. 
"We've been doing David and Goliath cases for years," Allred said. "We're going to fight this battle because it's the right cause. Enough is enough. Truth matters. Women matter."
Trump spokesperson Hope Hicks told HuffPost in an emailed statement that the lawsuit is "more of the same from Gloria Allred."
"There is no truth to this absurd story," Hicks said.
The lawsuit lands days before Trump's inauguration. Americans are allowed to sue a sitting president for private conduct, which means Trump may be compelled to give revealing depositions if the case moves forward.
Allred said she would seek any and all recordings relevant to the lawsuit. 
As of October, there were at least 75 pending lawsuits involving Trump and his businesses, according to a USA Today count. The paper identified at least 20 lawsuits in which people accused Trump or managers at his companies of "discriminating against women, ignoring sexual harassment complaints and even participating in the harassment themselves."
Many of the accusers have stories similar to the one told by Zervos. Rachel Crooks, who said Trump inappropriately kissed her on the mouth when she was 22, told HuffPost in November that she is "concerned for our country in general" and "how he has behaved with women is certainly one part of it." Another accuser, Cathy Heller, has rented an Amtrak car to bring her supporters to the Women's March on Washington on Jan. 21.
One woman, who remains anonymous, filed a lawsuit accusing Trump of raping her when she was 13, but she withdrew it in November amid intense media scrutiny.
During his presidential campaign, Trump vowed to retaliate against his accusers.
The same day, Allred warned Trump that if he decided to sue, the women's lawyers would "welcome" the opportunity to question him under oath. "You can expect that many women who have not yet come forward publicly may decide to do so," she added.
The only person who's being sued is him. 
This article has been updated with comments from the news conference held by Zervos and her attorney, and with a denial from Trump's spokeswoman.
Calling all HuffPost superfans!
Sign up for membership to become a founding member and help shape HuffPost's next chapter
BEFORE YOU GO