It had Aunt Becky in a leading role, featured a gap-toothed Zac Efron and took place on a beach. Basically, "Summerland" was destined for greatness.
Until it was canceled, that is. 
The WB show, which ran for two seasons from 2004 to 2005, told the story of Ava Gregory (Lori Loughlin), whose life drastically changes after she's given guardianship over her sister and brother-in-law's three kids, Nikki (Kay Panabaker), Bradin (Jesse McCartney) and Derrick (Nick Benson), after their parents die in a tragic accident. With the help of her friends Johnny (Shawn Christian), Susannah (Merrin Dungey) and Jay (Ryan Kwanten), Ava raises the Kansas-bred children in California. 
Although it wasn't a critical success, the series was an instant hit among viewers when it first premiered in June 2004. Unfortunately, the ratings dwindled over time. 
"Honestly, that is one project if I could wave a wand and bring anything back it would be 'Summerland,'" Loughlin told HuffPost during a Build Series interview on Thursday. "I love that show so much and I don't think we got a fair shake. We got caught in the changing of the guard from one network president to another [seemingly Susanne Daniels to Jordan Levin to David Janollari] and the new president came in and he decided he was going to wipe the slate clean and start over and he canned us. Then he almost bankrupted the network and he got canned, so there we go," she added, chuckling.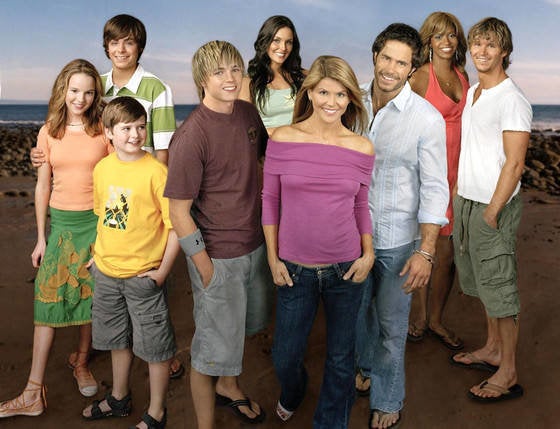 Following the cancellation of "Summerland," The WB combined with UPN to form what's now known as The CW in 2006. The most successful programs from each network were put onto the new slate. 
So, if the show was rebooted, it would most likely need to be OK'd by The CW.
"I don't know where the story would pick up, I guess we could all still be in that beach house. Wouldn't that be nice?" she said of "Summerland." "I remember actually standing on set being at the beach and shooting, thinking, 'Wow, I'm getting paid for this. This is amazing.′ We were hanging out at the beach all day. We had fun, again, a great cast that I had a really good time with." 
Loughlin, who is currently appearing in the "Garage Sale Mystery" series on Hallmark Movies and Mysteries, as well as "Fuller House" on Netflix, insisted she's always been lucky in her career and has fond memories from most of the shows she's been a part of. 
"Maybe [there's] one show where I don't have the most fond memories that was very brief, and nothing other than weird political stuff that went down," she said, not naming the show. "But, for the most part, I really liked the cast and everyone I was working with. For my entire career, I have always had a good time when I went to work, and I've worked with really nice people." 
Let's get those really nice people of "Summerland" back together, eh? 
Watch Loughlin's full Build Series interview below. 
BEFORE YOU GO
PHOTO GALLERY
The Ten TV Shows America Couldn't Get Enough Of In 2016