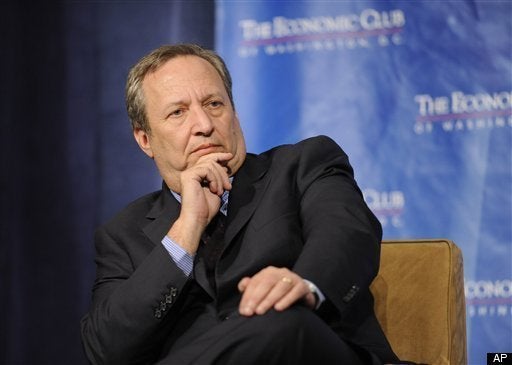 The White House is confident that a strong Wall Street reform package will emerge from conference committee negotiations between the House and Senate, senior administration officials told unions and consumer groups at a high-level meeting in the Old Executive Office Building Wednesday.
Senior economic adviser Larry Summers; his deputy, Diana Farrell; and Eric Stein, Treasury's deputy secretary for consumer protection, met with the AFL-CIO, SEIU, consumer groups and other progressive organizations to update them on the status of negotiations and hear out remaining concerns.
"The discussion was centered on our mutual commitment to key priorities for financial reform as the legislation enters its next phase. They discussed a number of issues including ensuring a strong and independent consumer financial protection agency, reforms for credit ratings agencies, comprehensive derivatives reform that brings all derivatives transactions out of the shadows, appropriate regulation for hedge funds and private equity, the Volcker Rule and ending the perception that any firm is too big to fail," said a White House official.
An amendment to tighten the Volcker Rule, which would be necessary (though likely not sufficient) to end the perception of TBTF, was denied a vote on the Senate floor and is not included in either the House or Senate legislation, though its backers continue to push for strengthening the provision in conference.
In order to speak candidly and avoid losing access to future meetings, attendees requested anonymity from HuffPost Hill, which reported on the gathering Tuesday night.
There were few surprises, attendees said, with Summers and the groups mostly in accord. The one divergence came over Minnesota Democratic Al Franken's rating agency amendment, which would end the practice of banks choosing their own rating agencies and instead assign them by lottery, removing a colossal conflict of interest. Summers told the groups that he has yet to be persuaded that Franken's approach is the proper one but he is willing to be convinced. He asked Public Citizen's David Arkush and Demos's Heather McGhee, representatives of two of the most vocal supporters of the amendment, which is part of the Senate package, for more information.
Summers said that the White House is still pushing hard for a strong consumer financial protection regulator and agreed with the groups that it should have independent funding and rulemaking authority and that it should not preempt stronger state laws. Representatives of organized labor pressed Summers to make sure that conferees close the bill's loophole that allows private equity and venture capital firms out of the title requiring hedge funds to register with the SEC. The union folks said that they are also delivering the same message from AARP, which couldn't attend the meeting.
In the House version of the legislation, auto dealers are exempted from consumer protection authority. The Senate bill is silent on the issue, meaning that auto dealers are covered, but the Senate approved a "motion to instruct" conferees to adopt the House rules. Last week, Rep. Paul Kanjorski (D-Pa.), a conferee, said that he thought that meant the House carve-out would survive. But the White House officials and groups represented agreed that the Senate motion was non-binding and that no compromise should be made with the car salesmen.
One other slight issue of contention was an amendment from Maria Cantwell (D-Wash.) that never came up for a vote in the Senate. Cantwell's amendment would work to close a gaping loophole. In the Senate's current language, all derivatives must be centrally cleared and backed by collateral -- but, if they're not, there's no penalty and the trade is still valid, effectively making the law little more than a mild suggestion. Cantwell's amendment would put teeth in it and make any such trade invalid. Summers said he was concerned that invalidating trades could have dramatic market repercussions. The groups pressed him from a political angle, arguing that it was in the bill's best interest to win over Cantwell, given that the option would be to further weaken the legislation in order to pick up an extra Republican.
The administration's top derivatives regulator has endorsed Cantwell's amendment.
The full list of groups represented: AFL-CIO, SEIU, Americans for Financial Reform, AFSCME, Center for Responsible Lending, Consumer Federation of America, DEMOS, Leadership Conference on Civil and Human Rights, National Association of Consumer Advocates, National Consumer Law Center, National Council of La Raza, Public Citizen and US PIRG.
Arthur Delaney contributed reporting
Popular in the Community