Tuesday June 26 marks the beginning of Lincoln Center's Midsummer Night Swing series, now in its 24th season. This year, MNS will host no less than 15 dazzling nights of dancing under the stars at the bandshell and elevated dance floor in Damrosch Park on West 62nd Street between Columbus and Amsterdam Avenues. Each night will kick off with a dance lesson for all levels at 6:30 p.m. with many of the city's best dance instructors, followed by live music and dancing from 7:30 to 10 p.m. Tickets (individual evenings are $17) and multi-night passes (four nights of Latin dance or four nights of swing dancing for $60) are on sale now.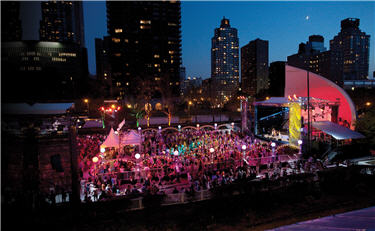 Photo: Brian Stanton 2010 (Used With Permission)
The series kicks off June 26 with A Tribute to Frank Sinatra and Ella Fitzgerald by the Nelson Riddle Orchestra. Riddle was one of the greatest arrangers in the history of American popular music. His work as arranger and conductor for Sinatra, Fitzgerald, Nat King Cole and others helped them to deliver performances we'll always treasure. Dance teacher Jaki Brockman will instruct attendees in the Foxtrot, perfect for this type of music. On a soft summer night it would be easy to imagine oneself in the delightful, uncomplicated early '60s world of Mad Men with this music swirling around you.
On Thursday June 28th, The ABC&D of Boogie Woogie will take the stage for their U.S. debut (dancers will be taught the Lindy Hop prior to the show) with "A", Germany's greatest modern boogie woogie pianist Axel Zwingenberger; "B", raunchy vocalist/pianist Ben Waters; "C", the legendary drummer Charlie Watts, whose syncopated rhythms have driven the world's greatest rock and roll band for decades; and "D", Dave Green, Watts's best friend since childhood and one of the UK jazz scene's finest bassists. Serving up ample helpings of Jazz, Blues and Boogie Woogie, this tasty quartet is sure to please.
In addition to 15 nights of damn fine dance music (which ranges from the aforementioned lush orchestrations of the 1950's and 60's and boogie woogie jazz and blues, to Mexican tropical cumbia, New Orleans swing, Cuban charanga, Latin boogaloo, Bhangra, Zydeco, Salsa, Tango, Motown, Funk, Brazilian Forró, Big Band, and Rock and Roll) MNS is also introducing another new exciting initiative this summer, the Silent Disco. This program will follow the regular dancing on July 7 and 12; DJs will broadcast music to dancers through headphones provided by Silent Frisco up until 11:30pm free with your ticket to the live show or $5 at the door for Silent Disco only.
Saturday July 14 MNS hosts a Free Dance Lesson for Kids from 3 to 4 p.m. Dancing Classroom's Rodney Lopez, as seen in the documentary Mad Hot Ballroom, presents a 90-minute lesson for kids aged six to 10 to learn the basics of swing, merengue, tango and more. Dancing Classrooms is a social development in school program that takes place in over 200 NYC schools and reaches over 25,000 children each year. The mission of Dancing Classrooms is to cultivate essential life skills in children through the practice of social dance.
The Swing box office is located in the lobby of Alice Tully Hall and Avery Fisher Hall at Broadway and 65th Street. Tickets for individual events and passes can be purchased in advance at the Avery Fisher box office or beginning at 5:30 p.m. on event nights in Damrosch Park. Cancellations due to rain or inclement weather will not be announced until 8:30 p.m. on the night of a show.
Related
Popular in the Community