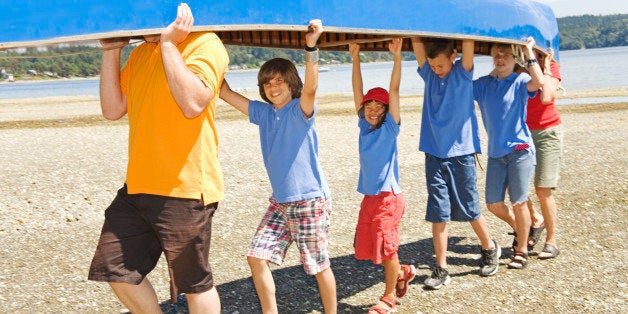 For children ages 4 to 13, the end of the school year means... summer vacation! But, given their age, they can't handle being completely off schedule. Even though they may not know it, they really do need a routine, most of the time.
Have a Weekly Family Planning Meeting
Since children thrive on structure and become anxious when they can't predict what's coming, have a family meeting once a week, maybe on Sundays, and discuss the upcoming week's activities. Ask your child what he or she would like to do. If that isn't possible, explain the plans you've made for them. Will they be going to a science camp? To grandma's? To the zoo or park? Will they have a play date with a school friend? Get a calendar and jot down the activities -- you can have younger children draw a picture of the upcoming event, too, to get them involved and excited.
The 80/20 Rule Gets A Vacation, Too
Throughout the year, we go by the 80/20 rule of consistency, meaning children do well with being off schedule no more than around 20 percent of the time. However, during summer break, most children who are no longer napping (generally age 4 and up) can handle being off schedule as much as 50 percent of the time.

Children are used to getting a lot of stimulation and being actively engaged throughout the school year. During the summer, you need to keep them physically and mentally stimulated or they will be bored, restless and may not sleep well. Kids of all ages will find even simple excursions, like going to the park, a museum, a movie or the beach, enjoyable. The more they are engaged daily, the better they (and you!) will sleep at night.
Red flags that younger children are overtired can be if they are acting out or especially riled up between 5:00 and 6:00 p.m. That's when you know there is too much inconsistency in their schedule. Most children can't handle inconsistency in their schedules for more than a two-day period at a time.
Calming essential oils, such as lavender and serenity, can also help children relax and sleep. Kids love the way they smell and their anxiety may be reduced. You can place a few drops in a diffuser and run it overnight in your child's room, or mix one to two drops of the oil with a carrier oil, such as olive oil, and place it either under your child's arms, on the bottom of their feet, or on the sides of their neck. I recommend doTerra essential oils because they are pure and of the highest quality.
Nutrition Is Always Important
While you focus on good nutrition during the school year, you may be tempted, with the warmer weather and your child's prodding, to substitute less healthy choices in the summer. Be sure to keep your child hydrated, and don't sugar them up with too much juice and candy and, as always, avoid processed foods.
Summer is the perfect time for lots of fresh fruits and veggies. Spend time going to a farmer's market and letting your child choose some of the great foods there. Create a meal together. Another fun idea is to plant a garden together, tend it, watch it grow and then enjoy the wonderful flavors as a family. Make summer memories they'll cherish.
Summer is a very special time for children. With a little pre-planning, it can be a great time for a little more freedom, growth and change.