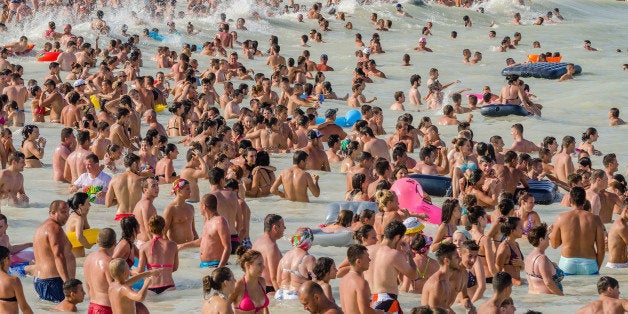 Summer is the season of freedom from work and school and excessive amounts of clothing. Huff/Post50 editors asked members of our Facebook community to name the things that remind them of their summers as kids. Here are some of our favorite answers:
1. Hearing Brian Hyland's "Itsy Bitsy Teeny Weeny Yellow Polka-Dot Bikini."
2. Dairy Queen soft ice cream cones dipped in chocolate.
3. Boardwalks.
More accurately, going underneath the boardwalk -- which was where teen make-out sessions were generally conducted and the Drifters song hummed forever after.
4. Jones Beach State Beach being bumper-to-bumper.
5. Drinking out of a garden hose. (H/T: Stephanie Carpenter)
6. Fire hydrants turned on and everyone grabbing their bathing suits.
7. The sweet smell of honeysuckle. (H/T: Fred Parker, who's from the South.)
8. Playing hide 'n seek at night with 'hood kids! (H/T: Nancy Milburn).
9. Catching fireflies and keeping them in a jar with holes in the lid (H/T: Emily Wyatt Fletcher).
10. First loves that didn't always end well.
11. The smell of a campfire. (H/T: Pamela J. Williams).
12. The smell of charcoal BBQ smoke. (H/T: Lauri Andersen).

13. The smell of freshly mowed grass. (H/T: Betsy Levin).

14. Cicadas in August. (H/T: Sally Barry).
15. The smell of Coppertone. (H/T: Pat Reed).
16. The sound of the ice cream truck coming down the street.
18. Watching the Cubs at Wrigley Field or any baseball team anywhere.
REAL LIFE. REAL NEWS. REAL VOICES.
Help us tell more of the stories that matter from voices that too often remain unheard.
BEFORE YOU GO
PHOTO GALLERY
Jersey Shore Memories