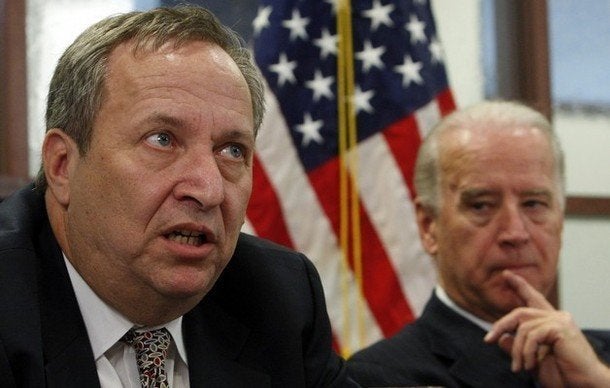 President Barack Obama's chief economic adviser Larry Summers said, on Friday, that the Congressional Budget Office "was acting reasonably" when it said that the health care package proposed by congressional Democrats did not contain sufficient cost-containment measures.
But in remarks at the Peterson Institute for International Economics, Summers insisted that both Democrats in Congress and the White House would be achieving potentially major savings in the health care system through non-audited measures.
Speaking before a packed audience, Summers declared that the administration was taking a "belt-and-suspenders" approach when it came to health care.
"The president said we are going to insist on doing the difficult fundamentally important things that don't score because they can't be audited," he said. "We are going to take no credit for those.... We are going to take no credit for it except we are going to regard it as fundamentally important. And then we are going to insist that our health care proposals be paid for with hard score-able measures. Those are the kind the CBO will score. And that is the debate that is now going through."
In particular, Summers noted that congressional auditors were accounting for the health information technology programs, wellness programs and cost-effective research that was part of the president's stimulus package. These measures, he noted, could save the system millions of dollars but were impossible to measure effectively.
With that said, Summers acknowledged that CBO Director Douglas Elmendorf was technically correct when he testified on Thursday that the health care legislative proposals being considered in the House and Senate would not put effective restraints, if any at all, on spending. Summers' admission is something that sober-minded health care observers have argued for the last day, as concern has mounted that Elmendorf's testimony could be a serious blow to reform efforts.
Nevertheless, it might not be the type of message the Obama White House would prefer to push in light of the precarious situation of the health care debate. Currently, key moderate Democrats on the Senate Finance Committee are urging party leadership to delay consideration of a bill, in part so that more effective payment mechanisms can be crafted. The president, in contrast, has urged that the Senate as a whole pass legislation before the August recess.
Summers did not address the legislative timeline for health care reform. But he did frame the administration as willing to handle the brunt of the hard work while taking none of the credit -- a somewhat perplexing frame considering the very public events the president has held touting cost-saving agreements with hospitals and pharmaceutical companies.
"I would agree with you very much on the importance of fiscal discipline and the importance of health care in the fiscal discipline equation," said Summers. "But I would want to insist that the approach we are taking, because of this belt-and-suspenders aspect, taking no credit for difficult to audit measures, actually is setting a somewhat knew standard of responsibility, relative to what has prevailed."
Popular in the Community