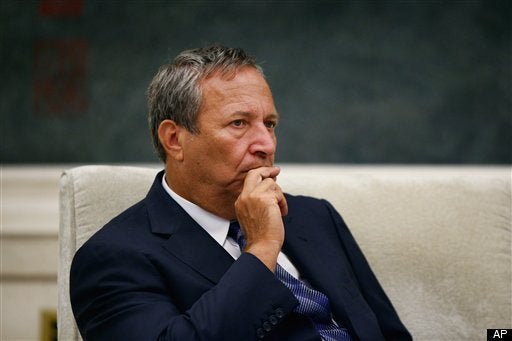 In his final public remarks as head of President Obama's National Economic Council on Monday morning, Larry Summers, to no one's surprise, had nothing bad to say about himself.
"The president has said many, many times that none of us can rest or be satisfied with anything like the current level of joblessness, with anything like the income gap between what people could be earning and what they are earning," Summers said at the liberal Economic Policy Institute, a somewhat unusual setting for his swan song.
Despite the preponderance of progressives in the audience, the passive conditional past subjunctive was about as close as Summers would come to saying he was sorry. "That's where one would have liked to have seen more rapid progress," he said.
But then came the "but": "One does need to recognize that relative to what was really very widely feared, the outcome has been a good deal better," he said.
Summers set a reasonable bar for himself in his prepared remarks, stating, "It is by what happens to the middle class that our economic policies must be judged."
By that measure, it's hard to see how those policies could be considered successful.
But perhaps the problem is that Summers' critics just aren't as smart as he was.
"Would I like the results to be even better than they have been on a number of different dimensions? Of course," he said. "But I think the president is right to take pride in what has been averted. And that is not easy always for people to understand. But I think it is something that is very important."
It's also too early for post-mortems, he said, opting to "leave that to others" until he's had more time to mull things over. "I look forward very much to being able to step back and think about some of the very important questions that we talked about today," he said.
Despite Summers' public refusal to indulge in critical retrospection, his host on Monday, Economic Policy Institute president Larry Mishel, said that at a recent lunch, the ex-president of Harvard was somewhat more forthcoming. "In private, Larry said he heavily pushed for more demand-side action, including aid to the states, unemployment benefits and more infrastructure," Mishel told HuffPost. "Though looking back, he would have also liked to have pushed a large jobs tax credit."
In his speech, Summers said much more needs to be done. He argued strongly in favor of increased government spending to create more economic demand. "There cannot be any question that the constraint on our economy now and for the next several years will be the lack of demand," he said. "Without rapid recovery, all of our other goals will be compromised."
Stimulus needs to be followed by a period of deficit reduction, he said -- but he was vague as to when the nation should shift from one phase to the other.
Summers continued to insist, as he did last week, that the approval of Obama's tax-cut deal is an economic necessity, though he said even more government action is needed. "The tax compromise will help, but not enough," he said.
The next step, he said, is investment in infrastructure. "A sustained effort to rebuild America should be at the top of Washington's priority list next year," he said.
If there was any humility on display Monday, it was when Summers made reference to how he took his White House post after an extremely rocky and unfortunate tenure as president of Harvard, where the faculty revolted against his perceived arrogance and alleged misogyny, and where one of his financial decisions cost the university's endowment $1 billion.
"I was one of the very few people," he said, "who came to Washington to get out of politics."
After stepping down from the Harvard presidency, Summers was paid $5.2 million for his part-time work for a massive hedge fund in 2008. He also took in more than $2.7 million in fees for speaking engagements at such places as Citigroup, Lehman Brothers, Merrill Lynch and Goldman Sachs -- including one visit alone that netted him $135,000 from Goldman Sachs.
*************************
REAL LIFE. REAL NEWS. REAL VOICES.
Help us tell more of the stories that matter from voices that too often remain unheard.