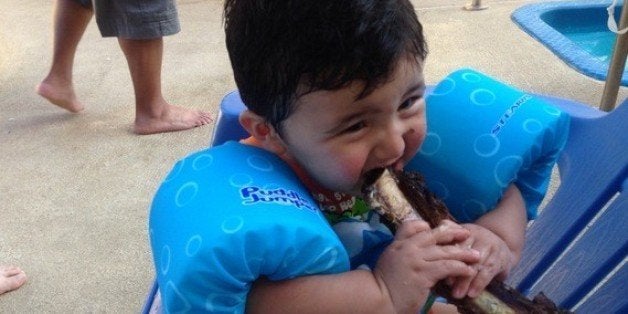 Summer break for many children is just around the corner. It is the time of year as a parent that you can plan and coordinate events for your children. My daughter and son will be 7 and 2-1/2 years old, and both adore summertime. They enjoy the extra time they get to spend with family, to play in the late evening and participate in numerous social activities. One of the main attractions has been going to the pool.
Since I was not an avid swimmer as a child, I took every precaution necessary to fully prepare my children for the chlorine water they would splish-splash around on any day of the week during the summer break.
After taking swim classes, we found that having the proper gear was not only important, but also essential to our children's understanding of safety. Prior to going to the outdoor pool or beach, we lathered sunblock lotion on their tender skin. We placed their swim trunks or bathing suit on not simply to be cute, but to be functional. We fastened their life jacket and asked them to review some safety guidelines. It was this process that later became a habit.
I have received criticism for being an overly-cautious parent, but the statistics of children deaths due to drowning do not need to be high. One life lost is detrimental enough. I was almost that one. I have chosen to have a conversation with my children to ask them about ways they can personally intervene for themselves to bring them a fun and enjoyable experience.
Just last summer, my then-6-year-old daughter asked to be video recorded. Her purpose in creating the video was to share a few words about safety around the pool area with others. According to my daughter, "It would be sad to see someone have an accident when the could have just spent some time to think before running around a pool or doing anything that would hurt them."
We ask our children to press "play" when we need to prepare for the pool (e.g.,generously applying sunblock, consistently fastening a lifejacket, patiently walking towards the pool, etc.) and to press "pause" when they potentially may get too excited (e.g., take a moment to see where the family area is from the pool, remember to give each other a check-in time to snack, lather sunscreen again, and rest from the sun, etc.).
If a family or friend's pool or beach is a part of your summer destination, we hope it's a positively memorable experience year after year.