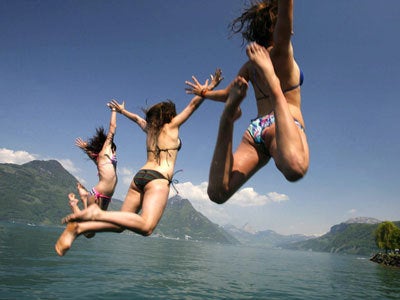 Summer's here! In case you missed it, the Summer Solstice was Saturday (say that three times fast) thus announcing that your favorite season and mine is in fact, in season. Time to celebrate the ice cream truck, the coconut sunscreen, the chlorine eyes, and the social acceptability of backyard open flames and propane.
I, for one, am ready to rejoice. Knowing only the basics of the official first day of summer (it's the longest day of the year and civilizations for millennia have commemorated its arrival through varying religious and pagan rituals) Stonehenge and Manchu Picchu came to mind. But this year, as I sipped some homemade lemonade bought from a street vendor, a modern sacrament was brought to my attention. Some in face paint, most in their normal weekend gear, kids and teens by the thousands rolled on four wheels and a plank of wood from Brooklyn to Manhattan and back in honor of the Summer Solstice (and the not-so-equally recognized: National Go Skateboarding Day).
Solstice comes from the Latin words sol, meaning sun, and sistere, to cause to stand still. A perfect name considering I got sunburned waiting to cross First Avenue while those skateboarders passed by and by (ooh! Wipe out!) and by and by.
Summer is most definitely a time for play. No school, summer work hours (though I wouldn't know anything about that) and extended, seemingly borrowed days from the rest of the year's hoard. There's something sincerely ethereal about this season, and I'm not just talking about when skateboarders ban together or when Big Papi hits one over the Green Monster, but that's a big part of it. Summer has historically and customarily been a time for enjoyment and appreciation.
Many cultures, from the Catholics with St. John's Day to the Wiccans with Litha, observe the solstice as a time to feast and gather with like-minded worshippers. If skateboarders represent a new wave of disciples (their saints could be Ryan Sheckler and Tony Hawk) then this mostly good, clean fun dogma may soon have its own wiki-article and graphic t-shirt honoring the event.
But connecting with the raptus of summer is something most of us presume without noticing the link we've made. No need for a major celestial or skateboarding event, summer spirits are everywhere. A wise man once said, "There's nothing dumber than a big church." Could've been my dad, could've been Twain, I forget, but one thing is for certain, he surely didn't say that about baseball parks, or family reunions, or outdoor concerts, or beach houses--these places are where the serious, mass devotion is able to, and should happen.
These venues and their ilk have all the right fixings for a spiritual experience: community, family, common ground. The undeniable summer mood also plays a significant role; the exhaustion from having done nothing all day but bake, or lay in the shade, somehow slows us down into thick, tanned Krispy-Kreme doughnuts, sluggishly transforming and expanding full of life into a sweet, delicious treat from a curled-up, pale ball.

I could wax poetic all day about children's cherry-popsicle-stained mouths, boardwalk fries, $8 baseball beers, and hot tomatoes from the garden, but summer is something you either get or you don't. Sure, the other seasons have their mysticism too (who could ignore nippy football games, Christmas, and that first burst of green on the trees), but summer's sun and long days allow us the chance to socialize with one another or with nature in a simpler, less complicated way than the other three seasons afford. I think one of the greatest and most prolific poets of our time, Kenny Chesney, said it best when he sang: no shoes, no shirt, no problem.
So here's to you, Summer. May we celebrate with you until September 22nd when you take your warm spirit, lengthy days, and hot nights and give us nine months of respite to nurse our insect bites. See, told you this was poetry. Cheers!

Related