Fifty-five miles north of Salt Lake City, Utah, in a remote pocket of rural beauty, a group of entrepreneurs just bought a mountain. Not just any mountain: the largest skiable mountain in all of North America.
Summit, known for its signature Summit Series conferences that convene and connect entrepreneurs, artists, musicians and nonprofit leaders, announced yesterday the finalization of its purchase of Powder Mountain in Eden, Utah, including 9,600 acres of land -- 7,000 of it skiable terrain. The team has chosen Powder Mountain as the permanent location for Summit headquarters, where the group will hold events and conferences, host innovators and entrepreneurs in custom lodging, and create a community of people bent on challenging the status quo.
Dubbed Summit Eden, that community will consist of around 500 homesites, a small residential village and rotating residences for innovators of all stripes, from artists and musicians to social entrepreneurs and nonprofit leaders. The existing ski operation on the mountain, which hosts around 130,000 skiers annually, will remain open to the public.
The Summit team has been working on the Powder Mountain deal since August of 2011 and moved to Eden in early 2012 to pursue the purchase. The group plans to hold its annual four-day conference in Eden, in addition to hosting and helping people year-round. There are also plans in the works for the new development's first flagship event, Summit Outside, in July.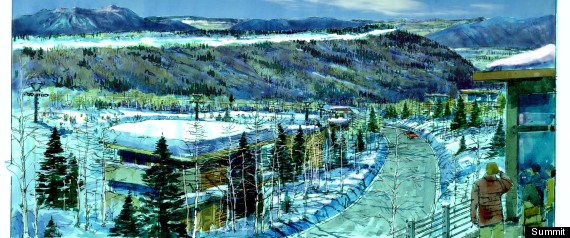 The ski-resort setting wasn't chosen by chance. Summit's members see the natural beauty and opportunity for outdoor exploration and activity as essential to achieving their overall mission. "We want to use collaborative and lifestyle culture to encourage positive change and positive growth," said Thayer Walker, Summit's chief reconnaissance officer. "We wanted a dedicated space to do it and now it's real. It's being built."
Through their conferences and events, Summit has already helped foster relationships and open doors for big names like Sean Parker and Shakil Kahn of Spotify; Mike Del Ponte of Soma, company that makes water filters; and Scott Harrison, the founder of Charity Water, among others. The group was instrumental in building the UN Global Entrepreneurs Council, and past Summit Series conferences have welcomed notable figures like former President Bill Clinton and Dallas Mavericks owner Mark Cuban. Summit plans to host this year's advisory retreat for the nonprofit Invisible Children this summer in Eden.
At first glance, Eden may seem like a glitzy resort town for people who have already made it, not an opportunity for fledgling startups. But Summit wants to open the ski-mountain experience to more than the most well-connected social entrepreneurs through affordable timeshare options.
For aspiring Summit members, the real price of admission comes in a different currency. "The one criteria is you have to be doing incredible work," Walker said. "More important than social status or economic status, you have to be creating something impactful."
Powder Mountain's location doesn't fit the standard startup incubator model of co-working spaces and network hubs in major cities. A remote mountain, while idyllic, can be inaccessible and unrealistic for a citizenry that is constantly inundated with commitments. But Jeff Rosenthal, one of Summit's founders, sees its remoteness as one of Summit Eden's greatest strengths.
"If you're in New York trying to have dinner with someone, their attention is at three different dinners," he said. "A natural retreat space and a slower pace of life allows you to quiet your mind and think more expansively."
In recent weeks, a jazz musician, an adventurer, and several writers have all come to Eden to bask in the pristine wilderness and culture of creativity. Eden's four restaurants, guided horseback rides, wake-boarding and skiing are nice draws, but the real attraction for Summit members is the collaboration and networking opportunities found at every gathering.
Tim Ferriss, entrepreneur and bestselling author of The 4-Hour Workweek, has been involved with Summit since its first event in 2008. "Summit has created dozens of opportunities for me, at the very least," he told The Huffington Post in an email. "They bring together people from worlds that normally wouldn't collide, and that's where the magic happens."
The local economy also stands to gain from the new development. Walker estimates that around 100 local residents are working in different capacities for Summit, from service providers to construction and management. He reports that two businesses have already moved into Weber County from neighboring Colorado because of the Powder Mountain acquisition, with others making plans to move.
Summit also has the full support of the county's business leaders, who share their vision for the future for Eden and Powder Mountain. "Engaging the local community into the process, designing a sustainable and environmentally intelligent development, and bringing a new kind of vision to Weber County, indicate this is the right development at the right time," said Douglas Larsen, of the Weber Economic Development Partnership. The county even contributed an $18 million infrastructure bond to help refurbish local roads and utilities.
Now that the Powder Mountain acquisition is final, Summit hopes to keep the momentum going. "It's really choose your own adventure: you can be intellectually stimulated or go total retreat-mode," said Rosenthal, the co-founder. "The entire point for us is to be able to inspire the innovators and entrepreneurs who are looking to do incredible things in their industry and make a difference in the world."
CORRECTION: An earlier version of this story incorrectly stated that Summit had worked with professional skateboarder Tony Hawk.
Calling all HuffPost superfans!
Sign up for membership to become a founding member and help shape HuffPost's next chapter
BEFORE YOU GO
PHOTO GALLERY
Summit Purchases Powder Mountain