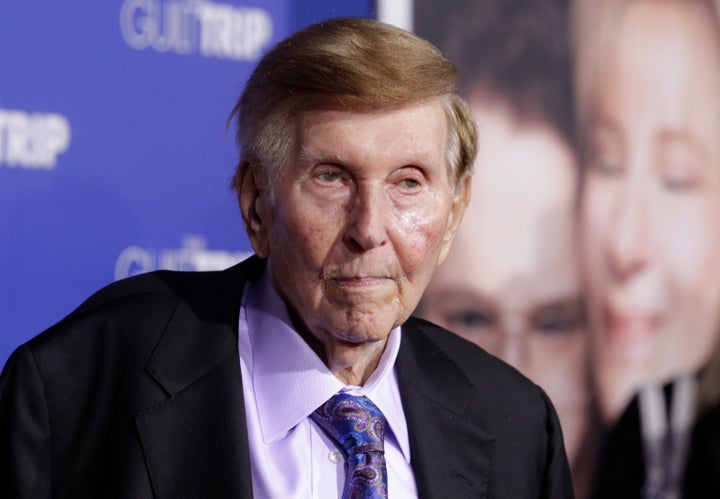 NEW YORK (Reuters) - Viacom Inc said on Saturday its board members have been unable to meet with controlling shareholder Sumner Redstone because his daughter Shari is blocking access to the media mogul.
Viacom's criticism of Shari Redstone comes a day after Sumner Redstone, 92, removed Viacom Chief Executive Officer Philippe Dauman and Viacom board member George Abrams from the seven-person trust that will determine the fate of Redstone's $40 billion media empire that includes Viacom and CBS Corp in the event of his incapacitation or death.
"It is clear that Shari Redstone has isolated her father and put his residence on lockdown, which provides clear evidence of her exercise of undue influence," a spokesperson for Viacom said in a statement.
Many attempts by Viacom's board to meet with Sumner Redstone have been denied, Viacom said.
In response, Shari Redstone said in a statement on Saturday: "I fully support my father's decisions and respect his authority to make them."
Reuters reported on Tuesday that Redstone, who turns 93 next week, had the power to remove certain members of his trust, including Dauman.
Sumner Redstone removed Dauman and Abrams as trustees and directors of his privately held movie theater company National Amusements Inc after he expressed concerns about Viacom's performance to them and received no response, according to a statement from Michael C. Tu, a lawyer representing Redstone.
Viacom, like other media companies, has suffered from falling ratings at its cable networks as younger viewers migrate to online and mobile video.
A spokesman for Dauman on Friday called the steps to remove him from the trust "illegal and invalid."
The move by the elder Redstone is a victory for his daughter, who is also on the trust and vice chair of CBS and Viacom, giving her more certain control to determine the fate of her father's empire.
Shari Redstone and Dauman have clashed in the past. She opposed his elevation to the post of executive chairman of Viacom in February, a role her father supported.
The Sumner M. Redstone National Amusements Inc Trust owns about 80 percent of Redstone's privately held National Amusements Inc, which in turn owns 80 percent of the voting rights in both Viacom and CBS.
After Sumner Redstone dies or is incapacitated, the trust will determine all matters that come to a shareholder vote at both companies, including potential mergers or acquisitions.
With the removal of Abrams and Dauman, Shari Redstone will have majority support among the trust's members, who include Shari's son, lawyer Tyler Korff, and David Andelman, another lawyer who is on the CBS board.
The trust's other members are Norman Jacobs, Sumner Redstone's divorce lawyer, and Leonard Lewin, an attorney who represented Redstone's first wife, Phyllis, in her divorce from Sumner.
(Reporting by Anna Driver and Jessica Toonkel; Editing by Chizu Nomiyama)
Calling all HuffPost superfans!
Sign up for membership to become a founding member and help shape HuffPost's next chapter