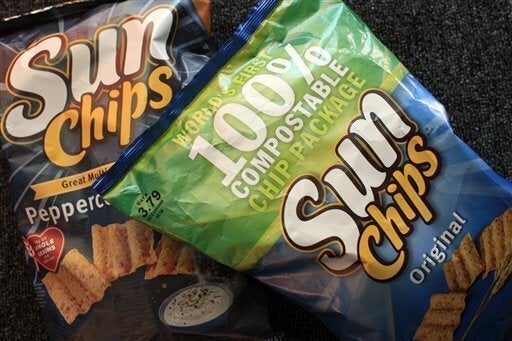 Frito-Lay makes a lot of noise marketing its Sun Chips snacks as "green." They are cooked with steam from solar energy, the message goes.

But its latest effort--making the bags out of biodegradable plant material instead of plastic--is creating a different kind of racket. Chip eaters are griping about the loud crackling sounds the new bag makes. Some have compared it to a "revving motorcycle" and "glass breaking."

It is louder than "the cockpit of my jet," said J. Scot Heathman, an Air Force pilot, in a video probing the issue that he posted on his blog under the headline "Potato Chip Technology That Destroys Your Hearing." Mr. Heathman tested the loudness using a RadioShack sound meter. He squeezed the bag and recorded a 95 decibel level. A bag of Tostitos Scoops chips (another Frito-Lay brand, in bags made from plastic) measured 77.