The Sun may be starting a new trend.
The British newspaper reportedly became the first newspaper to run hashtags next to top news stories, the Drum said Wednesday. The newspaper intends to use the hashtags to allow readers to get involved in a story and to allow that story to reach a greater audience.
The recommended hashtag appears alongside the story under a "What Do You Think?" banner: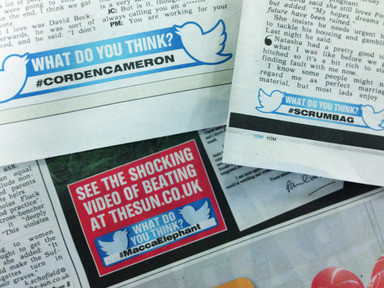 "By printing hashtags alongside our news we are making it easy for readers to share their opinions and continue the story online," Sun editor David Dinsmore said in a statement. "In an increasingly digital world, it will also help a whole new generation discover Sun content and our unique brand of journalism."
Newspapers worldwide are embracing social media as a necessary counterpart to their print editions. The Sun itself has 497,000 followers on Twitter. In the US, The Washington Post, the New York Times and USA Today are the three most popular newspapers on Twitter, with the Post at 2.62 million followers and around 275,193 tweets per week. The San Francisco Chronicle even has its journalists undergoing a strict two-month social media boot camp in an attempt to push forward in the digital realm.
And it appears that Twitter users have already begun responding to several articles using the Sun's hashtags:
#MaccaElephant horrified by pics in the sun of Sunder pls pls someoneDO something to get him out of those awful conditions and to be free.

— chris taplin (@chrischef54) March 24, 2014