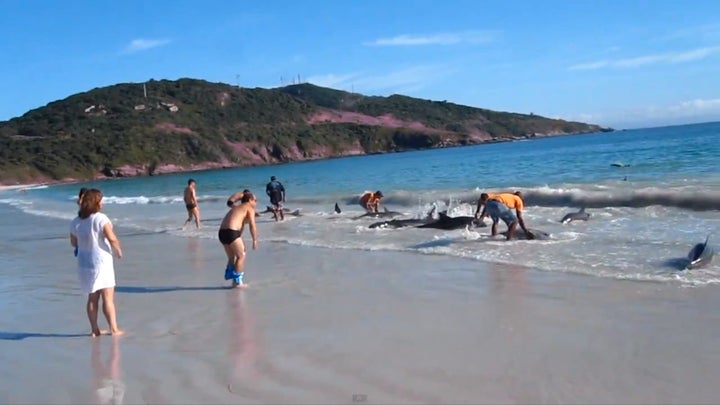 Most 17-year-olds go to school, play sports and spend time with their friends; others invent pioneering technologies within the sun protection industry, discuss their project with Nobel Prize winners, win national as well as international prizes, and travel the world to develop their project. This is what happened to us a few years ago. All of this started out as a school project.
We were walking on the beach one day, wondering why it is impossible to be outside and enjoy the sun without having to fear getting a sunburn, or even worse, developing skin cancer. This was definitely something we wanted to change.
Our initial idea was to cure skin cancer, but realizing that this is very complex, the aim and driving force of our project became to prevent skin cancer. By examining existing sunscreen products, we could conclude that these do not protect sufficiently and they cannot be optimized. We wanted to invent a completely new concept for sun protection.
We ended up inventing a sun-blocking compound able to protect against 99.99 percent of all UV-radiation with a lasting effect much longer than existing products on the market. The project rapidly turned more serious, involving external financing, patent applications and contact with researchers around the world.
Working with the development of our invention required us to acquire an extensive technical knowledge in advanced chemistry and physics in a very short period of time and at a very young age, which was not always easy. One of the first technical experts we contacted was Nobel Prize winner Harold Kroto, who received the Nobel Prize for being the first to produce one of the components we use in our technology. Professor Kroto showed great interest and was the first of many researchers to acknowledge our project.
In 2010, we traveled to New York to meet with professor James Cross at Yale University, who also showed great interest in the project. A few months later we had, in cooperation with Professor Cross, achieved a theoretical proof of technology; this was done by simulating the technology through extensive computer calculations. The next step was a business trip around Europe to meet with several large chemical groups -- potential business partners.
We founded our company in 2010, right after finishing high school. At that time, we already discussed our technology with leading professors in the field, visited some of the largest chemical groups in the world, and developed a completely new concept for sun protection useful for humans using materials with better and longer protection than ever seen before in existing products. Our idea was also protected by a worldwide patent application prepared in cooperation with the Danish patent agency Inspicos A/S.
Developing the technology, founding our company, and filing patent applications required much more capital than we had access to, so to secure the company financially we met with different banks and investors and soon got funded by the Danish bank Nordea and we partnered up with the largest Danish incubator SEED Capital; in this way we raised $450,000. This initiated great interest from the Danish media and, after winning the Danish University competition, Venture Cup, for having the most innovative idea, we suddenly found ourselves in the Danish newspapers and on national television.
In 2011, we attended the Intel Challenge Europe and won the competition for having the best idea with the greatest potential in Western Europe. In addition to winning the prize we also got to compete in the Global Intel Challenge held in California, where we won the Young Innovator Prize for having invented and developed an outstanding idea in spite of our age.
During the last six months our main focus has been to develop the technology and a scalable production method. This is being done in cooperation with Kyoto University in Japan, which houses some of the leading experts in the field. Another patent application has just been filed, covering steps in the new production method, and the final development is expected to be finished within the next five months.
Working with this project has truly been an adventure; a bit like a crazy rollercoaster ride with lots of ups and downs. We have met a lot of interesting and very helpful people, but also unpleasant ones.
We have traveled the world, seen amazing places and also experienced unusual and frightening events -- e.g., we were in Tokyo setting up strategic partnerships during the 2011 earthquake.
Soon we will begin the next phase of our project, where we will take our project into the business world, find a good business partner and get our product on the market. We are currently full-time employees in BUCKY'o'ZUN, and our daily work includes both advanced chemical experiments and analysis as well as meetings with business people from some of the largest companies in the world.
The founders of BUCKY'o'ZUN participated in Blackbox Connect, which brings global startups into the Silicon Valley ecosystem for a two-week immersion experience, meeting local venture capitalists and startup founders. Application deadline for the next group is June 15, 2012 -- apply here.
About the guest blogger: Sara Naseri is the Co-Founder and CEO of BUCKY'o'ZUN. Sara is Persian, but was born and raised in Denmark. Her multicultural background has been beneficial in business development with people from all over Europe, the US and Asia. She hopes to start medical studies at Stanford University in the summer of 2013. Follow her on Twitter at @SaraNaseri.
About the guest blogger: Emilie Kjeldsen is the Co-Founder and COO of BUCKY'o'ZUN. Emilie has an all-Danish background. She was born and raised in Aarhus. She has a passion for playing the piano and has participated in numerous concerts in Denmark. Emilie's wish to help others and make a difference brought her to the conclusion that studying medicine was the right for her. She hopes to start medical studies at University of Copenhagen when BUCKY'o'ZUN is well under way.

Popular in the Community